The Schwartz Scene Newsletter 60 – Spring/Summer 2017
1. Intro from Carol de Giere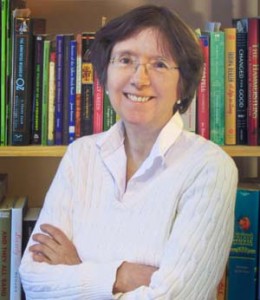 New songs are coming our way. Stephen Schwartz wrote an update for this Spring/Summer 2017 issue describing his latest musical writing projects and travels (below). Also, I'm inviting you to join me for the world premiere production of his new stage musical The Prince of Egypt and a group meeting with Stephen this October. Below you'll find listings of concerts, articles and news on shows, information on licensing for The Hunchback of Notre Dame and Snapshots, and an announcement about a forthcoming revised edition of the Stephen Schwartz biography, Defying Gravity. Please LIKE our Facebook – Schwartz Scene page to catch news that I post between issues. The Schwartz Scene list will be on hiatus until a late fall issue around December 1st.
Copyright by Carol de Giere, March 2017. Carol is the editor of The Schwartz Scene and the Musical Writerzine. She is author of the Stephen Schwartz biography, Defying Gravity, and The Godspell Experience.
2. THE SPARK OF CREATION: Stephen Schwartz Update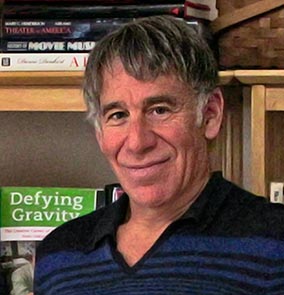 Exclusive to The Schwartz Scene.  A Spring update from Stephen Schwartz
As I prepare to leave for Berlin next week and the premiere on April 9th, of Der Glöckner von Notre Dame (the German-language version of The Hunchback of Notre Dame), I am very much looking forward to seeing the show again. I was unable, for schedule reasons, to get to Tokyo last fall for the Japanese production which has been so well received. The show has also proven extremely successful in Denmark, and I am planning to see it there this coming June when it transfers to a larger theatre in Copenhagen. This is a show and production I love, so it is very gratifying to me that it is having such a robust life around the globe.
Meanwhile, plans continue for the production of another stage adaptation of an animated musical movie, The Prince of Egypt. Our first production will be at Theatre Works in Palo Alto, California, this coming October. We are in the process now of beginning casting and the hiring of designers, choreographer, orchestrator, etc. The book for the show is by Philip LaZebnik, one of the original screenwriters and also my collaborator on the Hans Christian Andersen show we did in Denmark some years back. As with Hunchback of Notre Dame, the director is once again Scott Schwartz, who is not just my son but one of my favorite directors to work with. This production follows several developmental readings done over the past three years. All the songs from the movie are included in the show, in whole or in part, and there are around ten new songs. The Theatre Works presentation is a co-production with the Fredericia Teater in Denmark, where the Hunchback of Notre Dame production I mentioned above premiered. We will be going to Denmark with the show in April of 2018. It has been great to revisit this material again, so many years after the release of the movie, and I think we have been able to add new depth and nuance to the brother story at the heart of Prince of Egypt.

Speaking of revisiting material, the other imminent theatrical project on my plate is a revisal of Rags, the 1985 show about Jewish immigrants in New York at the beginning of the twentieth century, for which I wrote lyrics to Charles Strouse's wonderful music. The term "revisal" in the previous sentence is not a typo. This production, which will be at the Goodspeed Opera House in East Haddam, CT this fall, will feature a reconceived book by David Thompson, the talented librettist of Scottsboro Boys. While most of the characters and much of Joe Stein's original dialogue will still be part of the show, we have very much gone back to the drawing board in terms of the story and score. There will be several new songs, so I have a lot of work to do on revised and new lyrics. But I'm excited for the chance to get this show right, at long last. Given the fact that it is about immigrants and the challenges and resistance they faced becoming part of the fabric of America, it feels to me more timely than it has ever been. [Hear mp3 clips from the original cast album Rags]
The show that I wrote for Vienna last year, Schikaneder, is still going strong there, finishing its run when it must vacate the theatre in June. I don't yet know whether there will be an English-language production. We are in discussions with some producers and theatres, and the hope is that the very positive reception for the show in Vienna will generate interest in its future. But regardless of what happens with it from here on in, it has been a very fulfilling experience for me, and I am delighted with the show and its cast album. I will be playing hooky from one of the previews of Der Glöckner to go visit it!
As many of you may know, my association with Princess Cruise Lines is ongoing, and it continues to be a lot of fun. Each year I bring them a new show for presentation on some of their ships, and this year's production will be a musical version of an Asian folk-tale, The Silk Crane, devised by John Tartaglia with his trademark puppetry and conceptual brilliance. As with the previous productions I have done for Princess (the revue of my songs, Magic to Do, and last year's Born to Dance), this new show will expand and elevate the quality and originality of what is possible to do with cruise ship entertainment. I will be on the Diamond Princess this coming November (yes, it's going to be a very busy fall!) to help oversee the premiere.
There are some other fun things happening this year, in terms of concerts and some smaller projects, plus some things I can't yet discuss, but the above update gives you an idea of what's on the front burner for me. As always, I thank you for your interest and support, and I wish you all a great Spring of 2017!
Stephen
3. ALL GOOD GIFTS – News, Events, Articles
Keep reading for book news, invitation to World Premiere, many concerts and events, links to articles…..
Defying Gravity Book News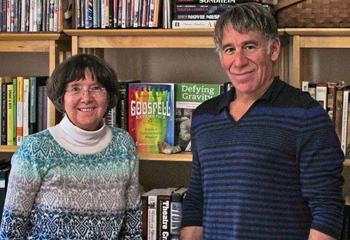 Stephen Schwartz keeps writing musicals, so by 2018 it will be time for an update of the biography published in 2008! This photo by my husband, Terry, is of me and Stephen from a meeting in my home office about the updated and revised edition of Defying Gravity.
Writing an authorized biography means that I have occasional access to Stephen and some of his colleagues for interviews. I write chapters and let him review the manuscript to correct inaccuracies. It's about trying to capture how this particular artist and his collaborators make musicals.
The first edition paperback of Defying Gravity is now out of print with the publisher, although the ebook version is still available for use on Kindles, iPads, and other devices. Also, some of the 11,000 copies in print appear for sale as used copies on sites like Amazon.com, eBay, and AbeBooks.com.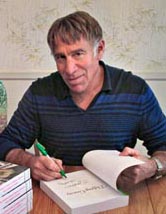 The second edition will have a new design as well as five or six new chapters. Some of the material from the first edition will be cut.
Autographed copies of the first edition are becoming collectibles. Stephen recently signed my remaining copies of the first edition. Read about reserving a copy here: DefyingGravitytheBook. Newly signed copies of my second book, The Godspell Experience, are also available.
Invitation to a World Premiere and Meet-up with Stephen Schwartz

As Stephen has mentioned, the DreamWorks animated feature film The Prince of Egypt, with the Academy Award-winning song "When You Believe," is now a full-blown stage musical. The world premiere will run October 6—November 5, 2017 in the San Francisco area and in 2018 in Denmark. Read more about the production here: TheatreWorks.org – Prince of Egypt.
I'm inviting readers of The Schwartz Scene to celebrate the premiere over the weekend of October 13 – 15. Stephen has tentatively agreed to meet up with my group, perhaps over a pre-show meal. Individual tickets for the show go on sale in the summer, and we might also do a group ticket purchase for a discount. There are hotels near the Mountain View Center for the Performing Arts where the show will play. I'll be finalizing everything in May. To attend this special event, please contact me at carolmusical@gmail.com with MOUNTAIN VIEW in the subject heading, and watch for a reply. (Try again if you don't hear back.)

The TheatreWorks describes the new musical in this way: "A soaring celebration of the human spirit, The Prince of Egypt features a dazzling, multi-ethnic cast in one of the greatest stories ever told: the saga of Moses and Ramses, his Pharaoh brother, and the indomitable people who changed them both forever. Inspired by the beloved DreamWorks Animation film and featuring a score that includes the Academy Award-winning "When You Believe" by the composer and lyricist of Wicked, this breathtaking journey of faith and family is the must-see event of the season."
EVENTS April to August, 2017
There's now another American tour of the circus-inspired production of Pippin that features an acrobatic troupe of performers, similar to the one seen in the Broadway revival. New cast. Pippin tour
Show Licensing News
In late January 2017, The Hunchback of Notre Dame stage production became available for licensing by theatre groups and schools. See MTIshows.com Hunchback. See also our Hunchback of Notre Dame page for more background.
Snapshots will be available by summer from Music Theatre International. This charming, original musical includes songs from Schwartz's many years of writing. The small cast size of six actors, minimal set, and touching score make Snapshots: A Musical Scrapbook ideal for regional and community theatres with a smaller theatre space or black box venues. It includes songs from Wicked, Pippin, Rags, The Baker's Wife, and others. See photos and details from previous productions on the MusicalSchwartz.com Snapshots page.
Article: Lyric Writing and Puzzles
To enjoy lyric writing, it helps to love working puzzles. Stephen Schwartz's lyric writing talent is based on lifelong interests. Read Lyric Writing and Puzzles: Finding the Perfect Fit.
Article: New Albums Available
2016 saw the release of four recordings that included Stephen Schwartz music and/or lyrics. For details about Schikaneder, Magic to Do, The Hunchback of Notre Dame, and Season of Light, see our blog post: Albums of 2016

Article: The Research Phase of Musical Writing
When Stephen Schwartz is writing lyrics, he doesn't just make things up out of his head. He usually researches his subjects and settings for colorful, historic details. Other writers do the same. For stories and background on this topic, read The Research Phase–Essential to Musical Writing.
4. THANK GOODNESS FOR WICKED–
Wicked the Musical news from around the world


Wicked continues to draw audiences around the world. It plays on Broadway, the American national tour, London, Wales, and the Philippines.
For Wicked-related items like the Defy Gravity hat, logo clothes, a Wicked apron, Wicked-related puzzles, and more, please visit the Wicked shop page at MusicalSchwartz.com
Broadway and Tour
Wicked on Broadway reached a new record on December 4th, 2016. It surpassed Beauty and the Beast, which ran 5461 performances, to become the 9th longest-running show in Broadway history. By the fall it will be the 8th longest-running show, after surpassing the original  Mamma Mia!. Since opening in 2003, the show has been performed in over 100 cities in 16 countries around the world and has been translated into six languages so far. For cities on the Wicked tour see Wicked American Tour – official site.
Movie
In October in an interview for BroadwayWorld.com, Schwartz explained about the movie, "Winnie's at work on the screenplay, and Stephen Daldry who's going to be directing is starting to do some work with the design in concepts, etc. It'll take as long as it takes."
Wicked-Related Books and more
Producer Jack Viertel's interesting book, The Secret Life of the American Musical, comes out in paperback in mid March. Chapter three is titled, "Wizard and I: the 'I Want' Song." This chapter includes a short section on why songs like "The Wizard and I" are essential to musicals. He covers a range of topics about how shows work for an audience and what kinds of songs are needed.
The revised edition of Defying Gravity will include a chapter on what happened after Wicked opened (to follow the 14 chapters already covering the show). If anyone wants to make suggestions for this chapter about how Wicked gained fans and became a cultural phenomenon, please contact me at carolmusical@gmail.com with WICKED in the subject heading.
Did you know that Kristin Chenoweth included "Popular" and "For Good" on her concert album (See our Chenoweth page) or that there's an exclusive interview clip on the Idina Menzel page on MusicalSchwartz.com?
Did you know there is a superclips version of Defying Gravity with various Elphabas on YouTube?
###
About The Schwartz Scene
The Schwartz Scene is an independent publication from MusicalSchwartz.com written for musical theater enthusiasts who appreciate the work of American composer-lyricist Stephen Schwartz. It does not formally represent composer Stephen Schwartz, although the editor, Carol de Giere, is in regular contact with the Schwartz office for updates.
To send comments or questions, send an email to carol@musicalschwartz.com with the word "Question" or "Comment" in the subject heading. Copyright 2017 by Carol de Giere. Carol de Giere has exclusive rights, unless otherwise specified, for all materials included in the newsletter. Permission must be secured in writing before any part of it may be reprinted, except for the printing of one copy for the subscriber's private use. Editor: Carol de Giere, 10 Library Place #909, Bethel CT 06801-0909.