The Schwartz Scene Newsletter 58 – Spring/Summer 2016
1. News and Intro from Carol de Giere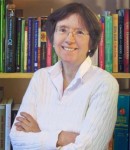 This issue is packed with Stephen Schwartz-related articles, news, and videos. It will serve as a double issue for both Spring and Summer 2016. One especially exciting offering listed here is a free outdoor concert for the new stage adaptation of The Prince of Egypt. Be among the first members of the public to experience this new work.
This issue also includes updates and videos about the upcoming world premiere of Schikaneder, an original musical with a score by Stephen Schwartz. You'll also find reports on Schwartz's current work and his musicals Children of Eden, Godspell, Wicked, and The Hunchback of Notre Dame stage adaptation.
For updates between now and the fall issue, please check our Facebook page – The Schwartz Scene. To share this current issue of The Schwartz Scene with your friends, send them to www.theschwartzscene.com/quarterly-newsletter/issue-58-spring-summer-2016/
Use the following link to subscribe, if you haven't already: www.theschwartzscene.com. Copyright by Carol de Giere, 2016. Carol is the author of the Stephen Schwartz biography Defying Gravity and also The Godspell Experience.
2. THE SPARK OF CREATION: Stephen Schwartz News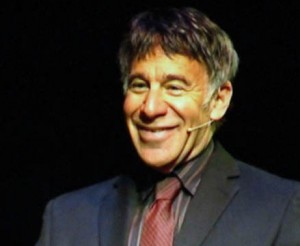 Stephen Schwartz will be present at all of the following events.
Photo: Stephen Schwartz at the May 10th Schikaneder press conference described below.
The Prince of Egypt Concert in the Park – Long Island – August 13, 2016
Update July 29, 2016: This public concert has been cancelled. We hope to have news on the show's progress in future issues of The Schwartz Scene. 
Schikaneder World Premiere in Vienna, Austria – September 30th, 2016
This article includes two video clips. On March 10th, the Raimund Theater by way of the website www.Musicalvienna.at introduced the new musical Schikaneder to the world through a livestreamed press conference with the show's composer Stephen Schwartz, bookwriter Christian Struppeck, director Trevor Nunn, cast members, and others. Read the full story and enjoy videos of Stephen and his brand new duet: "Dream Big" ("Träume Grosse" in German). READ MORE – Schikaneder press conference.
Stephen will be involved in the premiere of this new work.
An Evening with Stephen Schwartz… – Beverly Hills – February 2017
On February 3, 2017, The Wallis Annenberg Center for the Performing Arts in Beverly Hills, CA, in cooperation with ASCAP, will present an Evening with Stephen Schwartz: Music & Broadway Memories with special Broadway guest stars. The Wallis will also bring back the popular ASCAP Foundation Musical Theatre Workshop in partnership with DreamWorks Animation: February 1 and 2nd, 2017. The Fall newsletter issue will include more information.
3. ALL GOOD GIFTS – News, Events, and Articles
Children of Eden: Youth Symphonic Premiere; Jr. Version
Children of Eden has transformed many times. On Sunday, March 13, 2016, Young Artists of America at Strathmore (YAA), based in Bethesda, Maryland, presented the youth premiere of the new symphonic version of the show. Stephen Schwartz participated in the event and a workshop. May 1st, Schwartz attended a reading of the Children of Eden Jr – a work in progress. READ MORE and enjoy the photos – Children of Eden
PHOTO: Stephen Schwartz, center, with the Young Artists of America's ensemble for Children of Eden. Photo by Carmelita Watkinson / Courtesy of Young Artists of America.
Celebrating Godspell
Godspell opened 45 years ago, on May 17, 1971, at the Cherry Lane Theare in Manhattan. Some call it the Hamilton of its day in terms of its innovative quality. Many of the original cast members and band members are thriving in their own lives, including Sonia Manzano who just received an honorary doctorate at Carnegie Mellon University where she was in the original student production of Godspell. Other cast members have passed on. This past winter, my friend Herb Braha left us. Here is a tribute article: Remembering Herb Braha of the Original Cast of Godspell. Read about the making of Godspell in my book The Godspell Experience.
The Hunchback of Notre Dame Stage Production
With a score by Alan Menken and Stephen Schwartz, the new studio recording from The Hunchback of Notre Dame stage adaptation rose to the #1 spot on Billboard magazine's Cast Albums chart. It debuted at #5 on the iTunes Top Albums chart in its first day. Order the CD here: The Hunchback of Notre Dame – Amazon.com
 or use iTunes.
The new musical is now being licensed out to professional groups. Here are places in the USA you can see the new stage adaptation of The Hunchback of Notre Dame with the soaring new Menken/Schwartz score:
The show will also play in Japan, The Netherlands, and Hungary
Report on "Wall to Wall Stephen Schwartz"
Each year, NYC's Symphony Space hosts an eight-hour musical extravaganza that celebrates the work of a particular composer, and on April 16, 2016, it was Stephen Schwartz. The "Wall to Wall Stephen Schwartz" concert began at 3:00 pm and featured over 100 performers exploring Schwartz's wide-ranging body of work. READ MORE – Wall to Wall Stephen Schwartz – NYC
Stephen Schwartz Interview – Huffington Post Music Blog
This past February 12, music blogger Mike Ragogna posted one of the longest online interviews with Stephen. In "A Conversation with Stephen Schwartz," Schwartz covers his recent work on The Prince Of Egypt stage adaptation, workshops for musical writers, support for the arts in schools, the influence of Wicked, his legacy, and more. He talks about the phase of writing he's in, wanting to explore new areas. "[It's] interesting to me to explore areas that aren't that familiar to me and see what I have to contribute to those, or perhaps, be defeated by them. I just want to experience things that are different." See the full interview at Huff Post: A Conversation with Stephen Schwartz
Stephen Schwartz on Songwriting
If you are working on your own musical or are involved in staging new works, you'll find helpful information on my website www.MusicalWriters.com. In a recent blog entry there, I posted a few points from interviews. Stephen Schwartz – Songwriting advice regarding rewrites.  PHOTO: Lyricist Susan Birkenhead and Stephen Schwartz at the 2016 ASCAP Foundation Musical Theatre Workshop in NYC. Photo by Carol de Giere.

North Carolina
As you may know, this spring Stephen Schwartz was among the people who publicly protested a new law in North Carolina that he felt was unjust. He made a decision to ban productions of his work in North Carolina. A longer elaboration of the issues was made public on Playbill.com on April 6th. Playbill.com – North Carolina article
Schwartz Show on Cruises
A Stephen Schwartz show will be continuing on the Princess Cruises. Enjoy a video of the Magic to Do show. New shows are in the works.
4. THANK GOODNESS FOR WICKED–Wicked news from around the world
In Broadway news, Jennifer DiNoia, who has played Elphaba in seven companies across four countries—more than any other actress in the history of Wicked—will join the production at New York's Gershwin Theatre on August 1, 2016, replacing Rachel Tucker.
Wicked is also playing in London, Brazil, and on an Asian tour. The London company has recently announced the cast who will be performing in the fall: "From Monday 5 September, the new cast that will lead us through our 10th birthday celebrations will include: Rachel Tucker, returning to London's West End direct from her triumphant run on Broadway, to play 'Elphaba'; Suzie Mathers, who joins from the Australian production to star as 'Glinda'; Oliver Savile continuing as 'Fiyero'"

Do you have your Defy Gravity cap yet? Please see the Wicked Shop at MusicalSchwartz.com  for the latest in Wicked fashions and gift ideas. Your purchases through the links on that page help support The Schwartz Scene newsletter.
Wicked "For Good" video
Wicked's original Glinda and Elphaba, Kristin Chenoweth and Idina Menzel, reunited 12 years later to record a new music video as part of the "Out of Oz" series. It is the first time the two stars have performed "For Good" together since Broadway. "For Good" with Kristin and Idina
Reasons for Wicked fans to watch Tony Awards on June 12th
The Tony Award ceremony will be televised on June 12th. Although Wicked itself hasn't been up for an award since 2004, many former stars have been nominated and can be glimpsed as part of the ceremony that will be hosted by James Cordon.
Best Performance by an Actress in a Featured Role in a Play:
Megan Hilty, (Noises Off) (Former Glinda)
Saycon Sengbloh, (Eclipsed) (Former Elphaba)
Jayne Houdyshell, (The Humans) (former Madame Morrible)
Best Performance by an Actor in a Featured Role in a Musical
Christopher Fitzgerald, (Waitress) (the original Boq)
Best Performance by an Actor in a Leading Role in a Musical
Alex Brightman, (School of Rock-The Musical) (former Boq)
Best Performance by an Actress in a Leading Role in a Musical
Carmen Cusack, (Bright Star) (former Elphaba)
Best Direction of a Play: Joe Mantello ( The Humans) (Wicked director)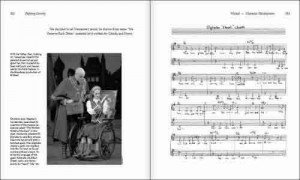 Sample Chapter – Landing in Oz
Especially for fans of the musical Wicked who haven't yet read Defying Gravity, you can start now by enjoying the free sample chapter. Sample chapter from the Wicked section – "Landing in Oz" chapter 16 [PDF file opens in new window]
(Image: A spread from Defying Gravity showing a chapter with photo and handwritten music from a draft of the musical.)
Wicked Tour North America for the rest of 2016
DATE / CITY
05/25/16 – 06/19/16 New Orleans, LA
06/22/16 – 07/03/16 Birmingham, AL
07/06/16 – 08/14/16 Houston, TX
08/17/16 – 09/04/16 Columbus, OH
09/07/16 – 09/18/16 South Bend, IN
09/21/16 – 10/08/16 Providence, RI
10/12/16 – 10/23/16 Wichita, KS
10/26/16 – 11/06/16 Peoria, IL
11/30/16 – 12/11/16 Wallingford, CT
12/14/16 – 01/08/17 Washington, DC
Wicked's Success Tabulated
A recent article in Variety tells a small part of Wicked's tale–the ticket sales income. Article writer Gordon Cox concludes the article saying "For the broader entertainment industry, 'Wicked' has long served as one of the clearest illustrations of the enormous potential of a hit stage musical. 'Wicked' qualifies as one of the most profitable properties in the entire catalog of its movie-studio backer, Universal Pictures…" He mentions that internationally, the musical has played to 50 million people in 14 countries, and has taken in $4 billion worldwide. READ MORE Wicked  
END
About The Schwartz Scene
The Schwartz Scene is an independent publication from MusicalSchwartz.com written for Stephen Schwartz fans. It does not formally represent composer Stephen Schwartz although the editor, Carol de Giere, is in regular contact with the Schwartz office for updates.
To send comments or questions, send an email to carol@musicalschwartz.com. Copyright 2016 by Carol de Giere. MusicalSchwartz.com has exclusive rights, unless otherwise specified, for all materials included in the newsletter. Permission must be secured in writing before any part of it may be reprinted, except for the printing of one copy for the subscriber's private use. Editor: Carol de Giere, Scene 1 Arts LLC, PO Box 909, Bethel, CT 06801-0909