The Schwartz Scene Newsletter 57 – Winter 2016
1. News and Intro from Carol de Giere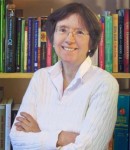 This issue features new interviews with composer-lyricist Stephen Schwartz that are exclusive to The Schwartz Scene. These include a brief Q and A about The Hunchback of Notre Dame stage musical new studio recording and a longer interview about The Prince of Egypt as a new stage musical. In this issue, you'll also find concert appearances, a touching story about the development of Children of Eden Jr, Wicked news, and more.
To share this current issue of The Schwartz Scene with your friends, send them to http://www.theschwartzscene.com/quarterly-newsletter/issue-57-winter-2016/

Use the following link to subscribe, if you haven't already: www.theschwartzscene.com. Copyright by Carol de Giere, 2016. Carol is the author of the Stephen Schwartz biography Defying Gravity and also The Godspell Experience.
2. THE SPARK OF CREATION: Stephen Schwartz News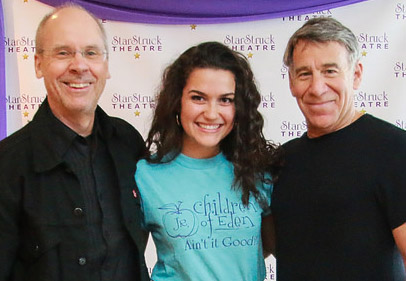 PHOTO: This past November the writers of Children of Eden traveled to Stuart, Florida, where the StarStruck Theatre was testing one-act Junior version of the show. From the left: John Caird (bookwriter), student actress Victoria Bartolotta, and Stephen Schwartz (composer-lyricist). Photo by Mitch Kloorfain.
UPDATE JANUARY 2016
Over the past few months, Stephen Schwartz's environments have ranged from his private work space at home to the White House for a "Broadway at the White House" program; from rural Connecticut to a small city in Florida to the busy European cities London and Vienna. He has spent many weeks in "writer hibernation" in order to focus on songwriting for new stage musical Schikaneder and new stage adaptation The Prince of Egypt. Yet musical writing always involves collaboration so he is often in a plane traveling to meetings in Los Angeles, London, or elsewhere. On one of his trips, he answered a couple of questions for me about the new album for The Hunchback of Notre Dame stage production (lyrics by Schwartz).
The Hunchback of Notre Dame New Stage Production and Album
Carol de Giere: Why did you feel it was important to create a studio album?
Stephen Schwartz: I have learned over the years that a show doesn't really exist unless there is a recording of it. It is the recording that triggers future productions. So it was very important to me that there be a really good recording of The Hunchback of Notre Dame, a show for which I feel enormous passion and pride. While I think it's a great shame that the magnificent production on which this recording is based will not be seen by American audiences anymore (at least a replicated production is scheduled to be produced in Japan later this year), I think having a record of one of the best casts I've ever seen assembled can only be a positive thing.
de Giere: The new musical includes the song "In a Place of Miracles" cut from the movie. On the DVD commentary bonus tracks someone comments that the song didn't end up in the movie because it took the focus away from Quasimodo and placed it on Phoebus and Esmeralda. Why did you want to use the song in the stage production?
Schwartz: The version of "In a Place of Miracles" in the stage version is vastly different from the version we wrote for the film. Virtually all the lyrics are new, as is much of the music. But in general, it's much easier and usually more successful to have characters simultaneously singing their own separate parts in a stage musical than on film, where the focus of the camera makes counterpoint difficult to achieve. And from a story-telling point of view, several important emotional and plot beats happen within the number.
The Hunchback of Notre Dame New Studio Album (Lyrics by Stephen Schwartz)
The new studio album for the stage production of The Hunchback of Notre Dame is substantially different from the movie soundtrack, offering many new songs and lyrics. The writers reimagined the stage musical by bringing in more of Victor Hugo's original story, strengthening storylines of Frollo, Esmeralda, and Phoebus, and much more. Enjoy the richly textured score performed by stars like Patrick Page, Michael Arden, and Ciara Renée. Order the CD or Mp3 files here: The Hunchback of Notre Dame – Amazon.com
or use iTunes.
Song list: Act I: 1. Olim, 2. The Bells of Notre Dame, 3. Out There, 4. Topsy Turvy, Pt. 1, 5. Rest and Recreation, 6. Rhythm of the Tambourine, 7. Topsy Turvy, Pt. 2, 8. Into Notre Dame, 9. God Help the Outcasts, 10. Top of the World, 11. Tavern Song (Thai Mol Piyas), 12. Heaven's Light, 13. Hellfire, 14. Esmeralda 15. Entr'acte. Act II: 16. Flight Into Egypt, 17. The Court of Miracles, 18. In a Place of Miracles, 19. Justice In Paris, 20. Someday, 21. While the City Slumbered, 22. Made of Stone, 23. Finale
The Hunchback of Notre Dame Licensing and First Productions
With a score by Alan Menken and Stephen Schwartz, The Hunchback of Notre Dame is now available for licensing by professional theatre groups. Already eleven professional productions are planned around the world in the coming seasons from Denmark (Fredericia Theater) to Hungary (Budapest Operetta), and across the USA including California's Sacramento Music Circus, Utah's Tuacahn Amphitheatre, and Maine's Ogunquit Playhouse. See Musicalschwartz.com Hunchback page for the link to the licensing information and more.
The Prince of Egypt as a New Musical for Stage Productions
A long-awaited stage adaptation of the DreamWorks movie The Prince of Egypt is advancing through the development process. Last summer, the Bay Street Theater in Sag Harbor, NY, where Stephen's son Scott Schwartz is the artistic director, hosted a reading of the first act. Scott directed the reading and offered "a lot of helpful structural suggestions and character insights," says his dad. "I trust him as a director and dramaturge. It sounds funny to say about my own son, but he's one of my favorite directors to work with." In 2016, writers Stephen Schwartz (music and lyrics) and Philip LaZebnik (book) plan to complete Act II of this DreamWorks show. Here are a few questions and answers about The Prince of Egypt project that Stephen has agreed to let me publish. This is an excerpt from my August 2015 interview with him.
Carol de Giere: How many songs are you planning?
Stephen Schwartz: The current first act has twelve and the second act will probably have six or so. The first act includes three of the songs from the movie: "Deliver Us," "Through Heaven's Eyes," and an expanded sequence built around "All I Ever Wanted." The second act will include "The Plagues" and "When You Believe." I think it's unlikely that we'll use "Playing with the Big Boys" because those characters have changed, and it is probably tonally wrong. And the rest of it is all new.
de Giere: For your musical style, are you drawing from a traditional Western scale?
Schwartz: As I usually do, when something I'm writing is set in a particular place and time, I've done considerable research on ancient Egyptian music and also Hebraic music. So there is definitely a different style and sound to this score, as I feel there was to the movie songs. If you heard a song from The Prince of Egypt and you heard a song from the new musical I'm writing for Vienna, you'd know which was which."
de Giere: When you adapt a movie like this, do the writers need to think about how some of the potentially difficult staging will be accomplished, such as showing the suffering workers, the Nile, the statues, and the plagues?
Schwartz: No, that's the director's problem. Scott has often said that he likes being challenged by something that seems impossible to stage because that's when he feels he does his most creative work. What we writers do have to think about is how to get from scene to scene. If there are sequences where a character is in one set and costume and then the very next scene he or she is in a whole other place and costume, that's something you can't do. But Scott will figure out how to do the Nile and the Plagues and things like that.
de Giere: I've read that you're not expecting it will head to Broadway. Is that partly because the primary audience is theater groups who will license the show?
Schwartz: Partly. The show is also really big in terms of its cast size, etc. I think it would be too expensive to do on Broadway.
de Giere: How many readings have you done so far and are there more planned?
Schwartz: We did a very early reading without songs in Los Angeles – one or two very early. Then I wrote the songs. So this would have been our third. We're supposed to do a reading of the full show Feb 5, so that's a deadline.
de Giere: What does that feel like to you?
Schwartz: Deadlines are always my friend. This year and next, I have three big deadlines. I've got the reading of the Vienna show in December. Then I have The Prince of Egypt in Feb., and then we want to do a reading of the movie I'm doing with Alan Menken in April. So there's a lot, but I like it. I like being a writer. I'm happier being a writer than what I've been doing recently, basically being a businessman and celebrity.
Stay subscribed to The Schwartz Scene for further updates. For recordings, sheet music, and more information about the movie version see Musicalschwartz.com The Prince of Egypt
3. ALL GOOD GIFTS – News, Events, and Articles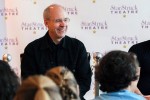 PHOTOS: John Caird and Stephen Schwartz meet with young performers at StarStruck Academy and Theatre. Photo by Mitch Kloorfain.
Composer Stephen Schwartz Has a Heart for Kids
Submitted by StarStruck Academy & Theatre (StarStruckfl.com) covering their work with Schwartz and Caird on Children of Eden Jr.
How does the busiest Broadway composer have time to work with children? He makes the time. Stephen Schwartz is committed to the future of musical theatre. He is passionate about his work and loves seeing children become transformed through the performing arts…. Freddie Gershon, CEO of MTI enthusiastically identified Schwartz as, "…driven, gifted, resilient, tenacious, and caring about the macro vision of the future of musical theatre…." READ THE WHOLE ARTICLE: Composer Stephen Schwartz has a Heart for Kids
Concerts, Events, Shows 2016
Here's a short list of events with Stephen Schwartz for 2016. We'll have more in the Spring Issue.
February in Australia: Schwartz is flying to Australia in mid February for a stage interview and to attend a concert there. See Defying Gravity Concert and talk: Australia. Noted interviewer and musical theatre fan Leigh Sales will converse with Schwartz about his creative career. BOOKS: My books Defying Gravity and The Godspell Experience will be available for sale at these events.
February 16 – 18 in Los Angeles: This year the annual ASCAP/DreamWorks musical theater workshop that Stephen Schwartz directs will be held at the Wallis Annenberg Center for the Performing Arts. The event is aimed primarily at people involved with musicals, especially writers. During the first two evenings, audiences will hear part of a new musicals. Then a group of panelists, lead by Schwartz, will give feedback, allowing everyone to hear ideas for making the show stronger. The third evening is a songwriting master class. There is a ticket reservation system for these sessions. Workshop link.
April: CT and NYC: On April 2nd, he will be speaking in Ridgefield at the western edge of Connecticut, and performing songs from his catalog. See Ridgefield Playhouse. On April 16, Symphony Space's theme for this year's Wall to Wall session is Stephen Schwartz. That means many hours of music by many performers – free! See Symphony Space – Wall to Wall Schwartz
May 22nd – Lancaster, PA: Stephen Schwartz and friends will be performing a Defying Gravity concert May 22, 2016. Primatheatre.org
May 25 – NYC: Soprano Melody Moore is debuting several songs by Stephen Schwartz. He will attend the Carnegie Hall concert. Melanie Moore
Ongoing Pippin Tour: A national tour of the new circus-themed revival of the Stephen Schwartz – Roger O. Hirson musical Pippin continues with stops in Buffalo, Providence, San Jose, Sioux Falls, Boston, and Philadelphia. It will play in Amsterdam in the Netherlands this spring. Pippinthemusical.com – Tour.
September in Austria: English speaking audiences who attend the new Stephen Schwartz/Christian Struebeck musical Schikaneder in Vienna will be able to read "surtitles" in English while the piece is performanced in German. It opens in late September 2016. See Schikaneder page at MusicalSchwartz.com for more about this show.
Recent video
From the NJ Public Television American Songbook series, a recent video clip: When You Believe sung by Stephen Schwartz, Scott Coulter and others
4. THANK GOODNESS FOR WICKED–Wicked news from around the world
Wicked on Broadway, Tour, London: This past October 28th, Stephen Schwartz and Winnie Holzman had reason to celebrate. Their musical Wicked celebrated its 5,000th performance on Broadway at the Gershwin Theatre. – See a photo of Stephen cutting the celebration cake at Wicked 5000. The London production plays on, as does the North American tour. As has been previously reported, Winnie Holzman is working on the screenplay for the Wicked movie.
Broadway at the White House: On Nov. 16, 2015, First Lady Michelle Obama hosted an event honoring some of the best high school performing arts students from around the country, inviting some special celebrity guests to hold panels and workshops for the students. Stephen Schwartz was on hand, as well as Andrew Lloyd Webber, Kristin Chenoweth, Matthew Morrison, Cicely Tyson, Whoopi Goldberg, Gloria Estefan, Christian Borle, and others. Here's a video of a lovely performance of "For Good" from Wicked, with Stephen Schwartz at the piano, Kristin Chenoweth, and guest performer Rachel Levy. Youtube.com – For Good
Wicked Licensing: Australia is the first country where Wicked can be licensed to professional theatre companies. One of the unique new productions is coming up this summer. Congratulotions to Riverside Parramatta. Riversideparramatta.com.au
Brazil: Wicked's official production opens in Brazil shortly. Stephen Schwartz always works with the translators for non English productions to make sure the lyrics work well. http://wickedomusical.com.br/
Shop: Please see the Wicked Shop at MusicalSchwartz.com  for the latest in Wicked fashions and gift ideas. Your purchases through the links there help support The Schwartz Scene newsletter.
5. The Godspell Experience and Defying Gravity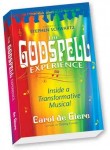 If you're wondering whether or not you might enjoy The Godspell Experience, try this sample chapter Sample Chapter about Godspell's beginnings. The Godspell Experience PDF sample chapter or find out where to order it: TheGodspellExperience.com.
Free Used Copies of Defying Gravity for Students
Periodically I like to buy up used copies of my book, Defying Gravity, and give them away to students or anyone else who wants to read the book but who can't buy new copy. If you know students or others in this position, please contact me at my direct email address: carolmusical@gmail.com – USA only.
Sample Chapters – Beginning. Check here for a sample of electronic version, available for reading the first few chapters: Defying Gravity on Amazon.com – read free sample What was Stephen Schwartz's childhood like? And college years?
Signed Copies for Gift Giving or as Collectibles
Autographed copies of Defying Gravity and The Godspell Experience are rare and valuable. I have copies of Defying Gravity signed by Stephen Schwartz, and for the Godspell book, I have a few copies also signed by Peggy Gordon. Contact me at carolmusical@gmail.com with the word "Book" in the subject heading.
END
About The Schwartz Scene
The Schwartz Scene is an independent publication from MusicalSchwartz.com written for Stephen Schwartz fans. It does not formally represent composer Stephen Schwartz although the editor, Carol de Giere, is in regular contact with the Schwartz office for updates.
To send comments or questions, send an email to carol@musicalschwartz.com. Copyright 2015 by Carol de Giere. MusicalSchwartz.com has exclusive rights, unless otherwise specified, for all materials included in the newsletter. Permission must be secured in writing before any part of it may be reprinted, except for the printing of one copy for the subscriber's private use. Editor: Carol de Giere, P.O. Box 909, Bethel, CT 06801-0909