1. News and Intro from Carol de Giere
It's almost dizzying to keep up with Stephen Schwartz's news. Here are some highlights from this issue: He is overseeing the creation of several musicals for cruises, as well as writing a romantic comedy to be staged in Vienna. He's performing in concerts, working on a cast album, and receiving special honors. This issue celebrates Godspell's 44th anniversary (May 17, 1971) with a sample chapter from my new book, The Godspell Experience (with a Foreword by Stephen Schwartz).
To share this current issue of The Schwartz Scene with your friends, send them to http://www.theschwartzscene.com/quarterly-newsletter/issue-55-spring-2015
Use the following link to subscribe, if you haven't already: www.theschwartzscene.com/ . Copyright by Carol de Giere, May, 2015. Carol is the author of the Stephen Schwartz biography, Defying Gravity, and The Godspell Experience.
2. THE SPARK OF CREATION: Stephen Schwartz News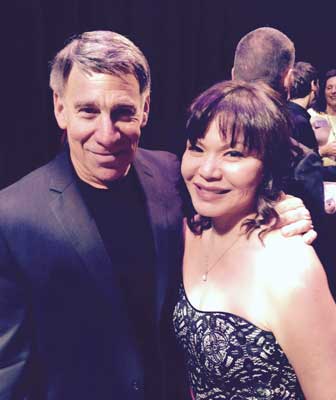 This photo of Stephen Schwartz with singer Fay Ann Lee was taken after a concert with the Phoenix Symphony this past February. Photo courtesy of Fay Ann Lee.
Concerts
See the Blog post "The Music of Stephen Schwartz: Concerts for 2015" for concert dates in Hartford, Santa Clarita, Bayside NY, and Staten Island. The post also includes comments by singers Fay Ann Lee and Kelli Rabke (Yonah on the Children of Eden cast album) about performing with Stephen Schwartz.
Cruises to Feature New Musicals
Stephen Schwartz has always liked the theatricality of magic, so it's not surprising that when it came time to find a theme and title for a cruise ship musical project, he chose Magic to Do. As Pippin fans know, "Magic to Do" is the title of the show's opening number. It will now also be the name of a musical that incorporates some of Schwartz's most famous songs with the performance of magic. He'll write a new song for the show, which debuts on the Crown Princess (a cruise ship owned and operated by Princess Cruises) in the fall.
Jim Steinmeyer, who has worked on illusions with magicians such as Doug Henning, Siegfried & Roy, and David Copperfield, will create the magic experience in Magic to Do. The show's director is Gabriel Barre (Amazing Grace).
Schwartz has been enlisted to oversee the creative development for a total of four new musicals to debut across the line's global fleet. He has said, "I'm excited about the possibility of using the enormous resources available with Princess to create new and innovative theatrical entertainment. Their onboard theatres are Broadway-caliber venues with state-of-the-art technical capability, and coupled with their access to first-rate performers, I see it as an extraordinary and almost irresistible opportunity. I have already received overwhelming and enthusiastic interest from talented colleagues – writers, directors, and designers to whom I have spoken – and I hope together we will create new kinds of cruise ship shows to entertain and inspire Princess guests unlike any other productions at sea."
The first show, Magic to Do, will be held on three cruise ships in 2015: The Crown Princess beginning October 10, the Ruby Princess beginning November 30, and the Emerald Princess beginning December. See Cruise website details.
Emanuel and Eleonore – A New Stephen Schwartz Musical in Vienna

Stephen Schwartz has recently returned from Vienna, Austria, where he was continuing work on a new musical, Emanuel and Eleonore, formerly known by the working title of Schikaneder. Emanuel Schikaneder penned the libretto for Mozart's popular opera, The Magic Flute. In this story, the dramatic interest to Schwartz and his collaborator, Christian Struppeck, has been the tempestuous relationship between Emanuel and his wife Eleonore. The show will be presented in German in Vienna in 2016. (Fans are hoping for a future production in English.) For anyone who missed the previous issue of The Schwartz Scene, you will find Stephen's update about this project there: Schwartz Scene 54
Bidding War for New Movie Project with Alan Menken/Stephen Schwartz Songs
Deadline.com has reported (April 16) on the acquisition by Universal Studios of a new movie project involving songwriters Alan Menken (music) and Stephen Schwartz (lyrics), who previously wrote songs for Disney movies Pocahontas, The Hunchback of Notre Dame, Enchanted, and a stage version of The Hunchback of Notre Dame. The new untitled musical comedy feature is said to be the brainchild of Josh Gad (The Comedians) and writer-director Jeremy Garelick. Many major studios bid on the project: Disney, Paramount, Warner Bros' New Line, Sony Pictures, Fox and Universal. There is talk of a stage transfer if all goes well. According to the article, the seven-figure deal is the largest of the year. Source: Deadline.com – new movie and Deadline.com – Bidding War
The Hunchback of Notre Dame Cast Album
A cast album is in the works for the recent stage production of The Hunchback of Notre Dame, with music by Alan Menken and lyrics by Stephen Schwartz. We'll have more news in the next issue of The Schwartz Scene. 
Stephen Schwartz Receives Honorary Doctorate
Stephen Schwartz, who graduated with a BFA in drama from Carnegie Mellon University in 1968, will receive an honorary Doctor of Fine Arts degree from his alma mater on May 17 at the graduation ceremony. It was at CMU that he prepared for his career by writing original musicals and studying as a directing major.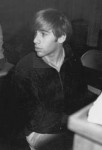 PHOTO: Stephen Schwartz as a teenager working on the college version of Pippin (called Pippin, Pippin), from Chapter 2 of the biography Defying Gravity: The Creative Career of Stephen Schwartz, from Godspell to Wicked.
Schwartz Steps Down from Dramatists Guild Presidency
After six years in office, Schwartz is leaving the position of Dramatists Guild president. "I have considered it an honor and privilege to serve as president of the Guild, and I am extremely proud of what we have accomplished in the past six years," said Schwartz in a statement. "I look forward to working with the new leadership to complete current initiatives-in-progress and to help them realize their plans for the Guild to continue to strengthen and grow in the years ahead."
3. ALL GOOD GIFTS – More News and Articles
Happy Anniversary to Godspell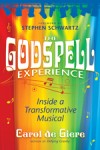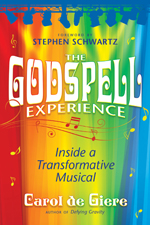 Godspell opened May 17, 1971. Have you read the story of Stephen Schwartz's career launch with Godspell? Stephen Schwartz and Godspell History– This blog post includes a link to the PDF file of a sample chapter from The Godspell Experience.
Licensing agency Music Theatre International celebrates Godspell's anniversary with an article and book giveaway. Peter Filichia feature on Godspell and The Godspell Experience book.
The 2015 Isabelle Stevenson Tony Award Goes to…
Stephen Schwartz is being honored as the 7th recipient of the "Isabelle Stevenson Award" that is presented annually to a member of the theatre community who has made a substantial contribution of volunteered time and effort on behalf of one or more humanitarian, social service or charitable organizations. This special award is named for the late president of the American Theatre Wing, Isabelle Stevenson, and was first presented at the 2009 Tony Awards ceremony to Phyllis Newman, who founded the Phyllis Newman Women's Health Initiative of The Actors' Fund of America.
In Stephen's case, the award is for "his commitment to serving artists and fostering new talent through his work with ASCAP Musical Theatre Workshop, ASCAP Foundation and helping develop new partnerships as President of the Dramatists Guild," according to a press statement. Although he has not won a Tony for a score in this case (an award for which he was nominated in previous years for Pippin, Godspell, Working, Rags, and Wicked), he is being recognized by the American Theatre Wing for the manner of giving that is part of his nature.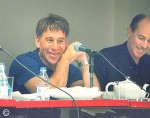 PHOTO: Stephen Schwartz and Craig Carnelia leading an ASCAP musical theatre workshop session.
I've known Stephen Schwartz since 2000 and have witnessed many instances of him providing fellow musical writers with tips, feedback, and encouragement. Also, for many years he has been giving master classes to actors with tips on auditioning for musicals and improving their performance. In addition, he regularly performs at benefit concerts, such as a fundraising and inspirational concert in Newtown, Connecticut, at which he performed "Beautiful City." (The concert was recorded on DVD and CD From Broadway With Love
.)
When I interviewed Tony winner Debbie Gravitte, who sings with him in Stephen Schwartz and Friends concerts, she shared her observation about Stephen's nature. "When we were first working together, he had a button that he would wear that said 'Just Say No.' It didn't have anything to do with drugs or sex. It had to do with volunteering, because Stephen is one of those people who, when asked to do a benefit, will say, okay sure—that's his nature. He wants to help out people. And at a certain point, with his amount of fame and notoriety, you do have to learn to say no."
Regarding his help of performing artists and writers, Gravitte adds, "He gets joy from discovering other talents. That says a lot, because in show business, basically we all walk around looking over our shoulder, in some ways, meaning, 'Who's that person coming up behind me? Are they going to replace me?' Stephen does not do that. He welcomes the person over his shoulder. He wants to see who's coming, because he's confident enough in what he does and his body of work. The reality is, there is room for everybody." (Quoted in Defying Gravity, page 499.)
The press statement about the award reveals more about his contributions:
"'Stephen's successes span far beyond the Broadway stage through his commitment to fostering the next generation of musical theatre actors, lyricists and composers. We are thrilled to celebrate his countless triumphs with this honor,' said Charlotte St. Martin, Executive Director of The Broadway League, and Heather Hitchens, President of the American Theatre Wing, in a statement.
"For the past six years, as President of the Dramatists Guild, he has worked to strengthen and protect the rights of American dramatists, including battling censorship and piracy and improving the relationship between writers and directors, actors and producers.
"As a long-standing board member of the ASCAP Foundation, he has served as artistic director of the Musical Theatre Workshops in New York and Los Angeles for more than 20 years, nurturing many of the young composers and lyricists working in the theatre today. He has also brought the ASCAP workshop to multiple cities around the country, as well as conducting frequent master classes at universities and regional theatres for aspiring writers and performers. Internationally, Schwartz has done master classes for musical theatre writers and performers in such countries as Germany, Australia, Latvia and Kenya.
"In response to recent teen suicides, he wrote the choral piece 'Testimony' and helped produce the choral piece 'Tyler's Suite,' both performed frequently in anti-bullying campaigns in schools around the country.
"His other charitable work has included organizing last fall's Uprising of Love concert at the Gershwin Theatre to benefit and raise awareness of LGBT people in hostile countries, producing benefits for the Juvenile Diabetes Research Foundation and the Faustman Clinic, and appearing in benefits for such causes as the Sandy Hook families, Marriage Equality, the Orphaned Starfish Foundation, the Gender and Family Project, etc." Source for press statement: Tony Awards site
Schwartz at Master Class Boston University
In an article about a Boston University master class, writer Joel Brown says about Schwartz: "His backstage tales often drew laughs during the two-hour session." The article shares details from the class experience. March 2015 master class – article
Pippin Revival Tour and Schwartz Video Conversation
VIDEO: Speaking of "Magic to Do," A USA national Pippin revival tour continues to enchant audiences. In 2013, while working on the new cast album for the revival, Stephen Schwartz commented on his experiences with Pippin's music. The fifteen-minute video chat Youtube: Stephen Schwartz in studio for Pippin recording includes his conversations with music supervisor Nadio DiGiallonardo and music director Charlie Alterman. Stephen talks about recording the orignal album with Phil Ramone, his musical influences, casting, orchestrations, Michael Jackson's cover of "Corner of the Sky," and more. He concludes by revealing his favorite moment from the music of the revival.
TOUR: This revival of the  Pippin is the new circus-themed version, featuring a stellar cast, outstanding direction by Diane Paulus, circus creation by Gypsy Snider, Fosse-inspired choreography by Chet Walker, and a few tweaks by writers Schwartz and Hirson. Summer cities include Schenectedy, Detroit, Kansas City, Fort Worth, Seattle, Charlotte, Louisville, Baltimore, Dallas, Chicago, and San Diego. More dates will be announced. See Pippinthemusical.com – Tour.
4. THANK GOODNESS FOR WICKED–Wicked news
 Wicked Shop has new items.
Wicked leggings, new t-shirts, and more. Please see the Wicked Shop at MusicalSchwartz.com  for the latest in Wicked fashions and gift ideas. Your purchases through the links there help support The Schwartz Scene newsletter.
North American Wicked Tour Update; Broadway; London and more
While the second national North American tour of Wicked continues its route, the first national tour concluded its record-breaking journey March 15 in Los Angeles, 10 years to the week after the tour began. That tour launched March 8, 2005, in Toronto, and concluded with 10 Glindas, 14 Elphabas and an impressive $790 million in grosses to its credit. The second tour continues with dates scheduled in the following cities: El Paso, Seattle, Portland, Tempe, Kansas City, Madison, Milwaukee, Louisville, St. Louis, Charlotte, Costa Mesa, New Orleans, Birmingham, Houston, and Columbus. North American tour for Wicked – official site
The Broadway and London productions of Wicked are still in full swing. The UK/Ireland tour will play its final city (Salford, England) in July 25, 2015. The 1st Australasian National tour will conclude in Perth, Australia, on June 28, 2015.
Several fan groups operate on Facebook, including the Unlimited: the First Wicked Society and others. I maintain a Defying Gravity – Facebook page that focuses on Stephen Schwartz news.
Kristin and Idina on tour
The original witches of Oz, Idina Menzel and Kristin Chenoweth, have both announced future concert tours. See Idina's site and Playbill annoucement for Chenoweth.
Gregory Maguire news
Gregory Maguire, who wrote the novel Wicked from which the musical was adapted, has announced a new novel. After Alice: A Novel
can be pre-ordered for its October release. As he did for Wicked and The Wizard of Oz, for this new novel Maguire turned his imagination to the question of underworlds, undergrounds, underpinnings. This time he chose the world of Lewis Carroll and his enduring tale, Alice in Wonderland. It's unlikely that Stephen Schwartz would have time to consider adapting this one in the foreseeable future, but we thought fans might want to know about the new book.
END
About The Schwartz Scene
The Schwartz Scene is an independent publication from MusicalSchwartz.com written for Stephen Schwartz fans. It does not formally represent composer Stephen Schwartz although the editor, Carol de Giere, is in regular contact with the Schwartz office for updates.
To send comments or questions, send an email to carol@musicalschwartz.com. Copyright 2015 by Carol de Giere. MusicalSchwartz.com has exclusive rights, unless otherwise specified, for all materials included in the newsletter. Permission must be secured in writing before any part of it may be reprinted, except for the printing of one copy for the subscriber's private use. Editor: Carol de Giere, P.O. Box 909, Bethel, CT 06801-0909