The Schwartz Scene Newsletter 54 – Winter 2015
1. News and Intro from Carol de Giere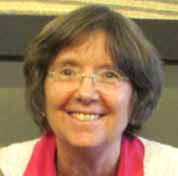 In Stephen Schwartz's update for this issue (see column 2 below) readers will learn about his new musical project taking shape in Vienna. He also reports on his work for The Hunchback of Notre Dame, and other activities.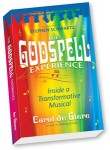 This winter issue is also packed with news, stories, and event listings for 2015 with opportunities to meet Stephen Schwartz or hear him in concert (column 3 below). The Godspell Experience, for which he wrote a colorful Foreword, is now available, including autographed copies signed by Stephen and by myself as author. Please see details below.
To share this current issue of The Schwartz Scene with your friends, send them here to http://www.theschwartzscene.com/quarterly-newsletter/issue-54-winter-2015/
Use the following link to subscribe, if you haven't already: www.theschwartzscene.com/ . Copyright by Carol de Giere, September, 2014. Carol is the editor of The Schwartz Scene newsletter. She is also the author of the Stephen Schwartz biography, Defying Gravity, and The Godspell Experience.
2. THE SPARK OF CREATION: Stephen Schwartz's Update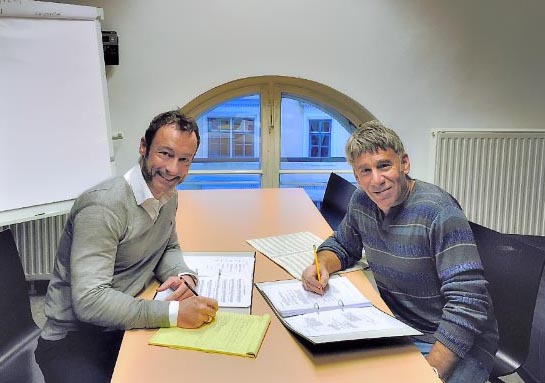 January 10, 2015
Photo: Stephen Schwartz (right) with Christian Struppeck working in his offices at the Ronacher Theater in Vienna.
Hi friends:
As usual, I am writing this update on a plane, this time on my way to Vienna, Austria. I am headed there for the first reading of the first draft of the first act of a new musical I am working on, which is planned to premiere in Vienna (in German) in the fall of 2016. It is a romantic comedy dealing with the tempestuous relationship between the eighteenth-century actor/author/impresario Emanuel Schikaneder and his wife Eleonore. The time in which it is set (1781-1791), plus certain story points which I will not divulge because they would be "spoilers," have me writing a score with (I hope) a strong flavor of the period. So there are some firsts for me here — the style of music and the fact that I haven't written an out-and-out love story before, albeit a comic one — and that always makes a project fun and exciting.
The book writer for the show is Christian Struppeck, the artistic director of Vereinigte Bühnen Wien (United Stages Vienna), where the show will premiere. Christian is someone I have known since he was in the ensemble of the last show I did which premiered in German, Der Glockner von Notre Dame, back in 1999. He has since become a very successful writer and producer, and he approached me with the idea for this show a couple of years ago, when through a peculiar series of circumstances, we happened to find ourselves in Salzburg at the same time (for the premiere of the first production there of The Sound of Music, of all things.) It was one of those ideas that I loved as soon as I heard it, and I said yes before I could stop myself. One of the things that has come as a pleasant surprise to me as we are working on it, mostly via email and occasional Skype, is how funny Christian's dialogue is, even in English, which is after all not his first language.
And the director will be Trevor Nunn, which I'm thrilled about, since my working with him on a revival of The Baker's Wife persuaded me he is one of the best directors in the world. For this coming year, we will be working in English, and thus I will also be spending part of this trip in London, as Trevor wanted to work with English actors at this early stage of development. I am looking forward to hearing what Christian and I have come up with so far read and sung out loud for the first time. We'll see!

Speaking of Der Glockner von Notre Dame, the other "front burner" project for me right now is the new English-language stage version of Hunchback of Notre Dame. Once again, the score has music by Alan Menken and lyrics by myself, with a new book by Peter Parnell. We recently completed a first production at the La Jolla Playhouse in California, and I have to say it went extraordinarily well. We are now in the process of doing some revisions for an upcoming run this March at the Paper Mill Playhouse in New Jersey.
Some of you may know that the show is being directed by my son, Scott Schwartz, and working with him has been a great pleasure. I think he has done an amazing job staging the show as well as guiding all of us dramaturgically, and he has been aided by a phenomenal cast, led by Michael Arden as Quasimodo, Patrick Paige as Frollo, Ciera Renée as Esmeralda, and Andrew Samonsky as Phoebus, plus a terrific ensemble and a standing choir of thirty-two voices (for all that Latin!) The show sticks much closer to the tone of the Victor Hugo novel than the Disney animated feature could, and Peter has even incorporated some of Hugo's language and descriptions into the narration that flows through the story-telling.
The score includes almost all of the songs that were in the movie, albeit sometimes with different lyrics (for instance "Bells of Notre Dame") or occasionally different music ("The Court of Miracles"), plus several songs that Alan and I wrote for the German stage production and some brand new songs as well. I've always loved Alan's music for this piece — in my opinion, it is his finest score — so it's been a pleasure to be in that musical world again. We were all thrilled by the very positive reaction to the show in La Jolla, and as you can imagine, we are very curious to see if it will be as well-received at Paper Mill!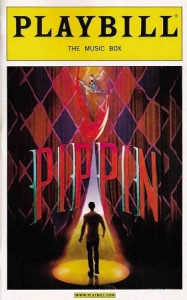 Last week I said a bitter-sweet farewell to another production I absolutely loved, the Diane Paulus-directed revival of Pippin, which played its 709th and last performance on Broadway Jan. 4th. I have to admit I loved this production so much I was kind of hoping it would run forever, but I have to be happy at the wonderful run it did achieve. The final performance, as these things tend to be, was amazing, with the audience full of fans who had seen the show multiple times. There were standing ovations in the middle of the show, and I was particularly glad that an opportunity for one was added for Charlotte d'Amboise as Fastrada, who was with us for the entire run. Her amazing performance of "Spread a Little Sunshine" brought the house down again, and this time they left the lights up for her at the end, so she could be onstage for the cheers she so deserved.
I realized watching the show that this production was one of those extraordinarily rare occasions where the authors (Roger Hirson and myself) are completely happy with the way our vision of the show was not only realized in every moment but exceeded. I will miss being able to drop into it from time to time in New York, but I'm very glad that the tour is out there making its way around the country. Pippinthemusical.com – Tour.
Well, I have only a few hours before I arrive in Vienna early in the morning, and then I will have to get to the theatre and play through the score of the first act for the musical director and accompanist. So I think it's time I pop an Ambien and try to get a little sleep. These overnight flights to Europe are always tough to hit the ground running. So let me wish a Happy New Year to all of you, and of course as always thank you for your interest and support.
Best, Stephen Schwartz
3. ALL GOOD GIFTS – Events and Articles
The Godspell Experience now available – with a Foreword by Stephen Schwartz
PHOTO: Original cast member Robin Lamont, me (author Carol de Giere), and Stephen Schwartz sign copies of "The Godspell Experience" in Connecticut
Godspell features one of Stephen Schwartz's most beloved scores. And now there's a book that explores all things Godspell.
To write The Godspell Experience: Inside a Transformative Musical, I gathered fresh comments from original cast members, movie cast members, other Godspell actors, Stephen Schwartz, and friends of the late John-Michael Tebelak (who conceived the musical and directed the first productions). I filled the book with Godspell history, anecdotes, notes about each song, 90 photographs, Godspell movie stories, and more. In his foreword to the book, Stephen Schwartz comments that it "…contains many details about the development of the show that I never knew before."
I invite subscribers of The Schwartz Scene to order a copy from my book website that I could sign and send you. Visit www.thegodspellexperience.com. The paperback is also sold on Amazon.com USA and UK. An ebook version is available at Amazon.com sites around the world. Note that many tablets and phones support Kindle reader apps, and there's a Kindle reader available for desktop computers, so that anyone with a computer or mobile device has access to it.
Disney's The Hunchback of Notre Dame stage production east coast premiere
The new version of Disney's The Hunchback of Notre Dame for stage (lyrics by Stephen Schwartz) will have an East Coast premiere at Paper Mill Playhouse in New Jersey March 4 – 29, 2015 (including previews). Paper Mill Hunchback. It includes many new songs.
SPECIAL FAN EVENT. I've reserved tickets for a mid-March weekend matinee. Stephen Schwartz will be meeting with my group after the show to say hello and talk briefly about the production. I've got 6 tickets left. Email carol@musicalschwartz.com for more information.
2015 Concerts with Stephen Schwartz
Feb 5, 6, 7 – Phoenix, AZ
The Phoenix Symphony presents the best-loved music of Stephen Schwartz in concert. It will be conducted by John Boswell and features Broadway vocalists Scott Coulter, Jessica Hendy, Kelly Rabke and Fay Ann Lee. Stephen Schwartz will join them on stage, making a "Wicked" guest appearance on vocals and piano. Phoenix Symphony – Schwartz
March 14, 2015 - Stephen Schwartz and Friends in NJ
The day before The Hunchback of Notre Dame opens at Paper Mill Playhouse, there will be a Stephen Schwartz and Friends concert at the nearby New Jersey Performing Arts Center. Performers include Mr. Schwartz, Scott Coulter, Debbie Gravitte, and Kelli Rabke. New Jersey Stephen Schwartz and Friends concert
March 21, 2015 – Boston
Stephen Schwartz joins the Boston Gay Men's Chorus on stage for a show celebrating his music from Godspell, Pippin, Wicked and more! Saturday March 21, 2015 at 8pm and  Sunday March 22, 2015 at 3pm. Bgmc.org
May 31, 2015 – Santa Clarita, CA
The Santa Clarita Master Chorale presents "Defying Gravity" with special guest Stephen Schwartz! This award-winning Broadway and film composer will be in concert with the Chorale for one performance only. The concert features music from Wicked, Godspell, Pippin, and more. Santa Clarita concert
Schikaneder 2016
The official website for the new musical includes information in German and English. Musicalvienna.at
ARTICLES
THE HUNCHBACK OF NOTRE DAME: Disney's adaptation of the film musical received positive notices for the West Coast premiere held this past fall at the La Jolla Playhouse. One of the best articles appeared in the San Diego Union Tribune: "'Hunchback' resounds at Playhouse: Movie-derived musical brings fresh depths to saga of love and vengeance." See a link to this article and a song list at Hunchback of Notre Dame – MusicalSchwartz.com
GODSPELL: The new blog at TheGodspellExperience.com features articles about Godspell, including history, ideas, and cast members. Here are some links and topics:
4. THANK GOODNESS FOR WICKED–Wicked news
Wicked Movie
With the success of the movie musical Into the Woods, questions about the Wicked movie have been in the air. Marc Platt, who was one of the Into the Woods producers, was also the original lead producer on the stage production for Wicked and is guiding the Wicked movie production. He recently gave an update in an interview with www.filmdivider.com in which he confirmed what he had said earlier: the movie is in the works and it's not in a rush. According to Platt, the original book writer for the musical, Winnie Holzman, is writing the screenplay. Platt said Stephen Daldry has been tapped as director. Daldry previously directed both the Billy Elliot movie and the stage musical adaptation.
Wicked sets records
Wicked logged the highest-grossing eight-performance week in Broadway history ($2,740,642) for the week that included the New Years Eve and New Year's Day holiday, and a long weekend, according to Variety. The show also set records with touring productions in L.A. and Detroit.
As reported elsewhere, Wicked was seen by 45,000 people in the UK during the week that ended January 3rd, breaking its own previous records in both the West End and on its UK & Ireland Tour.
The Wicked Story
The story of Wicked the musical, the creativity and ideas behind it, are covered in several books, and in greatest detail in my own book, Defying Gravity. It includes the original outline for the musical, photos, stories behind the songs, lyrics, handwritten notes by Stephen Schwartz for Nessarose's song, and much more. See www.defyinggravitythebook.com for more information. Autographed copies are also available.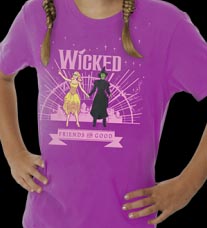 Please see the Wicked Shop at MusicalSchwartz.com  for the latest in Wicked fashions, more books, and gift ideas. Your purchases through the links there help support The Schwartz Scene newsletter.
More About Wicked
For the current cast members, see the official websites. For sheet music, background information, stories, see the fan site musicalschwartz.com/wicked.htm
END
About The Schwartz Scene
The Schwartz Scene is an independent publication from MusicalSchwartz.com written for Stephen Schwartz fans. It does not formally represent composer Stephen Schwartz although the editor, Carol de Giere, is in regular contact with the Schwartz office for updates.
To send comments or questions, send an email to carol@musicalschwartz.com. Copyright 2015 by Carol de Giere. MusicalSchwartz.com has exclusive rights, unless otherwise specified, for all materials included in the newsletter. Permission must be secured in writing before any part of it may be reprinted, except for the printing of one copy for the subscriber's private use. Editor: Carol de Giere, P.O. Box 909, Bethel, CT 06801-0909