The Schwartz Scene Newsletter 53 – Fall 2014
1. News and Intro from Carol de Giere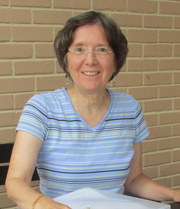 Stephen Schwartz wrote an update for this issue (see Column 2) covering his latest theatrical and movie adventures, as well as those of his son with whom he has been working on the upcoming stage production of Disney's The Hunchback of Notre Dame.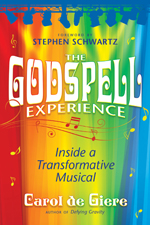 I'm pleased to announce that Stephen has written the Foreword for my latest book The Godspell Experience: Inside a Transformative Musical. I'll be selling copies autographed by myself and by Stephen  – Updated Dec 2014 – the book is now available. Visit the book site www.thegodspellexperience.com

(The photo of me at a Starbucks is from a recent book-related interview with Stephen Schwartz.)
In columns 3 and 4 below you'll find articles and news of shows and upcoming events such as concerts where you can hear Stephen Schwartz perform and possibly greet him afterward. Happy reading!
To share this current issue of The Schwartz Scene with your friends, send them here to http://www.theschwartzscene.com/quarterly-newsletter/issue-53-Fall-2014/
Use the following link to subscribe, if you haven't already: www.theschwartzscene.com/ . Copyright by Carol de Giere, September, 2014. Carol is the editor of The Schwartz Scene newsletter. She is also the author of the Stephen Schwartz biography, Defying Gravity, and the forthcoming book, The Godspell Experience.
2. THE SPARK OF CREATION: Stephen Schwartz's Update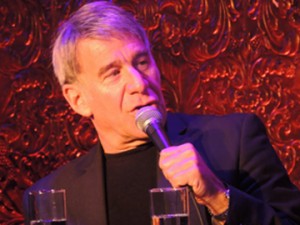 PHOTO by Steve Schalchlin:  Stephen Schwartz at Manhattan's 54 Below Supper Club in NYC, August 3, 2014. Stephen was being interviewed by his friend Jim Brochu. See more photos and a charming report of the evening: Schwartz at 54 Below.
UPDATE August 28, 2014
By Stephen Schwartz
I write this, as I always seem to be writing these reports, on an airplane. This time I am returning from a brief trip to London to discuss a possible new project. It's not something I can discuss openly quite yet, but it may be that if all comes together, I will be able to in my next report.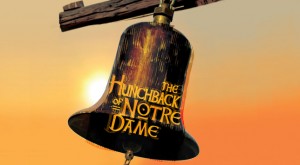 In any event, the project that is most imminent is occurring in the other direction, out at the La Jolla Playhouse in California, where the new stage version of The Hunchback of Notre Dame will have its premiere this fall. Previews begin on October 26th and the official opening is November 9th. We all convene out there in mid-September for the beginning of rehearsals. Peter Parnell has completed his revisions on the book, incorporating what we learned from our workshop last winter, and Alan Menken and I have done the new song moments and rewrites that were also indicated by what we saw in the rehearsal room those exciting two weeks. I'm sure there will be changes aplenty once we get into rehearsals and previews, but for now we're good to go.
We have been fortunate enough to retain our four leads from that workshop – Michael Arden as Quasimodo, Patrick Paige as Frollo, Andrew Samonsky as Phoebus, and Ciera Renee, leaving her recent stint on Broadway as Pippin's Leading Player to come be our Esmeralda. They will be joined by our new Clopin and a wonderfully talented ensemble portraying the rest of the population of 1482 Paris as well as some stone denizens of the cathedral of Notre Dame de Paris. This is a project I have always loved working on, so I am very much looking forward to being in this world again, albeit being able to take breaks in the lovely Southern California climate.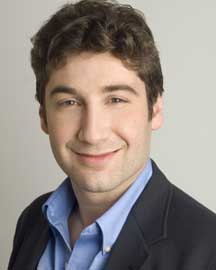 PHOTO: Scott Schwartz
One of the nicest things about this production for me is that it is being directed by one of my favorite directors and someone I always enjoy working with — my son, Scott.. Scott has had a triumphant summer, and since it continues to leave him far too busy to report [for The Schwartz Scene] himself, I have gained his permission to do it for him.
He is just finishing up his first season as the artistic director of the Bay Street Theatre in Sag Harbor on Long Island, and he has gotten off to a courageous and remarkable start. He programed two world premieres (a terrific new play by Carey Crim called Conviction that he directed himself and a delightful and clever new musical, My Life is a Musical, by an alum of my ASCAP Musical Theatre Workshop, Adam Overett). Both of these were extremely well-reviewed and audience favorites too. In between he presented perhaps my favorite Tom Stoppard play, Travesties, intellectually exhilarating but challenging as Mr. Stoppard's work tends to be, and that too came off very well. All this and an outdoor staged reading of The Tempest with John Glover as a fierce Prospero, which Scott also directed. He finishes up for the season on Labor Day weekend, and then has two weeks before he leaves for La Jolla, but don't think he will merely be resting and packing. No, he has readings of two potential new projects to squeeze in. So you can understand why he cannot report in person, and therefore I have overcome my speechless admiration to do so for him.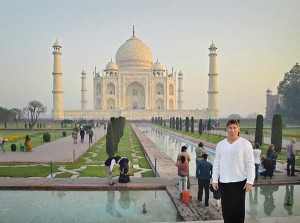 My other currently ongoing project, for which I will be trying to do some writing before Hunchback heats up, is the DreamWorks animated Monkeys of Mumbai, for which you may remember I am writing lyrics for songs with music by AR Rahman. An ingenious reimagining of the story for the first third of the movie has meant that AR and I have to jettison a couple of songs and come up with new ones. But since I think the new idea is a vast improvement for what was already a pretty cool story (in my opinion), I don't mind having to go back to the drawing board on a couple of numbers. [For details on this project and Stephen's report of his movie-related India trip see The Schwartz Scene issue 47]
And I will be heading out to Denver next weekend for a couple of days for the launching of the Pippin tour. I've dropped in on rehearsals a few times, but I am looking forward to seeing this production, about which you know I couldn't be more enthusiastic, with a whole new cast. Particularly cool from my point of view is that Charlemagne is being played by John Rubinstein, our original Pippin from 1972. You can imagine my gamut of emotions in the chapel scene when Pippin says to Charlemagne, "Time has passed you by, Father," and our first Pippin looks at our current Pippin and replies, "And your time has come, my son?"
My end-of-summer time is so packed that I fear I'm not going to make it out to the US Open tennis, but of course I will be doing a lot of writing with the television on in the background. I think Roger Federer has a real chance again this year, so I have perhaps foolishly gotten my hopes up!
I hope you all have had enjoyable summers and I look forward to reporting in with updates in a few months. Thanks as always for "listening"
– Stephen
3. ALL GOOD GIFTS – Events and Articles
The Hunchback of Notre Dame for stage 2014 premiere
The new version of Disney's The Hunchback of Notre Dame for stage will premiere October 28 – December 7, 2014 at the La Jolla Playhouse near San Diego, California. Menken and Schwartz have been working on the new score over the years. Hunchback at La Jolla. As part of the Playhouse's regular Talk Back series, they will hold sessions after the performances on November 4th and 11th, with cast members and probably with Scott Schwartz.
The show will have an east coast premiere at Paper Mill Playhouse March 4 – 29, 2015 (including previews). Paper Mill Hunchback. Be sure to buy tickets in advance, as it might sell out.
CONCERTS AND TALKS
September 15, 2014 New York City Concert with Sting and Others
Stephen Schwartz is the executive producer for a special benefit concert for global equality for Lgbt. The concert features Sting, Patti Lupone, and others and will be held at the Gershwin Theatre at 8 pm. Uprising of Love concert . The 15 September concert supports efforts by United Nations Secretary-General Ban Ki-moon and the UN's Free & Equal campaign in calling for equal rights globally for lesbian, gay, bisexual, transgender, and intersex individuals. The concert will weave together stories and performances by activists and artists from around the world.
September 22, 27, and 28 – California Concerts and Events
On September 22nd, 2014, Stephen Schwartz and others are offering a cabaret concert at the Old Town Temecula Community Theater in Temecula, California (south of Los Angeles). Some VIP tickets for a meet and greet are available. For tickets and more information go to Schwartz event for Cabaret at the Merc
In San Francisco on Sept. 27th, Stephen Schwartz will be joined by Liz Callaway, Anna Gasteyer, and Michael McCorry Rose at Bay Area Cabaret's Opening Night Gala. Schwartz will perform as well as answer questions in an on-stage interview by ASCAP's Michael Kerker. Bay Area Cabaret
At a fundraising gala on September 28th, also in San Francisco, Stephen Schwartz and others are being honored with Champion Awards by the San Francisco Gay Men's Chorus. The public is invited to "Crescendo – Brunch with the Boys!" held at noon.
October 22, 2014 Harford CT
Stephen Schwartz and Gregory Maguire (and Mark Twain) will be speaking in Hartford CT where Twain lived for many years. Theatre critic and commentator Frank Rizzo of the Hartford Courant moderates. 8:00 PM. Read about it at Twain – Mark My Words
March 14, 2014 Stephen Schwartz and Friends in NJ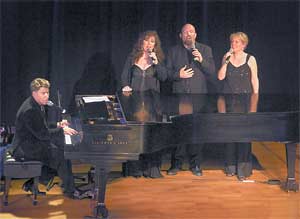 There will be a Stephen Schwartz and Friends concert at the New Jersey Performing Arts Center. Performers include Mr. Schwartz, Scott Coulter, Debbie Gravitte, and Kelli Rabke.  New Jersey Stephen Schwartz and Friends concert (Photo by Marianne Lopinto)
OTHER SHOWS
Pippin Tour and Broadway
A USA national tour of the new circus-themed revival of Pippin that has dazzled audiences on Broadway for over a year begins in Denver and then continues around the country. It features a stellar cast, outstanding direction by Diane Paulus, circus creation by Gypsy Snider, Fosse-inspired choreography by Chet Walker, and a few tweaks by writers Schwartz and Hirson. See tour locations and dates at Pippinthemusical.com – Tour
Matthew James Thomas who played Pippin in the Broadway revival, joins the tour cast in Denver while Kyle Selig is on medical leave for vocal rest. For later dates of the tour Selig is expected to return. The cast includes Lucie Arnaz as Berthe, Sasha Allen (a finalist on the 4th season on NBC's "The Voice") as Leading Player, Tony Award winner John Rubinstein (created the role of "Pippin" in the 1972 original Broadway production) as Charles, Sabrina Harper (Pippin, original Broadway Revival cast) as Fastrada and Kristine Reese (Wicked on tour) as Catherine.
The Broadway revival of Pippin continues its open run. Andrea Martin has returned to her role as Bertha through September 21st. Read more, listen to the album, find links to tickets, etc. Musicalschwartz.com Pippin Revival. Note from Carol: I've seen this version of Pippin 6 times now, including with the most recent cast. It's an awe inspiring must-see show.
A Few Notable Professional Productions of Stephen Schwartz Musicals
Children of Eden returns to Mill Mountain Theatre Center where it was first tried out in America after failing in London. December 3 – 25, 2014. Godspell plays at Seacoast Rep in Portsmouth NH September 5-28.
ARTICLES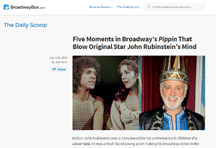 1) John Rubinstein, after performing TWO lead roles in Pippin on Broadway, has a new perspective. In an interview posted on BroadwayBox.com he shares some of his interesting comparisons between the original production in the early 1970s and the revival. Five Moments in Broadway's Pippin That Blow Original Star John Rubinstein's Mind 
2) As previously mentioned, an article on Schwartz at 54 Below has been posted. It includes photos and some of Stephen's colorful stories as were drawn out that night by interviewer Jim Brochu.
4. THANK GOODNESS FOR WICKED–Wicked news from around the world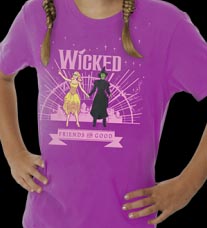 Please see the Wicked Shop at MusicalSchwartz.com  for the latest in Wicked fashions and gift ideas. Your purchases through the links there help support The Schwartz Scene newsletter.
Christopher Kuczewski provides our Wicked report for this issue.
 THANK GOODNESS FOR WICKED!
By Christopher Kuczewski, founder of Unlimited, the first Wicked Fan Society
Broadway
Wicked will celebrate its eleventh year of defying gravity on the Great White Way in October! As of August 24, 2014, the Broadway production has played 4504 performances at the Gershwin Theatre, making it the eleventh longest running show in Broadway history (and the fifth longest running show still currently playing). The current cast features Christine Dwyer as Elphaba, Jenni Barber as Glinda, Tom McGowan as The Wizard, Mary Testa as Madame Morrible, and Justin Guarini as Fiyero.
First National Tour ("Emerald City")
To close out 2014, the First National Tour will make stops in San Jose, CA, Albuquerque, NM, Las Vegas, NV, San Diego, CA, and Los Angeles, CA (with the LA production running through Feb 1, 2015). The tour features Emma Hunton as Elphaba, Chandra Lee Schwartz as Glinda, Tim Kazurinsky as The Wizard, Alison Fraser as Madame Morrible, and Nick Adams as Fiyero.
Second National Tour ("Munchkinland")
The final 2014 stops for the Second National Tour will be Toronto, ON, Hartford, CT, Norfolk, VA, and Detroit, MI. This cast features Laurel Harris as Elphaba, Kara Lindsay as Glinda, Gene Weygandt as The Wizard, Kathy Fitzgerald as Madame Morrible, and Matt Shingledecker as Fiyero. The tour continues in 2015.
London's West End and UK/Ireland National Tour
The London production celebrates its eighth year in September, having become the tenth longest running show currently running in the West End. Original London standby/replacement Kerry Ellis returns to the role of Elphaba, joining Savannah Stevenson as Glinda, Martyn Ellis as The Wizard, Sue Kelvin as Madame Morrible, and Jeremy Taylor as Fiyero.
The tour will make stops in Birmingham, Liverpool, Southampton, Edinburgh, Plymouth, Bristol, Sunderland, Aberdeen, and Salford. The cast features Jemma Alexander as Elphaba, Emily Tierney as Glinda, Dale Rapley as The Wizard, Marilyn Cutts as Madame Morrible, and Liam Doyle as Fiyero.
Japan, Australasian National Tour, Mexico, and Korea
The Tokyo revival will play its final performance on November 16, 2014. The cast stars Okamura Minami as Elphaba, Tanihara Shion as Glinda, Matsushita Takeshi as The Wizard, Abe Yuki as Madame Morrible, and Iimura Kazuya as Fiyero.
The Australasian multi-national tour will complete its run with stops in the Australian cities of Melbourne, Sydney, and Brisbane. The cast stars Jemma Rix as Elphaba, Lucy Durack as Glinda, Reg Livermore as The Wizard, Anne Wood as Madame Morrible, and Steve Danielsen as Fiyero.
The first Spanish-language production that opened Oct. 17 in 2013 in Mexico City, will end its run on November 2, 2014. The first sit-down production of Wicked in Korea that opened November 22, 2013, ends its run on October 5, 2014. An article in the Korean Herald quoted Lisa Leguillou about the show: "I think people respond to Wicked globally because they all have a bit of Elphaba and a bit of Glinda inside them," said the upcoming run's director Lisa Leguillou, who has directed the show in other countries including Mexico, Germany and Australia. "It all relates to everyone's childhood."
Wicked Merchandise
Be sure to check out the latest apparel and souvenirs from the Ozdust Boutique! (USA and UK.) Pick up a copy of the limited Collector's Edition vinyl of the Grammy Award-winning original cast recording. Make your wardrobe truly Ozmopolitan with the new "Keep Calm and Defy Gravity" and "Beautiful Tragic" shirts. Follow link from Carol's site http://www.musicalschwartz.com/wicked-shop.htm
Follow Unlimited on Facebook at Unlimited
5. The Godspell Experiene and Defying Gravity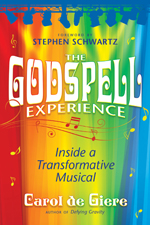 For the past four years I've been collecting behind-the-scenes stories from original cast members, composer Stephen Schwartz, friends of the late John-Michael Tebelak (who conceived and directed Godspell), and numerous others.  Finally a book of 300+ pages is nearing completion. It not only includes show history, but also colorful details about each song, complete lyrics, stories behind the movie version, and commentary that will help readers better understand the musical.
Updated Dec 2014 – the book is now available. Visit the book site www.thegodspellexperience.com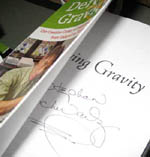 Defying Gravity: I have autographed copies of Defying Gravity available for the upcoming holidays, signed by Stephen Schwartz as the book's subject and by me as author. The cost is $35 plus shipping. Contact me at carol@musicalschwartz.com and add "Signed copy" to the subject heading.
Read more about the book at DefyingGravityTheBook.com
END
About The Schwartz Scene
The Schwartz Scene is an independent publication from MusicalSchwartz.com written for Stephen Schwartz fans. It does not formally represent composer Stephen Schwartz although the editor, Carol de Giere, is in regular contact with the Schwartz office for updates.
To send comments or questions, send an email to carol@musicalschwartz.com. Copyright 2014 by Carol de Giere. MusicalSchwartz.com has exclusive rights, unless otherwise specified, for all materials included in the newsletter. Permission must be secured in writing before any part of it may be reprinted, except for the printing of one copy for the subscriber's private use. Editor: Carol de Giere, P.O. Box 510, Georgetown, CT 06829