1. News and Intro from Carol de Giere

For this Winter 2014 issue, I've been in touch with Stephen Schwartz about his travels and latest news. You'll find details below. This issue also announces two special events for fans and a new show to see: Alan Menken and Stephen Schwartz's first American stage collaboration, The Hunchback of Notre Dame, premiering this fall in San Diego.
Keep reading for a link to an article "Schwartz, Pete Seeger, and Sting," a recent video interview (section 3), and Wicked news (section 4).
To share this current issue of The Schwartz Scene with your friends, send them to http://www.theschwartzscene.com/quarterly-newsletter/issue-52-winter-2014/
Use the following link to subscribe, if you haven't already: www.theschwartzscene.com/ . Copyright by Carol de Giere, March, 2014. Carol is the author of Defying Gravity, the Stephen Schwartz biography, and the forthcoming book, The Godspell Experience.
2. THE SPARK OF CREATION: Stephen Schwartz Career News and Events
NEWS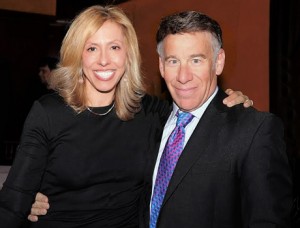 The photo to the left is from the February 24, 2014 Dramatists Guild annual award Ceremony. Stephen Schwartz, Guild President, is pictured with Amanda Green, co-recipient of The Frederick Loewe Award for Dramatic Composition. Photo by DouglasGorenstein.com for the Dramatists Guild. 
Stephen Schwartz has started 2014 with a great deal of traveling. First, at the beginning of February, was a trip to the Philippines to see the current Manila production of Wicked, give some notes (though the production was in such good shape there were very few), and do some press interviews. While in the Philippines, he also managed to find time to climb the picturesque Taal Volcano (a volcano in a lake in the crater of a larger volcano) and spend a few days kicking back at the beautiful Amanpulo island resort. His return saw a stopover in Los Angeles for meetings at DreamWorks and his annual ASCAP musical theatre workshops.
Then it was on to Colombia to discuss a possible production of Children of Eden, perhaps even involving filming that production, and touring some Colombian sites with historic buildings and indigenous peoples. Coming up this month are a return to Los Angeles, a trip to Seoul, South Korea, for the production of Wicked playing there, and a stopover in San Francisco for the premiere of the San Francisco Gay Men's Chorus performance of the "Tyler Suite," for which he has provided one of the movements.
In January, before all this globe-hopping began, Stephen was involved in the Disney Theatrical lab for the first English-language stage production of The Hunchback of Notre Dame. It went well enough that fully staged productions have been announced for the La Jolla Playhouse in October 2014 and New Jersey's Paper Mill Playhouse in March 2015. One of the other positive experiences was working with his son Scott Schwartz as the show's director. Says Schwartz: "I always love working with Scott, and this time was no exception. I feel he always delivers the show I have in my head, but then he does something more with it that I couldn't have imagined."
EVENTS
The Hunchback of Notre Dame for Stage – English Language Premiere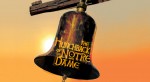 Disney's The Hunchback of Notre Dame stage production will have its American premiere at the La Jolla Playhouse, October 26 through December 7, 2014. The Playhouse is in La Jolla, California, just north of San Diego. The musical team responsible for the animated feature score continue with this stage version: Alan Menken (music) and Stephen Schwartz (lyrics). The new book is by Peter Parnell. Scott Schwartz directs and Josh Bergasse choreographs.
The La Jolla production is made possible through a special arrangement with Disney. There is no news yet on where it might be staged after this. The La Jolla Playhouse – The Hunchback of Notre Dame production
According to Schwartz, the new production "is a re-imagining of the material for the stage, using elements of the Disney animated feature and the 1999 German versions, but also many new and extensively revised scenes and songs."
Presented in a co-production with the La Jolla Playhouse, and produced by special arrangement with Disney Theatrical Productions, The Hunchback of Notre Dame will be presented at the Paper Mill Playhouse from March 4-April 5, 2015.
November 1, 2014 Pre-Matinee Lunch with Stephen Schwartz in La Jolla, CA
I'm planning a lunch for Schwartz fans, probably for November 1st. There is a good chance Stephen will join us (as he did at a meal we had in 2003 at the pre-Broadway tryout of Wicked). Email me privately at carol@musicalschwartz.com to be added to the list. (We'll think about a get-together for the New Jersey production in 2015.)
Sunday, Mar 30, 2014 – Eric Whitacre and Stephen Schwartz Concert at Lincoln Center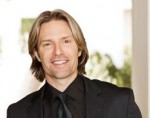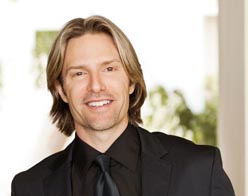 Stephen Schwartz is a fan of Eric Whitacre's work and will be joining him for a special afternoon concert "Defying Gravity" at New York City's Lincoln Center, Avery Fisher Hall. The audience will enjoy a selection of Eric Whitacre's pieces alongside some of the greats from Schwartz's musicals. Whitacre conducts over 250 choir members in his annual concert collaboration with Distinguished Concerts International New York.
Singer Ashley Brown joins as soloist. Brown is a multi-award winner for the title role in Mary Poppins, which she originated on Broadway. She has performed with virtually all of the top orchestras in North America including the Boston Pops, the New York Philharmonic, The Hollywood Bowl Orchestra at Disney Hall, and the New York Pops at Carnegie Hall.
TICKETS: Lincoln Center – Defying Gravity concert: Schwartz and Whitacre
Pre-Concert Lunch with Schwartz fans in NYC
Come to lunch with other Schwartz fans on March 30th. So far about 8 people are gathering at a diner within walking distance of Lincoln Center. There's a slight chance that Stephen Schwartz will join us or stop by. Email me privately if you'd be interested in joining the group. carol@musicalschwartz.com
Special San Francisco Concert March 25 and 26, 2014
Stephen Schwartz has recently contributed to a choral musical project called the Tyler's Suite that will have its premiere in San Francisco on March 25 and 26th, 2014. He will be participating in the premiere. Find tickets to the concert. Previously he has written several other well-regarded choral works: "Keramos" and Testimony." Read more about Keramos and Testimony- hear clips
The origins and themes of the piece are described on the SFGMC website. "Tyler's Suite creates a new story of inclusion, dignity and acceptance for other youth and their families, through a musical experience that inspires community, activism and compassion. The story is one of hope and encouragement to families everywhere."
May 19, Kennedy Center Children of Eden concert
[News added March 25th.] Stephen Schwartz's beloved score for Children of Eden will be performed in concert at the Kennedy Center in May http://tinyurl.com/odum9yp
From Broadway With Love
If you are a Godspell fan and haven't yet heard the composer sing and play "Beautiful City" I recommend a newly released performance. Last year Stephen Schwartz sang it for the "From Broadway With Love" concert that was organized to bring cheer to the Newtown, Connecticut community after the tragic loss. He changed a few lyrics for the performance as well. The concert has recently been released as a CD, MP3, Blu-Ray, and DVD. For the historic event, more than 100 stars of Broadway came together with over 300 students from several Newtown dance groups, the Sandy Hook Elementary School 3rd and 4th grades and the Newtown High School Chamber Choir. To order from Amazon go to: From Broadway With Love
or just Schwartz's Beautiful City
.
Pippin Cast Changes and Tour
On April 1, 2014, Kyle Dean Massey will be taking over the role of "Pippin" for the Broadway revival of Pippin. Many Wicked fans have enjoyed Massey in the Fiyero role. Also on April 1st, Ciara Renée (Big Fish) will assume the challenging role of "Leading Player" in the show. Current cast members Matthew James Thomas and Tony Award winner Patina Miller will play their final performance on Sunday, March 30, 2014. For Tickets see Pippinthemusical.com/ and for the cast album, sheet music, and other background information visit MusicalSchwartz.com Pippin.
The producers have also scheduled a touring production to begin in the fall. You can check locations at Pippinthemusical.com/tour.php. It currently lists San Francisco, Minneapolis, Charlotte, Los Angeles, and Baltimore.
Notable Productions
Here are a few noteable professional productions of Stephen Schwartz musicals coming up around the USA, in addition to the ongoing Wicked productions and Pippin on Broadway. Godspell will be running at the Marriott Lincolnshire theatre in the Chicago area June 4-August 10, the Indiana Festival Theatre June 11 – 29, and the AD PLayers in Houston July 7 – August 24. Pippin will play at the Phoenix Theatre March 5 – 30th, the Arkansas Shakespeare Theatre in Conway AR June 11-29, and the Highlands Playhouse in North Carolina July 3-20.
3. ALL GOOD GIFTS – Articles
Stephen Schwartz Video Interview 2-8-14
YouTube Video Clip: Stephen Schwartz interview posted 2-8-14. In this 11-minute interview from the Philippines, Stephen Schwartz talks about what draws him to writing for musicals, and how writing for movies is different from writing for stage, what he liked about the Wicked story, and other topics. He also explains how he can write for many different types of characters, such as Elphaba and Frollo, and lists his major influences on his writing.
Stephen Schwartz, Pete Seeger, and Sting
The article for this issue focuses on Stephen Schwartz's musical influences and an update about Sting's new musical. Read the article here on the blog: Stephen Schwartz, Pete Seeger, and Sting
4. THANK GOODNESS FOR WICKED–Wicked news from around the world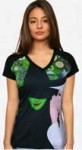 Wicked on Broadway has welcomed a bounty of talent including Christine Dwyer, Jenni Barber, Justin Guarini and two-time Tony nominee Mary Testa. The show continues to keep fans posted on their Facebook page Wicked official and other sources. In London, booking has extended for Wicked into its 9th year. Wicked in London.
Please see the Wicked Shop at MusicalSchwartz.com  for the latest in Wicked fashions and gift ideas. Your purchases through the links there help support The Schwartz Scene newsletter.
Enjoy one of the most recent videos on Wicked's YouTube channel about the show's stunning lighting effects Behind the Emerald Curtain – Lighting
As most of you know, my Stephen Schwartz biography, Defying Gravity, is available in print format as well as on iPads and Amazon Kindles. It includes 14 chapters on Wicked.  www.DefyingGravityTheBook.com/
About The Schwartz Scene
The Schwartz Scene is an independent publication from MusicalSchwartz.com written for Stephen Schwartz fans. It does not formally represent composer Stephen Schwartz although the editor, Carol de Giere, is in regular contact with the Schwartz office for updates.
To send comments or questions, send an email to carol@musicalschwartz.com. Copyright 2014 by Carol de Giere. MusicalSchwartz.com has exclusive rights, unless otherwise specified, for all materials included in the newsletter. Permission must be secured in writing before any part of it may be reprinted, except for the printing of one copy for the subscriber's private use. Editor: Carol de Giere, P.O. Box 510, Georgetown, CT 06829