The Schwartz Scene Newsletter 49 Winter 2013
1. News and Intro from Carol de Giere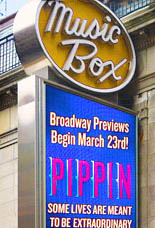 This issue celebrates Stephen Schwartz's 65th birthday! It includes news, events listings, articles, and a video clip.
If you've read  Defying Gravity, you know that Stephen Lawrence Schwartz was born on March 6, 1948 in New York City. Among his many accomplishments was to be a prime mover for the musical Pippin that opened on Broadway in 1972 with his magical score. Now in 2013, anyone traveling to NYC will be able to see two popular Schwartz musicals: the ever-popular Wicked and the revival of Pippin.
Although he's 65, Mr. Schwartz is far too busy to retire now. But did you know he once "retired" from writing for three years? Read about this and more in Issue 49 of The Schwartz Scene.
To share this current issue of The Schwartz Scene with your friends, send them to http://www.theschwartzscene.com/quarterly-newsletter/issue-49-winter-2013/
Use this link to subscribe, if you haven't already: www.theschwartzscene.com/ . Copyright by Carol de Giere, March 6, 2013. Carol is the author of Defying Gravity, the Stephen Schwartz biography.
2. THE SPARK OF CREATION: Stephen Schwartz News and Musicals News
Pippin
Fans will soon have a chance to enjoy Pippin on Broadway again in the amazing Diane Paulus-directed production that I so much enjoyed in Boston. Be sure to visit the official site – Pippinthemusical and follow their updates on Facebook and Twitter. Please also visit  www.musicalschwartz.com/pippin-revival.htm for my notes, an article about the orchestrations, and more.
Concerts
Stephen Schwartz will be involved in several concerts coming up in Ohio, NYC, and Washington, DC. I'm also announcing major concerts of his music in Atlanta and Omaha. For details, dates, and ticket information go to Concerts of Stephen Schwartz music around the USA in 2013
PBS Documentary available online or on DVD
In the USA on PBS Television, a new documentary, Broadway Musicals: A Jewish Legacy, is available for pre-order
and you can also watch it online at PBS.org – Broadway musicals: A Jewish Legacy. To pre-order it, go to Broadway Musicals: A Jewish Legacy. The Stephen Schwartz clip is very brief but viewers have enjoyed the documentary as a whole. It is narrated by Joel Grey and includes some rare historical video clips from Broadway performances as well as interviews with many songwriters. Toward the end, there's a clip of Idina Menzel and Kristin Chenoweth singing "For Good" from Wicked.
Godspell licensing
Attention theatre directors and performers involved with Godspell: The show has one of the more unusual licensing situations. Groups can license it from one of two agencies, and even two different versions of Godspell (from MTI). The latest edition is the 2012 Broadway revival version. Visit the MusicalSchwartz.com page Godspell productions resources for licensing, costumes, karaoke, and more.
Houdini
Earlier this year it was announced that Aaron Sorkin has dropped out of the Broadway-bound musical, Houdini, due to his work schedule. Schwartz and Sorkin had been working on it as time allowed. We'll include more news in future updates.
Stephen Schwartz / Carol de Giere radio interview – ADDED 3/12/13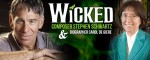 Stephen Schwartz and I were interviewed for the Patrick Phillips Show that aired 3/10/13 is available online at patrickphillipsshow.com/?p=3241 - total time 26 minutes. Stephen reflects on Wicked and other efforts of the past as well as on his latest projects, including his work with Alan Menken on Disney's The Hunchback of Notre Dame for stage. He also mentions the Wicked film. (His interview comes after mine.)
3. ALL GOOD GIFTS – Articles
Stephen Schwartz at 65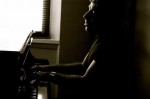 The Grammy and Oscar-winning songwriter Stephen Schwartz marks his sixty-fifth birthday today, March 6, 2013. With dozens of musical scores completed and several more in mid stream, it seems unlikely that he'll ever retire (again). It's easy to forget that long before Wicked, he once did retire at age thirty. For about three years he stopped writing…Read the full article: Stephen Schwartz at Sixty Five/
Stephen Schwartz: A Creative Force at Age Sixty-Five
This article appeared on the blog for the Hal Leonard Performing Arts Group publishing.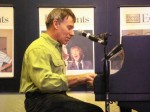 A small upright piano arrived at the home of Stan and Sheila Schwartz on Long Island when their son Stephen was seven years old. It wasn't long before the boy started goofing off from his piano lessons so he could improvise new tunes. No one imagined his creative "noodling," as he calls it, would become one of his strategies for writing songs for Broadway and Hollywood, including the megahit musical Wicked. Now, at age sixty-five, Stephen Schwartz still centers much of his work around his pianos, Read the full article – Onstage and backstage blog – Stephen Schwartz
Someone Wrote That Song
Stephen Schwartz helped produce a recording for a new song written by his friends Alan Menken and Craig Carnelia. He also sings on the recording that was used to create a video clip for Youtube featuring cute puppets. It includes a message from songwriters about buying recordings. Watch "Someone Wrote That Song." http://www.youtube.com/watch?v=kPROpnf280U
4. THANK GOODNESS FOR WICKED–Wicked news from around the world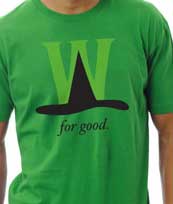 Did you know that new Wicked-themed clothes are available at the shop? See the Wicked Shop for the latest in Wicked fashions and gift ideas.
Broadway: Willemijn Verkaik, who is starred in the Dutch production of Wicked, is making her Broadway debut as Elphaba. She plays opposite Alli Mauzey as Glinda. Wicked-nyc
Other Elphabas and Glindas include:
North American Tour 1: Dee Roscioli (Elphaba); Jenn Gambatese (Glinda)
North American Tour 2: Christine Dwyer (Elphaba); Jeanna de Waal (Glinda)
London: Louise Dearman (Elphaba) and Gina Beck (Glinda)
Tours: The Wicked tour of North American has added Chicago and other cities to their list   and the Wicked tour of the UK will be traveling around England, Scotland, Ireland, and Wales while it is still playing strong in London. Wicked in London.
Australia and New Zealand area
Wicked returns to the Australasian region later this year as part of it's 10th Anniversary Year, playing in Auckland for the first time at The Civic Theatre from September 2013, and returning to its original Australian home at the Regent Theatre, Melbourne, from May 2014 for a strictly limited season, followed by an Australian tour. Go to wickedthemusical.com.au/
Schwartz Scene issue 50
Watch for it in late spring.
About The Schwartz Scene
The Schwartz Scene is an independent publication from MusicalSchwartz.com written for Stephen Schwartz fans. It does not formally represent composer Stephen Schwartz although the editor, Carol de Giere, is in regular contact with the Schwartz office for updates.
To send comments or questions: mailto:carol@musicalschwartz.com. Copyright 2013 by Carol de Giere. MusicalSchwartz.com has exclusive rights, unless otherwise specified, for all materials included in the newsletter. Permission must be secured in writing before any part of it may be reprinted, except for the printing of one copy for the subscriber's private use. Editor: Carol de Giere, P.O. Box 510, Georgetown, CT 06829