The Schwartz Scene Newsletter 48 December 2012
1. News and Intro from Carol de Giere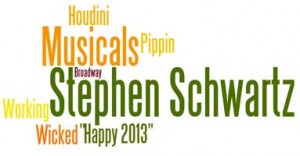 In this year-end issue you'll find Stephen Schwartz event listings, photos from the Pippin revival that may be headed to Broadway, Wicked and Working news, and more. Stay subscribed for the winter 2013 issue, for which Stephen is planning to write an update.
To share this current Schwartz Scene issue 48 with your friends, send them to or post this link: http://www.theschwartzscene.com/quarterly-newsletter/issue-48-december-2012/.
If you didn't yet read Stephen's travel and musical making stories from issue 47, you'll find them in Column 2 at: www.theschwartzscene.com/quarterly-newsletter/issue-47-late-summer-2012/
Use this link to subscribe, if you haven't already: www.theschwartzscene.com/ . Copyright by Carol de Giere, September 2012. Carol is the author of Defying Gravity, the Stephen Schwartz biography.
2. THE SPARK OF CREATION: Stephen Schwartz News and Musicals News
 Washington, D.C. Concerts and "Conversation" at The Kennedy Center, May 16-18, 2013


The National Symphony Orchestra Pops will pay tribute to the 10th anniversary of Wicked and the 65th birthday of composer Stephen Schwartz with concerts entitled TheWizard and I: The Musical Journey of Stephen Schwartz. It will feature the talents of former Wicked stars Jennifer Laura Thompson and Julia Murney. According to one source, on May 18th there will be pre-concert "Conversation with Stephen Schwartz" event from 5pm – 6:30 pm. ASCAP's Michael Kerker will interviewing Stephen Schwartz on stage. Tickets will go on sale Feb. 6, 2013, to the general public; Kennedy Center members can purchase tickets beginning Jan. 28, 2013. Go www.kennedy-center.org/events/?event=NNPSF
New York City Stephen Schwartz Celebration at Carnegie Hall, Apr 12, 2013 at 8 PM
The New York Pops will also celebrate Stephen Schwartz's 65th birthday and the 10th anniversary of his hit musical Wicked, with a program that highlights Schwartz's compositions for movies, opera, television, and the Great White Way. Vocalists include Norm Lewis, and former Wicked stars Julia Murney and Jennifer Laura Thompson, as well as Essential Voices USA. www.carnegiehall.org/Calendar/2013/4/12/0800/PM/The-New-York-Pops/
PBS Documentary Aired
In the USA on PBS Television, a new documentary will be aired that includes interview clips with Stephen Schwartz. The documentary "Broadway Musicals: A Jewish Legacy" premieres nationally on Great Performances, January 1, 2013. Check your local listings. At a later date this program will be made available on DVD. Read all about it here: www.musicalschwartz.com/broadwaymusicals-ajewishlegacy.htm
Pippin in Boston with a Potential for a Broadway Transfer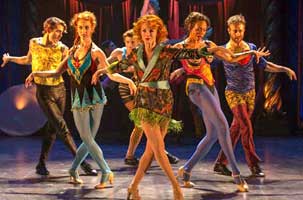 UPDATED JANUARY 2013: This show is transferring to Broadway! 
The Professional Pippin production in Boston at the American Repertory Theater at Harvard is being well received. It opens officially January 3, 2010 and runs through January 20th. The New York Times reported that enhancement money has been provided for this production, which means that it could possibly be brought to Broadway as a revival. Pippin originally ran Oct 23, 1972 – Jun 12, 1977 in a total of 1944 performances after 5 previews. (PHOTO: Charlotte d'Amboise as Fastrada (center) with the company of "Pippin." Photo by Michael J. Lutch.)
There are a few articles and a video of interest related to this production, and I'm publishing an article about the new Pippin Orchestrations in conjunction with this newsletter issue. Here are some links:
Houdini
Stephen Schwartz has been writing songs for Hugh Jackman to perform as the title character in a musical Houdini (music and lyrics by Schwartz and book by Aaron Sorkin). He tested a few of the songs in a private reading. When hurricane Sandy hit Connecticut, and many residents were without power for at least a week, Schwartz was able to keep writing at home by use of a generator. He enjoyed the peace of no Internet connection. Stay subscribed to The Schwartz Scene for future updates about Houdini.
Australia
Stephen Schwartz is returning to Australia for a series of productions mounted by Magnormous in Melbourne in September, 2013.
The Musical Working
Updated January 2013: Sorry – this show closed December 30th, 2012. (The Prospect Theatre Group was premiering the revised version of Working in New York City.)
January 28, 2013: Stephen Schwartz in Connecticut Concert
Updated January 2013: "From Broadway with Love: A Benefit Concert For Sandy Hook" will take place on January 28, 2013 at 7:00 pm at the Palace Theater in Waterbury, CT, 20 minutes from Newtown. The evening will feature song, dance, and other appearances from some of the biggest names on Broadway, together with select students from various Newtown choirs and dance groups. Renowned Broadway performers scheduled to appear include Brian Stokes Mitchell, Linda Eder, Stephen Schwartz, Micky Dolenz, Marc Shaiman, and many others. Frombroadwaywithlove.org
3. ALL GOOD GIFTS – Articles
"Someday" - Given the recent unhappy news here in Connecticut, USA, I've found myself wanting to listen again to a song of hope. "Someday" has providing solace for times of trouble and hope for a better world. It was written for Disney's The Hunchback of Notre Dame, by Alan Menken (music) and Stephen Schwartz (lyrics). Here's a favorite version sung by Celtic Woman. www.youtube.com/watch?v=65GsYjBy8_s . For "Someday" lyrics and sheet music sources, see www.musicalschwartz.com/disney-someday.htm
Articles – The Pippin revival and Pippin orchestrations articles written for this issue are posted at www.musicalschwartz.com/pippin-revival.htm as noted above.
4. THANK GOODNESS FOR WICKED–Wicked news from around the world

See the Wicked Shop for the latest in Wicked fashions and gift ideas. There are several new tshirts and a 2013 calendar.
Broadway: Willemijn Verkaik, who is currently starring in the Dutch production of Wicked, will make her Broadway debut as Elphaba beginning Feb. 12. Verkaik will play a 15-week engagement, succeeding Jackie Burns, whose last performance is Feb. 10.
One of Tony winner Susan Hilferty's Elphaba costumes was inducted into the Smithsonian's National Museum of American History and will be on display.  www.broadway.com/buzz/166210/the-smithsonian-gets-wicked-as-iconic-elphaba-costume-goes-on-display/
College student discount: January 8 – February 10 with a student ID you can get tickets for $67.00. Only at the Gershwin Theatre box office. Subject to availability.
USA Tour: The Wicked tour is now in Hawaii and Missouri. We expect to have new Wicked tour news in 2013. Meanwhile check here for locations and dates Wicked Tour
Official Wicked youtube channel has a new video on the show's projections. Find all their videos here www.youtube.com/user/OfficialWICKED
Wicked UK: Wicked will begin a major tour of the UK and Ireland at the Palace Theatre in Manchester. That first tour tickets are now on sale for performances Thursday 12 September to Saturday 16 November 2013 www.manchestertheatres.com/wicked.htm. Meanwhile the show is still going strong on London's West End. See Wicked in London.
Schwartz Scene issue 49
Watch for it in a few months. Happy Holidays and New Year!
Carol de Giere
END
About The Schwartz Scene
The Schwartz Scene is an independent publication from MusicalSchwartz.com and does not formally represent Stephen Schwartz.
To send comments or questions: mailto:carol@musicalschwartz.com. Copyright 2012 by Carol de Giere. MusicalSchwartz.com has exclusive rights, unless otherwise specified, for all materials included in the newsletter. Permission must be secured in writing before any part of it may be reprinted, except for the printing of one copy for the subscriber's private use. Editor: Carol de Giere, P.O. Box 510, Georgetown, CT 06829