The Schwartz Scene Newsletter 47 Late Summer 2012
1. News and Intro from Carol de Giere

In Stephen Schwartz's update (column 2 below), he covers his travels for a DreamWorks Animation movie score project, his renewed efforts on The Hunchback of Notre Dame for stage, his new experience as a grandfather, and more. Enjoy hearing from the composer-lyricist himself. He's also participating in several public events in the USA and in Australia, so keep reading to learn where you might meet him (column 3).
Because Stephen has so many projects in the works, I've decided to only contact him twice a year (winter and summer) about writing for The Schwartz Scene. But I will still send the newsletter each quarter with news, event listings, and articles. Already in the works for a November issue is an interview/article about revised Pippin orchestrations, and I'll announce events, news, and links to video clips.
I've recently asked Stephen to autograph various items that I could make available to fans, including Wicked and Godspell Playbills, the Defying Gravity biography, a Stephen Schwartz Songbook, and other items. Please contact me at carol@musicalschwartz.com for a price list if you're interested.
I encourage you to share this issue with your friends by sending them this link: http://www.theschwartzscene.com/quarterly-newsletter/issue-47-late-summer-2012/.
TO RECEIVE FUTURE ISSUES: Use this link to subscribe, if you haven't already: http://www.theschwartzscene.com/ . Copyright by Carol de Giere, September 2012. Carol is the author of Defying Gravity, the Stephen Schwartz biography.
2. THE SPARK OF CREATION: Stephen Schwartz's Update
From Stephen Schwartz, September 5, 2012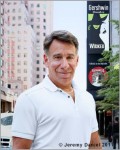 Another plane ride, another update. This time I am returning from Los Angeles, where I was mostly working with composer A.R. Rahman on songs for the as-still-untitled DreamWorks animated feature I have mentioned before. I will be doing lyrics and will be an executive producer as well.
To remind you, it is loosely based on characters from the classic Indian epic, The Ramayana, and is set in contemporary Mumbai with a cast of characters mostly consisting of monkeys. (In The Ramayana, one of the main heroes is the monkey god, Hanuman, to whom there are temples all over India. Among other things, the story of the movie involves our monkey protagonist finding his "inner Hanuman.") What's most fun for me about this movie is that will include Bollywood-style numbers complete with choreography (yes, monkeys dancing to Bollywood music — what could be better than that?) It is still very early in the development process, but as of now we envision eight or nine musical numbers, which is a lot for an animated feature, and after this last session, AR and I now have at least a start on five of them. By the end of the year, we hope to be far enough along on all of them at least to know what they are.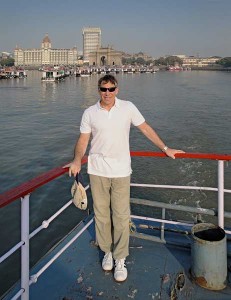 One of the best perquisites of working on a movie which takes place in Mumbai was that I got to go to India for an amazing research trip. As the guide books tell you, it is a place of vivid contrasts and intense sensory impact — the colors, the sounds, the smells, the crazy traffic, the sensational food, the inconceivable wealth right next to the sprawling and gigantic slums. We took a walking tour through the Dharavi slum in Mumbai and saw hot crowded rooms full of men, women, and children working on recycling the detritus of civilization — plastic bottles and syringes, aluminum cans, rubber tires, etc. As befits a land of extreme contrasts, it was both heart-breaking and inspiring. We went to an amazing city on the Ganges called Varanasi, where pilgrims come to take a ritual bath in the holy river, which they do next to men washing laundry on one side and on the other the ashes from cremations (they also bring their dead from all over India to be cremated and have their ashes sprinkled into Mother Ganga), the streets of the town teeming not only with people but with monkeys, water buffalo, dogs, cows, goats, and the occasional camel or even ceremonial elephant.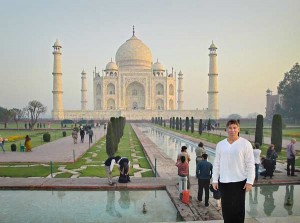 We saw the Taj Mahal (I have to admit that had nothing to do with the movie, I just went because I could), which is every bit as graceful and beautiful as one imagines. I managed to get myself scratched by the pet monkey of a Sadhu (it's a long story how that happened, too long for here) and had to get rabies shots. All in all, one of the most memorable trips of my life. Not to mention, it gave me ideas for song titles and lyrics for the movie, which of course was actually the point. [Editor's note: A release date for the Mumbai Musical was recently announced to be December 19, 2015.]
As I said in my previous update, I had been hoping 2012 would be a writing year, in contrast to 2011, which was basically one production after another, thus leaving me virtually no time for new work. And it is turning out as I hoped. Another project in its very early stages, so early it would be premature to mention it except for the fact that word about its existence has seeped out, is a possible stage musical based on the life of Harry Houdini. I am collaborating with the extraordinary Aaron Sorkin and am very much intrigued by the idea of working with him. I do have drafts of four songs and am about to start another batch. The show is still at the stage where it's hard to know what it will be or even if it will ever come to fruition, but it is an intriguing project with a talented potential team.
The other writing project I am currently involved in is a possible re-working of the stage version of the Disney animated feature THE HUNCHBACK OF NOTRE DAME, for which I wrote lyrics to music by Alan Menken. This is also in early development, but if we go forward, it looks as if Alan and I will be writing some new songs for it. As I've said before, I very much enjoyed working on both the movie and the German stage production from 1999, and I love Alan's music for it and have always thought it his best score. So if this moves ahead, I think it could be fulfilling.
The one piece of writing I managed to get done in 2011 (at the very end of the year) is something I'm very proud of. It's a choral piece called "Testimony" which I wrote for a concert by the San Francisco Gay Men's Chorus. It was based on interviews for Dan Savage's extraordinary "It Gets Better Project", and the directors of that project were very helpful in providing interviews and materials to serve as inspiration. The SFGMC, under the excellent direction of conductor Tim Seelig, premiered the piece beautifully at a concert in March, and then performed it again this past July in Denver and Laramie, Wyoming. I have been immensely moved and gratified by messages and emails I have received from people who have heard "Testimony" and found it helpful in their own lives — a writer really can't ask for more than that. It will be published soon by Hal Leonard, and I am looking forward to its performance by other choruses.
Although this is, as I've been happy to report, essentially a writing year, there are two noteworthy productions of shows of mine coming up. Boston's American Repertory Theater will be presenting a revival of PIPPIN this winter, directed by the talented and inventive Diane Paulus. It has an exceptional cast [to be announced shortly]. So if it doesn't work, we certainly can't blame the actors! It will include a lot of the original Fosse choreography, which it was fun to see meticulously reproduced by Chet Walker in a recent workshop, blended with circus performers staged by one of the directors of the remarkable Canadian troupe Les 7 Doigts, Gypsy Snider.
The other planned production is a limited New York run, at around the same time, of Gordon Greenberg's excellent revival of WORKING, which has been so well-received in other productions around the country and includes two exceptional new songs by Lin-Manuel Miranda.
On a personal note, we had a momentous occasion in the extended Schwartz family last month, when my daughter Jessica gave birth to our first granddaughter, a beautiful little girl named Hannah Lucille. Jess and her husband Josh are proving, not unexpectedly, to be excellent parents, patient, relaxed, loving, and good-humored. And Hannah for her part is being a Professional Baby, expertly doing all the things babies are supposed to do. For me, it's a whole new stage of life to discover.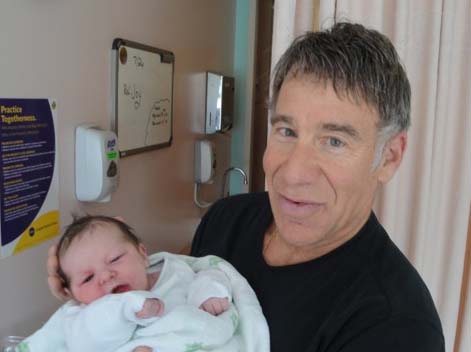 So much is happening, most of it in early stages, which is always an exciting time. By the time of my next update, we should know to a great extent what projects worked and what didn't, what's coming to fruition and what died on the vine.
Thanks as always for your interest and support, and a happy rest of 2012 to all. — Stephen
3. ALL GOOD GIFTS – Articles and news
1) An Evening with Stephen Schwartz and the Students of Carnegie Mellon University, Pittsburgh, PA.
On Sunday, October 21st, 2012, enjoy a cabaret performance of songs from Stephen Schwartz's many musicals, with the composer himself at the piano. Singers are juniors at CMU who are attending a cabaret performance class and majoring in drama and musical theatre. The public is welcome to the event. Tickets (around $20) will be available at the door. Cash bar. Location: Cabaret at Theater Square at 655 Penn Ave, in downtown Pittsburgh. We'll post any updates on our Facebook page www.facebook.com/TheSchwartzScene or you can check with the www.drama.cmu.edu/calendar/?url=calendar in October.
(Stephen Schwartz received his BFA from Carnegie Mellon University in 1968. Read more about his time at CMU in chapter 2 of Defying Gravity.  www.defyinggravitythebook.com)
2) Stephen Schwartz in New Jersey with New Musicals in November
Stephen Schwartz is an artistic advisor for the American Theater Group, a new theater company in New Jersey that will be presenting two free public events in November, 2012. Here are the details:
The American Theater Group, in association with the ASCAP Foundation, presents the Cy Coleman New American Musical Reading Series. Each musical will be presented at 3:00 pm and again at 8:00 pm at the Hamilton Stage, 360 Hamilton Street, in Rahway NJ.
After the presentations of "Single Girls Guide" (Nov 3rd) and "Bubble Boy" (November 10th) there will be a Q and A session during which audience members may give feedback on the new work they have just witnessed. The November 10th sessions will be led by Mr. Schwartz, and possibly also the ones on the 3rd as well, if his time allows.
Reservations are required, limited to two guests per reservation. Call (732) 669-7179. www.americantheatergroup.org/new-american-musical-series/the-cy-coleman-new-american-musical-reading-series-free/ . Financial support is being provided by the ASCAP Foundation Cy Coleman Fund, and Bart Howard Fund.
(If you are writing your own new musical, check out the latest issue of the Musical Writerzine www.musicalwriters.com/news/writerzine20.htm)
3) Events for the new Pippin production in Boston
As Stephen mentioned in his update, American Repertory Theater at Harvard is mounting a revival of Pippin that he's involved with. Previews for the show begin December 5 and it opens officially January 3, 2013. Individual tickets go on-sale for the run in Cambridge on October 23, which is the 40th anniversary of the opening of Pippin on Broadway!
There are likely to be an event or two with Stephen Schwartz associated with that production that will be detailed later on the A.R.T. website and posted on our Facebook page www.facebook.com/TheSchwartzScene .
4) New York City Premier of the Revised Musical Working
In December 2012, The Prospect Theatre Group is mounting a production of an updated version of Working.  This musical is an adaptation of Studs Terkel's book by the same name. It includes songs by Stephen Schwartz, James Tayor, Craig Carnelia, Micki Grant, Lin-Manuel Miranda, and Mary Rodgers/Susan Birkenhead. It's likely that there will be several events associated with this production involving Stephen. Check back later on their website at www.prospecttheater.org/ and in the next issue of The Schwartz Scene.
Read about musical itself here: www.musicalschwartz.com/working.htm; there's also an article about the six-person version here www.musicalschwartz.com/working-reworked.htm
5) New York City Stephen Schwartz Celebration at Carnegie Hall – Apr 12, 2013 at 8 PM
As previously announced, fans will gather in 2013 to celebrate Stephen Schwartz's 65th birthday, as well as the 10th anniversary of his hit musical Wicked, with a program at Carnegie Hall Stern Auditorium / Perelman Stage that highlights his compositions for movies, opera, television, and the Great White Way. Look for the event titled "The Wizard and I: The Musical Journey of Stephen Schwartz," when you click on this link: New York Pops Carnegie Hall Subscriptions.
6) Stephen Schwartz in Australia in 2013
Schwartz is returning to Australia for a series of productions mounted by Magnormous in Melbourne in September, 2013. See www.magnormos.com/stephenschwartztriptych.htm
4. THANK GOODNESS FOR WICKED–Wicked news from around the world

Wicked is now the 12th longest running musical on Broadway, and there are also productions running in London, Japan, Holland, Seoul and two concurrent North American national tours.
If you haven't already read the story of Stephen Schwartz's inspiration to write the musical Wicked, you can enjoy the sample chapter "Landing in Oz" from the book Defying Gravity. Feel free to share this. www.defyinggravitythebook.com/defying-gravity-sample-chapter-16.pdf
Watch for the Fall 2012 issue for more Wicked news and videos, and visit www.musicalschwartz.com/wicked.htm for the background on the show, tour dates, history, shop, etc.
For a delightful video clip that you might not normally run across, go to this one on YouTube – www.youtube.com/watch?v=XQMxAsi8k4I It shows a concert segment from the "Uitmarkt" in Amsterdam, held annually at the opening of the theatre season.
We'll catch up with other news in the next issue.
5. FATHERS AND SONS: Update for director Scott Schwartz (Stephen's Son)

I'm about to start rehearsals for a production of Next to Normal at the Alliance Theatre in Atlanta.  We open there on October 24.  The production will also be seen at Geva in Rochester, NY in January.  I'm excited to work on this excellent show!  I am particularly interested to explore it because it is a through-sung rock musical with the depth and complexity of a play.  In November, I'll be directing a lot of readings in New York including Spark, a new play by Obie award winner Caridad Svich, at the Cherry Lane and Bubble Boy, The Musical (one of my favorites!) with American Theater Group in New Jersey.
Please share
If your friends want to subscribe so that they too can keep up with composer-lyricist Stephen Schwartz, ask them to visit  http://www.theschwartzscene.com/ to enter their subscription info.
About The Schwartz Scene
The Schwartz Scene is an independent publication from MusicalSchwartz.com and does not formally represent Stephen Schwartz.
To send comments or questions: mailto:carol@musicalschwartz.com. Copyright 2012 by Carol de Giere. MusicalSchwartz.com has exclusive rights, unless otherwise specified, for all materials included in the newsletter. Permission must be secured in writing before any part of it may be reprinted, except for the printing of one copy for the subscriber's private use. Editor: Carol de Giere, P.O. Box 510, Georgetown, CT 06829