The Schwartz Scene Newsletter 46 Spring 2012
1. News and Intro from Carol de Giere
Carol de Giere
In the Schwartz world, as one door closes, another opens. The revival of Godspell on Broadway closes on June 24th after a nine-month run. (Check here for last-minute discounted tickets: http://www.godspell.com/save.) And now there's a new Broadway musical in the works.
The latest project is Houdini, with music and lyrics by Stephen Schwartz, book by Aaron Sorkin, and starring Hugh Jackman. A first reading of the work-in-progress will be held later this month. Keep reading this issue for more about Houdini, for concert updates, links to some wonderful online videos, and more.
To share this issue with your friends, please send them this link: http://www.theschwartzscene.com/quarterly-newsletter/issue-46-spring-2012/.
TO RECEIVE FUTURE ISSUES: Use this link to subscribe, if you haven't already: Subscribe . Copyright by Carol de Giere, June 2012. Carol de Giere is the author of Defying Gravity, the Stephen Schwartz biography.
2. THE SPARK OF CREATION: Stephen Schwartz Update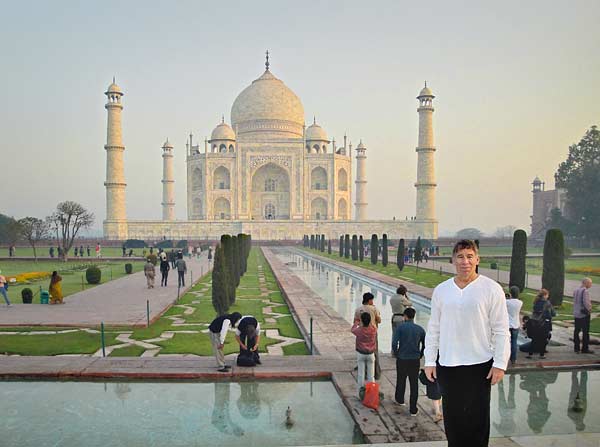 Stephen Schwartz at the Taj Mahal
In this photo you see Stephen Schwartz in front of one of India's most renowned landmarks, the Taj Mahal. He was visiting India while working on Monkeys of Mumbai for DreamWorks.
He has been too busy with this movie and the new stage musical Houdini to write an update for this issue of The Schwartz Scene, but he will probably have time to write for the upcoming summer issue in mid or late July. Meanwhile I've gathered the latest news and interesting links. Here's what he's doing with Houdini:
Houdini
After finishing the demanding work on Wicked in 2003, Stephen Schwartz believed that the witches of Oz musical would be his last new musical project for Broadway. But now, almost a decade later, he's edging into something new. He's been a big fan of the screenwriting of Aaron Sorkin (Social Network, Moneyball, A Few Good Men), and agreed to work with him on a new musical. You can read about the show here: Houdini Musical.
Special Concert in NYC July 30th, 2012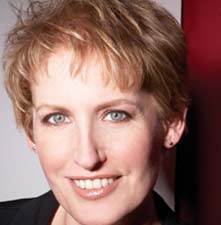 Liz Callaway
Tony nominee Liz Callaway returns to New York City's Town Hall with a concert featuring the music of three of her favorite composers, who just happen to share the same name: Stephen Schwartz, Stephen Flaherty, and Stephen Sondheim. Liz will be joined onstage by three of Broadway's finest "divos": Jason Danieley, Joshua Henry, and Norm Lewis. She also may be able bring on a surprise guest or two (perhaps one or more of the Stephens ???) Liz Callaway Concert Tickets (Ticketmaster)
"Testimony" Update
In the last issue, I mentioned a new Stephen Schwartz song, "Testimony," that he wrote for a concert of the San Francisco's Gay Men's Chorus. It is now available for download. I've also been given permission to publish the lyrics on MusicalSchwartz.com. See http://www.musicalschwartz.com/schwartz-testimony.htm.
To develop the song, Stephen watched many of the "It Gets Better Project" videos and drew phrases and feelings from the book It Gets Better: Coming Out, Overcoming Bullying, and Creating a Life Worth Living.
Apr 12, 2013 at 8 PM – Stephen Schwartz Celebration at Carnegie Hall
Fans will gather in 2013 to celebrate Stephen Schwartz's 65th birthday, as well as the 10th anniversary of his hit musical Wicked, with a program that highlights his compositions for movies, opera, television, and the Great White Way. The New York Pops with Steven Reineke, Music Director and Conductor. Singers listed so far include Julia Murney and Jennifer Laura Thompson who starred in Wicked as Elphaba on tour and on Broadway, and Norm Lewis. Location: Carnegie Hall Stern Auditorium / Perelman Stage.
Look for the event titled "The Wizard and I: The Musical Journey of Stephen Schwartz," when you click on this link: New York Pops Carnegie Hall Subscriptions.
3. ALL GOOD GIFTS – Articles and news
One of the cutest Godspell-related videos online is the "Godspell cast of 2032." http://www.godspell.com/video/2032 It was producer Ken Davenport's idea to audition kids ages 7 – 16 for a performance at the end of an evening of Godspell on Broadway at Circle in the Square. The audition attracted about 500 young people. Finalists learned songs and dances, and were dressed in similar costumes to their adult counterparts in the show. The video shows off their vocal prowess and dancing talent.
The Godspell on Broadway website has posted the complete 10-part audio commentary series of audio clips by composer Stephen Schwartz and director Daniel Goldstein. They've also created a free podcast at itunes of this material.
These were recorded live in February during a performance of Godspell at Circle in the Square Theatre. http://www.godspell.com/commentary.html or
http://itunes.apple.com/us/podcast/godspell-on-broadway-creators/id529174324
See the Wicked section below for more features.
4. THANK GOODNESS FOR WICKED–Wicked news from around the world
Q and A – Video Clips and More
Question: Who really launches Wicked's performance every night?
Answer: While the stage manager is essential for insuring that everyone backstage is ready, the person who actually begins the show is the conductor.
My friend in the orchestra, John Moses, notes that Wicked's orchestra is one of the largest on Broadway. He believes that the musicians have played a vital part in the success of the show's long-run. It also helps that Wicked has such a great score. He says, "When our Conductor gives us the downbeat, we play some of the finest music on Broadway, eight times a week!"
There's a fascinating video on YouTube that includes interview clips with composer Stephen Schwartz and conductor Dominick Amendum. http://youtu.be/WdF5d3AuZx8
Wicked's original conductor /music director, Stephen Oremus,  remembers learning the score, and later, communicating changes to the orchestra members. The most challenging time was the San Francisco pre-Broadway try out. Oremus recalls, "They would make changes on stage during rehearsals and they'd be like, 'Oh, that's one tiny little change' and I'd be freaking out because I had to communicate that to twenty-three people in the orchestra. So I'd write a long list and everybody would get there early knowing we were changing things. We'd have pages and pages of notes for the orchestra on the stands." Read the full story http://www.musicalschwartz.com/wicked-oremus.htm
Also find a new video clip about Wicked's percussion section at http://youtu.be/YseMMzB9ZCY
The North American Wicked Tour Cities – 2012 and 2013 – Here's the latest list of cities:
* For the West and Rocky Mountains: Seattle, Costa Mesa, San Diego, Salt Lake City, Las Vegas, Honolulu, San Francisco
* For the South: Tampa, Ft. Lauderdale, Orlando, New Orleans, Houston, Tucson
* For the Midwest: Dayton, Columbus, East Lansing, Kalamazoo, Louisville, St. Louis, South Bend, Madison, Milwaukee
* For Canada: Montreal, Kitchener, Ottawa
* For the East Coast: Boston, Philadelphia, Baltimore, Durham, Schenectady, Syracuse, Rochester
Go to Wicked Tour schedule for details. http://www.musicalschwartz.com/wicked-tour.htm
Wicked Everywhere
Come to New York City and see Wicked on Broadway this summer.
http://www.musicalschwartz.com/wicked-nyc.htm
International: A special note for London: Wicked is participating in Kids Week in August. Children ages 16 and under go free if they are accompanied by an adult paying full price. http://www.ticketmaster.co.uk/feature/kids_week
The show is holding steady around the world, and is now in Korea as well as London and Holland. Official sites for other productions include http://www.wickedthemusical.co.uk/; http://www.wickedthemusical.co.kr/ and http://www.musicals.nl/wicked.asp
5. Defying Gravity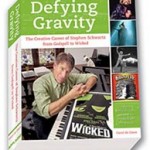 "Defying Gravity" Stephen Schwartz biography
Defying Gravity is among the many goodies at the Wicked shop. And do you have your Wicked towel yet? For this and more see http://www.musicalschwartz.com/wicked-shop.htm.
Defying Gravity will give you behind-the-scenes insights on the making of musicals.
Want to learn even more about Broadway? If you're bringing a group to Wicked (or other Broadway or off-Broadway shows), there's a chance you can schedule a special workshop. Check with http://www.broadwaygeniusgroups.com/workshops-and-classes/ to see if you can book something special as well.
6. FATHERS AND SONS: Update for director Scott Schwartz (Stephen's Son)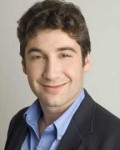 Scott Schwartz
June 2012: I just finished directing a new play called What We're Up Against by Theresa Rebeck at the Alley Theatre in Houston.  The show runs there through June 10.  I'm also so pleased with how A Room With A View went at the Old Globe in San Diego.  This beautiful new musical was enthusiastically received by audiences and critics alike. We're hoping that there will be a next production sometime in the 2013 – 14 season.
Also, I'm excited to be beginning work on Next to Normal, which will be a co-production between the Alliance Theatre in Atlanta, GA, and the Geva Theatre in Rochester, NY.  I'm flying to the Alliance soon to begin design meetings and casting.  I'm looking forward to delving into this wonderful, complex musical!
MORE NEWS COMING IN THE SUMMER ISSUE – SUBSCRIBER INFO.
If your friends want to subscribe so that they too can keep up with composer-lyricist Stephen Schwartz, ask them to visit http://www.theschwartzscene.com/quarterly-newsletter/to enter their subscription info.
The Schwartz Scene is an independent publication from MusicalSchwartz.com and does not formally represent Stephen Schwartz. To send comments or questions: mailto:carol@musicalschwartz.com. Copyright 2012 by Carol de Giere. MusicalSchwartz.com has exclusive rights, unless otherwise specified, for all materials included in the newsletter. Permission must be secured in writing before any part of it may be reprinted, except for the printing of one copy for the subscriber's private use. Editor: Carol de Giere, P.O. Box 510, Georgetown, CT 06829