The Schwartz Scene Newsletter 45 – Winter's Almost Over
1. News and Intro from Carol de Giere
Carol de Giere, The Schwartz Scene editor
Stephen Schwartz has just returned from his first trip to India. He plans to write an update for the upcoming Spring issue of The Schwartz Scene, so stay subscribed for that. In the meantime, we have news, events, and features here that will fill you in on his Broadway and film work. Why was he in India? What's happening in San Francisco? See below.
As busy as he is, he will take time out to participate in the world premiere of a new song, "Testimony." He'll also be leading ASCAP workshops in New York, and he can be heard on a pre-recorded podcast series about the Broadway revival of Godspell. Details follow in Column 2.
Many new cities for the North American tour have recently been announced for the Stephen Schwartz/ Winnie Holzman musical Wicked. Want to plan a Wicked vacation? The show is coming to vacation spots like Hawaii, Ft. Lauderdale, Orlando, Las Vegas and others. Keep reading for details and additional updates.
Share this issue's link with your friends (but please don't borrow the content – just share the link) http://www.theschwartzscene.com/quarterly-newsletter/issue-45/. TO RECEIVE FUTURE ISSUES: Use this link to subscribe, if you haven't already: http://www.theschwartzscene.com/quarterly-newsletter/ . Copyright by Carol de Giere, March 2012.
2. THE SPARK OF CREATION: Stephen Schwartz's Update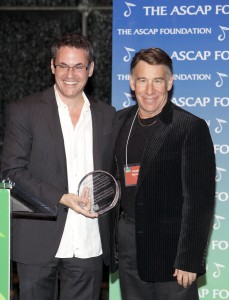 Richard Rodgers' grandson and fellow musical theater composer Adam Guettel presents the Richard Rodgers Award to Stephen Schwartz, December 7, 2011. Photo by Scott Wintrow.
RICHARD RODGERS AWARD
The ASCAP Foundation recently honored composer/lyricist Stephen Schwartz for his lifetime contributions to the Musical Theater by giving him the ASCAP Foundation Richard Rodgers Award. Richard Rodgers' grandson, Adam Guettel, made the presentation. The event, hosted by ASCAP president Paul Williams, was part of the Foundation's 16th Annual Awards Ceremony held in New York City on December 7th, 2011.
SAN FRANCISCO SPECIAL EVENT
Enchantingly Wicked, An Evening With Stephen Schwartz: San Francisco's Gay Men's Chorus, Dr.Timothy Seelig, Artistic Director, with special guests Stephen Schwartz & The Choral Project, March 20 and 21, 2012, in San Francisco's Louise M. Davies Symphony Hall.
The evening features Stephen Schwartz backed by the legendary 275-voice San Francisco Gay Men's Chorus with Artistic director Dr. Timonthy Seelig, as well as San José's award-winning ensemble The Choral Project, conducted by Daniel Hughes. Music will include selections from Enchanted, Wicked, Children of Egypt, The Prince of Egypt, Godspell, Hunchback of Notre Dame, Pippin, and more!
The concert includes the world premier of a new song "Testimony." It will be performed live, but it was also recently recorded at Skywalker Ranch, for future release and DVD sales.
Composed especially for SFGMC, Mr. Schwartz along with the It Gets Better Project co-founder Dan Savage will premiere "Testimony", a breathtakingly poignant new musical work woven from transcripts of those who have shared their lives' journeys. Dan Savage, syndicated columnist, author, and star of MTV's upcoming series "Savage U," worked closely with Stephen Schwartz on the new choral work.
For further details on all of this visit http://www.sfgmc.org/ and The Schwartz Scene facebook page for a video introduction to "Testimony." https://www.facebook.com/#!/TheSchwartzScene
GODSPELL COMMENTARY POSTED ONLINE
Do you ever watch the director's tracks on DVDs to listen to their commentary? The Godspell on Broadway website is posting a 10-part audio commentary by composer Stephen Schwartz and director Daniel Goldstein. The commentary, which was recorded live in February during a performance of Godspell at Circle in the Square Theatre. Schwartz and Goldstein discuss their processes and personal experiences of creating the Broadway revival. Each Monday for the next ten weeks, a new 15-minute audio segment will be available. http://godspell.com/commentary
ASCAP FOUNDATION MUSICAL THEATRE WORKSHOP – NEW YORK
If you are writing a musical or involved in productions, you might like to attend this. See http://www.musicalschwartz.com/ascap.htm for workshop details. Stephen Schwartz leads a panel critique of works-in-progress.
3. ALL GOOD GIFTS – Articles and news

New Godspell cast album
GODSPELL
Have you heard the new cast album for Godspell? I interviewed the orchestrator/arranger, Michael Holland, to get the inside story on creating the new sound. Find the full article here http://www.musicalschwartz.com/godspell-broadway-cast-album.htm
Haven't seen it yet on Broadway? Go here for details, links to reviews, other Godspell recordings, and more. http://www.musicalschwartz.com/godspell-broadway.htm
RESEARCH – AN ESSENTIAL ACTIVITY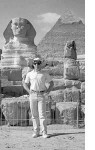 Stephen Schwartz in Egypt in 1995
What was Stephen doing in India? Research for lyrics for an upcoming movie currently titled the Monkeys of Mumbai. If you've read my book, Defying Gravity, you know how much he enjoys traveling for background research on his work. In the book you see several photos of him in Egypt before his work on The Prince of Egypt songs, and in Paris before working on The Hunchback of Notre Dame lyrics. http://www.defyinggravitythebook.com/
He also conducts research this for his stage musicals too, such as visiting museums and the lower east side in relationship to the musical Rags, and reading all of Frank Baum's The Wizard of Oz series of books, as well as Gregory Maguire's novel Wicked, in preparation for writing the score for the musical Wicked.
For Disney's Pochontas, he traveled to Jamestown, Virginia where the original real-life story unfolded. That, and his arm-chair research, helped him write the lyrics for "Colors of the Wind," for which he won an Academy Award. What follows are two paragraphs from Defying Gravity about this aspect of his working process.
As was his custom for a project of this nature, Schwartz steeped himself in the relevant culture. In New York City, he located a store that sold Native American poetry and related volumes. Settling into a comfortable chair at home, he read the poems as well as Black Elk Speaks and The Last Algonquin. "I have a joke about my process," Schwartz says: "In lieu of inspiration, do research."
Schwartz let the material inform and inspire him. "From a lot of research into writings by and about Native Americans, a whole pattern of thought began to emerge," he explains. "Their way of thinking about the natural world and man's relationship to it, their general philosophy as a whole, was inspiring."
4. THANK GOODNESS FOR WICKED - Wicked news from around the world
"Defying Gravity" – The Song, Book, Sheet Music, CDs…
Did you know that "Defying Gravity" has been recorded by at least seven singers? Please visit the updated "Defying Gravity" page at MusicalSchwartz.com to find links to all the albums, sheet music, stories, quotes about meaning, etc.. Go to http://www.musicalschwartz.com/wicked-lyrics2.htm
Have you been following the videos on the official Wicked You Tube Channel? Check down the page here for a variety of video clips. http://www.youtube.com/user/OfficialWICKED/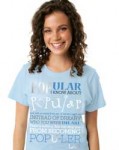 Get ready for summer with the Wicked towel and t-shirts… http://www.musicalschwartz.com/wicked-shop.htm
…or come to New York City and see Wicked on Broadway this summer
http://www.musicalschwartz.com/wicked-nyc.htm
The North American Wicked Tour Cities – 2012 and 2013
For the West and Rocky Mountains: Seattle, Portland, Costa Mesa, Sacramento, San Diego, Denver, Salt Lake City, Las Vegas, Tempe, Tucscon, Honolulu
For the South: Jacksonville, Ft. Meyers, Tampa, Ft. Lauderdale, Orlando, Austin, El Paso, Birmingham, New Orleans
For the Midwest: Detroit, Dayton, East Lansing, Louiseville, St. Louis, South Bend
For Canada: Montreal, Kitchener, Ottawa
For the East Coast: Boston, Philadelphia, Baltimore, Norfolk, North Charleston, Durham
Go to Wicked Tour schedule for details. http://www.musicalschwartz.com/wicked-tour.htm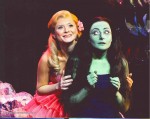 Wicked in Holland – Glinda and Elphaba – Photo by Roy Beusker
International:
The show is holding steady around the world. Official sites for other productions include http://www.wickedthemusical.co.uk/; http://wickedthemusical.com.sg/; and http://www.musicals.nl/wicked.asp
I've become acquianted with the Glinda alternate Céline Purcell, who has been called in to perform the role. Here is a photo her father sent.
5. The Godspell Experience and Defying Gravity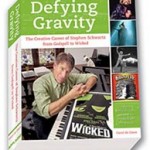 "Defying Gravity" Stephen Schwartz biography
My first book, the Stephen Schwartz biography Defying Gravity, recently received a five star review at the Book Nook blog
http://booknookclub.blogspot.com/2012/03/giveaway-defying-gravity-by-carol-di.html
The book will be available for sale at the big San Francisco concert. It continues to sell online in print and ebook formats. (The color photos look great on a Nook, by the way.) www.defyinggravitythebook.com/
My next book, "The Godspell Experience," is coming along slowly and surely.
6. FATHERS AND SONS: Update for director Scott Schwartz (Stephen's Son)
We'll catch up with Scott in the next issue. He's been busy directing a new musical, A Room with a View, at the Old Globe…
END
MORE NEWS IN THE SPRING ISSUE.
If your friends want to subscribe, ask them to visit http://www.theschwartzscene.com/quarterly-newsletter/to enter their subscription info.
The Schwartz Scene is an independent publication from MusicalSchwartz.com and does not formally represent Stephen Schwartz. To send comments or questions: mailto:carol@musicalschwartz.com. Copyright 2012 by Carol de Giere. MusicalSchwartz.com has exclusive rights, unless otherwise specified, for all materials included in the newsletter. Permission must be secured in writing before any part of it may be reprinted, except for the printing of one copy for the subscriber's private use. Editor: Carol de Giere, P.O. Box 510, Georgetown, CT 06829