The Schwartz Scene newsletter 44 – Autumn 2011
1. News and Intro from Carol de Giere

When you read Stephen Schwartz's Update (below), you will get a sense of how involved he gets with various versions of his musicals, like the new revival of Godspell on Broadway, a reinvisioned Pippin in London, and a new production of Wicked in Holland.
His assistant, Michael Cole, has to stay on top of the details, but he enjoys some Broadway (and movie business) insider experiences as well. In this issue, Michael reports on the "Meet and Greet" first day gathering for everyone working on the Broadway revival of Godspell [column 3] Also, I share what it was like to attend the opening night [column 5].

Anyone want to hear Stephen Schwartz perform in a HUGE choral concert this spring? Wicked fans: Do you know about the "Unnaturally Green" book that just came out, or where the show is going on tour [see column 4 below]? For the latest news on all things Schwartz, keeping reading this issue of The Schwartz Scene, and watch for issue 45 in early 2012. I wish you a happy holiday season. — Carol de Giere
Share this issue's link with your friends (but please don't borrow the content – just share the link) http://www.theschwartzscene.com/quarterly-newsletter/issue-44-autumn-2011/. TO RECEIVE FUTURE ISSUES: Use this link to subscribe, if you haven't already: http://www.theschwartzscene.com/quarterly-newsletter/ . Copyright by Carol de Giere, December 2011.
2. THE SPARK OF CREATION: Stephen Schwartz's Update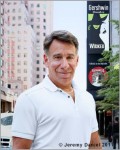 November 30, 2011
As I always seem to be, because it seems to be the only time I get a chance to do it these crazy days, I am writing this update on a plane. This time I am heading back to the States from London, where I have been seeing early previews of the new production of PIPPIN at the Chocolate Factory and working a bit with the cast and musicians. They don't open officially for another nine days, so they are still making adjustments and changes, but I have to head back because tomorrow we are mastering the cast album for the new Broadway revival of GODSPELL. Did I mention these are crazy days?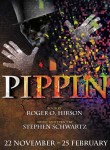 I enjoyed my time working with the PIPPIN company. It is an extremely interesting and original concept for the show, the inspiration of the director, Mitch Sebastian. I've been asked not to give too much away, because there are a lot of surprises, but I think by now word has leaked out that it is basically set in a virtual world, the Players involved in a computer game called: "Pippin, Your Ticket to an Extraordinary Life". The character of Pippin is brought into this world, and as in the original, there is increasing uncertainty as to what is real and what is part of the game/show.
One of the most intriguing aspects is how little of the actual book and lyrics have had to be changed to accommodate this concept — a couple of words here or there, e.g. "Scene One" becomes "Level One" or a line like "Presenting Fastrada" becomes "Introducing Player Three, Fastrada". But it was important to Mitch as part of his conception that the show itself not have to be rewritten in any substantial way to make the concept work, and as far as I can tell in these early stages, it seems to do so.
Another unexpected pleasure is that he has included much of the original Bob Fosse choreography, even going so far as to bring over Chet Walker, one of Bob's long-time assistants and dance captains and now a fine choreographer in his own right, to reproduce as faithfully as possible Bob's work. As Mitch pointed out, the sort of isolation of parts of the body that was a hallmark of Bob's style is as appropriate for avatars as it was for Broadway dancers, and so it seems to fit surprisingly well within this reimagined concept.
The music has been rearranged for a smaller band, but skillfully so in my opinion, and the amazing animation is by Tim Burt, who did the wonderful animation for the Chocolate Factory production of SUNDAY IN THE PARK WITH GEORGE. I thought the cast was very strong, as tends to be the case at that theatre. It was fascinating to see a forty-year-old show given such a fresh and contemporary approach, and I will be very curious to see what audiences and the press make of it.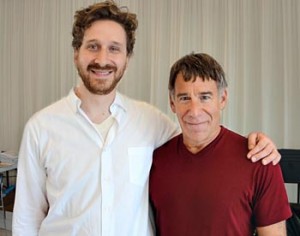 Meanwhile, as I said, the new Broadway production of GODSPELL is off and running, and if it has not been as radically reconceived as PIPPIN, it still boasts terrific new arrangements by Michael Holland and the first time I have seen GODSPELL staged in the round. I am extremely happy with this production, the creative and highly energetic staging by director Danny Goldstein and choreographer Chris Gattelli, and the extraordinarily talented cast who just sing their faces off. One of the fun things for me is that every time I have seen it, there have been a couple of new and current jokes thrown in, so there is always something new for me to laugh at in what is already a pretty hilarious production. [PHOTO: Godspell director Danny Goldstein and Stephen Schwartz, first day of rehearsal, Sept 12, 2011]
Before I left for London, we recorded and mixed the album, and tomorrow we will be mastering it so it can be available on iTunes in time for the holidays — I think December 20th was the date I was told. (Of course the final package with lyric booklet, etc., for those who prefer to get their albums in that form, won't be ready for a while longer.) With probably the best singing cast in the history of GODSPELL, I think it's going to be a terrific album.
So this is finally the end of what has been an insanely busy year for me. All in all in 2011, I have had to work on seven different productions — WORKING in Chicago, SEANCE ON A WET AFTERNOON at New York City Opera, MY FAIRY TALE in California, SNAPSHOTS in Chicago again, WICKED in Holland, GODSPELL in New York, and PIPPIN in London. And in the midst of all that, BOTH my kids got married this past summer! No wonder I haven't had time to write anything new. But my hope and determination for 2012 is that I can be a writer again and turn my attention to new projects and adventures, whatever those may prove to be.
I thank you all, as always, for your interest in my work, and I wish you and your families a wonderful holiday season, Stephen
Editor's notes:
a) The Godspell New Broadway cast album: You can order the MP3 files as of December 20th at  Godspell New Broadway Cast
and the CD can be preordered now at: Godspell New Broadway Cast Album
b) Stephen Schwartz recently received the Richard Rodgers Awards. We'll include photos and more news in the next issue.
c) Special event March 20 and 21, 2012, in San Francisco's Louise M. Davies Symphony Hall:
Enchantingly Wicked, An Evening With Stephen Schwartz: San Francisco's Gay Men's Chorus, Dr.Timothy Seelig, Artistic Director, with special guests: Stephen Schwartz & The Choral Project. The evening features Stephen Schwartz backed by the legendary 275-voice San Francisco Gay Men's Chorus and San José's incredible, award-winning ensemble The Choral Project, conducted by Daniel Hughes. Music will include selections from Enchanted, Wicked, Children of Egypt, The Prince of Egypt, Godspell, Hunchback of Notre Dame, Pippin, and more! Information available at www.sfgmc.org
d) If anyone needs a personalized, autographed gift for a fellow Stephen Schwartz fan please contact me. Info on http://www.defyinggravitythebook.com/site-information/contact.htm
e) About PIPPIN in London: I've head from one fan who attended the show and raved about the performance. He comments: "I never would have imagined that a show so dated and "70′s" could be reinvented and reimagined in such a way that it made the story relevant while paying brilliant homage to the original. ….If someone told me they had a great idea for setting PIPPIN in cyberspace and making it relevant and touching I would have thought them crazy. Instead, the concept is revelatory, original and perfectly executed." — Dennis Silkwood. (used with permission). And if you haven't heard Pippin's score in a while, visit the Pippin page at http://www.musicalschwartz.com/pippin.htm
3. ALL GOOD GIFTS – Articles and news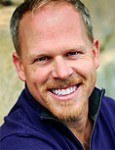 Stephen Schwartz's assistant Michael Cole takes us inside a private meeting for the group creating the Broadway revival of Godspell. All photos are by Michael.
Godspell's "Meet and Greet" Day – by Michael Cole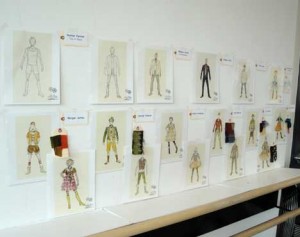 In my capacity as Stephen Schwartz's assistant, I am often in the right place, and, as it happens, the right time rolls around now and then. The convergence of right place and time happened again for me recently and I found myself in the room at the "Meet and Greet" for the upcoming Broadway revival of GODSPELL.
It was held in a large, bright rehearsal room on the 10th floor of Ballet Hispanico on West 89th Street. Around the perimeter of the room were tables and chairs, and boxes and shelves loaded up with props. On some of the chairs were scripts in binders each with a full-color GODSPELL image and the actor's name below.
Photos of costume elements and a series of drawings of the costumes were displayed on one wall. Nearest the entry was a large table stocked with bagels and cream cheese, a variety of baked confections, orange juice, water bottles
and a coffee and tea station – standard "Meet and Greet" fare for all to enjoy. A baby grand piano sat near the center of the room, protected by a black cover and a sign that said "Do Not Place Anything On the Piano." The floor was a patchwork of masking tape in various colors denoting the location of set pieces, trap doors, the piano, and the edge of the stage.
I arrived at the event before Stephen, and at first glance I didn't see anyone that I recognized. I felt like I didn't know anyone in the room and felt uncomfortable and out-of-place. Most of my dealings with the folks in the room were via email – no "face time." I did know Telly Leung, though, from his days in WICKED. I heard Telly say, "I can't believe we're here. Pinch me! Pinch me! I can't believe it's actually happening!"
A number of folks in the room were supposed to be part of the production that was ultimately cancelled a few years back, so they shared Telly's sentiment. Stephen (Schwartz) concurred saying, "Every time the phone rang last night, I just knew it was going to be the call saying they're pulling the plug and it's not going to happen."
I was given a baseball cap and I noticed the room quickly became dotted with primary red GODSPELL baseball caps. The event started and a natural giant circle formed around the room. Producer Ken Davenport asked all to introduce themselves. There was a nice amount of applause for the man who introduced himself as "Composer and New Lyrics". Same for director Danny Goldstein and casting director Craig Burns. It turns out I was standing next to Hunter Parrish, the actor playing Jesus. He introduced himself as "Actor" instead of "Jesus" (which I noted because it supported the idea that this was an ensemble piece) and each of the actors took his lead and introduced themselves as "Actor" (with two exceptions "Very Excited Actor" and "Actor and Equity Deputy").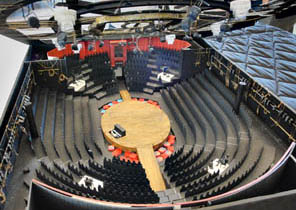 The introductions were followed by presentations by the creative team, complete with visual demonstrations (the costume designs on the wall) and a presentation of the set model (which arrived in the room dramatically at the exact moment it was needed – it was quickly placed on top of the piano, next to the sign forbidding such placement). The common theme was "the collaborative nature" of GODSPELL and each mentioned their vision of how collaboration would inform the production. All were excited to see where this group of artists would lead the show. [PHOTO: Model for the Godspell set for Circle on the Square Theatre]
I noticed that the hour-long meet-n-greet mirrored what GODSPELL is all about. In that short hour, the individuals had come together as one big community. Thankfully, I no longer felt out-of-place. I was definitely in the right place when "right time" rolled around that day. The meeting was adjourned and after a short break, the cast began creating the long-overdue revival of GODSPELL on Broadway!
Editor's note: The show opened Nov. 7. Go to http://www.musicalschwartz.com/godspell-broadway.htm for details, links to reviews, and other Godspell recordings. A new album will be out in a few weeks.
4. THANK GOODNESS FOR WICKED - Wicked news from around the world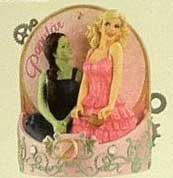 Did you know there's a cool Wicked Ornament Keepsake plays a piece of "Popular"? Who is a fan on your holiday gift list? Check out Wicked souvenir shop. http://www.musicalschwartz.com/wicked-shop.htm
New Books:

a) Unnaturally Green by Felicia Ricci. Earlier in her life, Felicia Ricci studied for a BA in English from Yale. She later carried her passion for language into her acting work when she understudied and performed in Wicked in San Francisco. She recently finished a zippy memoir about her experience. Here is a very short excerpt from the 274-page fun book.
"… As [Eden Espinosa's] soon-to-be standby, I had big shoes to fill. With only a couple of weeks left before my put-in, I had to make a serious push to get my voice in shape. This would mean coming to grips with the challenges before me—namely, that three of Elphaba's nine songs gave me nightmares. These I called the "Songs of Death." What were these Songs of Death? In chronological order: 1) "The Wizard and I" 2) "Defying Gravity" 3) "No Good Deed"
Alternate titles: 1) "Let's Put a Really High Song in Elphaba's First Scene"; 2) "This Isn't a Joke, You Are Actually Expected to Sing This High While Flying" 3) "Let's Belt Some More and Run Around the Stage, Because Why Not"
… Read what it feels like to play Elphaba in Unnaturally Green by Felicia Ricci. See Essential Books for Wicked Fans section (down the page) http://www.musicalschwartz.com/wicked-shop.htm

Out of Oz
Enjoy the final book in the Wicked novel series by Gregory Maguire – Available in print, ebook, and audio book formats.
In an email to me, Maguire commented about Out of Oz: " Dorothy Gale makes a guest appearance in Oz, and goes back to the Emerald City on a new campaign. Publisher's Weekly calls her 'accident prone' and that about covers it." He also said there are a couple of "echoes" or nods to the musical Wicked, including the "Don't wish, don't start," line from "I'm Not That Girl," and a comment of "Defying Gravity." Otherwise it doesn't refer back to the musical. Still, fans of the musical will no doubt find it intriguing. See Essential Books for Wicked Fans section (down the page) on http://www.musicalschwartz.com/wicked-shop.htm
The North American Wicked Tour Cities
The current 2012 cities Go to  Wicked Tour schedule for details.
For the West and Rocky Mountains: Los Angeles, Portland, Denver, Sacramento, San Diego, Salt Lake City, Las Vegas
For the South and Southeast: Jacksonville, Ft. Meyers, Norfolk, North Charleston, Durham, Austin, El Paso, Tempe, Birmingham
For the Midwest: Detroit, Dayton, East Lansing, Louiseville, St. Louis
For Canada: Montreal, Kitchener
Broadway and International
Wicked has completed a tour of Australia and is now in Singapore. Enjoy videos on this site that take you behind-the-scenes for the costumes and other aspects of the production. http://wickedthemusical.com.sg/
At Wicked in Holland, http://www.musicals.nl/wicked.asp, Willemijn Verkaik (reprising her role of Elphaba from the German production) and Chantal Janzen play the witches of Oz.
If you're going to London for Pippin, be sure to catch Wicked there as well. http://www.wickedwestend.co.uk/ and if you're come to New York City for Godspell, Wicked is still there on Broadway!
5. The Godspell Experience and Defying Gravity
This fall, my husband and I had a chance to attend the opening night of the Godspell revival on Broadway. My publisher for Defying Gravity, Hal Leonard, invited me to write a guest blog post about the experience. See http://onstageandbackstage.wordpress.com/2011/11/15/godspell/
Over the past quarter, I've been conducting many interviews for my forthcoming book, The Godspell Experience. You will be able to read comments from the original "Jesus" Stephen Nathan; from the director of the revival, Danny Goldstein; from the orchestrator, Michael Holland; and others. Stay subscribed to this newsletter to be informed when the book is available. And if you haven't already read my first book, Defying Gravity, check it out here: http:/www.defyinggravitythebook.com
A message to musical writers: Have you been to my Musicalwriters.com site? The latest newsletter issue http://www.musicalwriters.com/news/writerzine17.htm includes a place to pitch your show and more. Also see http://www.musicalschwartz.com/ascap.htm for workhshop details for the ASCAP Foundation musical theatre workshops, directed by Stephen Schwartz.
6. FATHERS AND SONS: Update for director Scott Schwartz (Stephen's Son)
Scott is currently working on a new musical of "A Room With A View" by Jeffrey Stock and Marc Acito, workshopping it in New York. He will then will be directing the world premiere production at The Old Globe in San Diego in January, 2012.
MORE NEWS IN THE WINTER ISSUE. STAY TUNED.
If your friends want to subscribe, ask them to visit http://www.theschwartzscene.com/quarterly-newsletter/to enter their subscription info.
The Schwartz Scene is an independent publication from MusicalSchwartz.com and does not formally represent Stephen Schwartz. To send comments or questions: mailto:carol@musicalschwartz.com. Copyright 2011 by Carol de Giere. MusicalSchwartz.com has exclusive rights, unless otherwise specified, for all materials included in the newsletter. Permission must be secured in writing before any part of it may be reprinted, except for the printing of one copy for the subscriber's private use. Editor: Carol de Giere, P.O. Box 510, Georgetown, CT 06829