The Schwartz Scene Newsletter 43 – Summer 2011
1. Late Summer 2011 News and Intro from Carol de Giere
Carol de Giere, The Schwartz Scene editor
Songwriter Stephen Schwartz was in California when the big storm slammed America's east coast last weekend. He was able to write his Update for this issue on the plane trip home to the Connecticut/New York area. See Column 2 below for his comments about My Fairytale, Godspell, Snapshots, and even the weddings of his son and daughter.
I've been collecting news over the summer that you'll find in the other columns below, such as a Schwartz event in NYC, Godspell on Broadway casting, new "witches of Oz" on Broadway, Wicked-related books, several new YouTube videos, and more. Keep reading for all the latest, and on Facebook, Like "the Schwartz Scene" for more current updates.
(The Schwartz Scene is protected by copyright. Share the link to this page but please do not paste the contents into your own blog, emails, social networking pages, websites, or print it out for others without permission. This site is an extension of the Stephen Schwartz fan site MusicalSchwartz.com)
TO RECEIVE FUTURE ISSUES: Did you get an automated email about this issue? Then you are subscribed to the seasonal newsletter. If not, or to invite your friends to subscribe, use this link: http://www.theschwartzscene.com/quarterly-newsletter/
2. THE SPARK OF CREATION: Stephen Schwartz Update

Stephen Schwartz
August 31, 2011
I'm writing this (as it seems I often write my Schwartz Scene updates) on a plane, this time from California, where we have been "stranded" for two days because of the travel disruptions caused by Hurricane/Tropical storm Irene (there are worse places to be stranded, believe me.)
I was in California, in the charming Danish town of Solvang, for the premiere of my show about Hans Christian Andersen, My Fairytale, originally written, as some of you may remember, as Mit Eventyr for the Danish bicentennial celebration of Andersen's birth. This year is the centennial of the founding of Solvang, and in celebration of that, they are presenting the English-language premiere of the show. It has wound up being a highly enjoyable experience, and I think the show has turned out extremely well, playing to enormously positive audience response. I think a lot of this has to do with the (not surprisingly) brilliant staging by my son Scott, who is totally in his element with a show like this — the dazzling theatricality he has brought to it draws gasps and mid-number applause from the audience, and I think he has been very ably assisted by the artistic staff of the presenting organization, Pacific Coast Performing Arts.
When we were first beginning work on this production, and the music arrived from Denmark in shards and unlabeled files, etc., I despaired of its being able to be done, but heroic work by musical director Callum Morris and sound designer Walter Clissen, along with a young man in New York named Andrew Fox who helped somehow cobble together a workable piano/vocal score, saved the day, almost miraculously.
One of the most fun aspects of the experience for me was, for the first time in my life, translating someone else's lyrics into English — three of the songs are by the Danish writing team of brothers Adam and James Price, and of course were written originally in Danish. Adam, the lyricist of the pair, is also a superb translator — he recently did the Danish translation of my lyrics for the recent Copenhagen production of Wicked, and had translated the lyrics I had written in English for Mit Eventyr into Danish for the original production. Now I was able to return the favor and, carefully following the scansion of James' music and with a literal English translation of Adam's lyrics in front of me, come up with English-language versions of his lyrics for this production. (When I was in Copenhagen for Wicked, I showed them to him and he pronounced himself very pleased.) I also translated into English an Andersen poem ("The Dying Child") that I had set to music for Mit Eventyr. Altogether, an enjoyable new challenge.
Philip Lazebnik, the original book writer of the show, came over to California from his home in Denmark — fortunately he has family in Southern California and even had a convenient high school reunion to attend — and adeptly re-set his script back into English.
The theatre in Solvang is outdoors, and watching the show under the stars, bundled up in a blanket, is a lovely and magical experience. One never knows which working experiences are going to turn out to be the nicest ones; somewhat surprisingly, this was one of them for me.
Because I am two days late getting back due to the flight cancellations, I have to turn around tomorrow and make my way to Chicago, where rehearsals have commenced at the Northlight Theatre for a production of Snapshots, the revue based on my songs, devised by David Stern, which has been in the works for a while. Purportedly, this is intended to be the finished production, and the director, Ken Sawyer, has some very promising ideas for the design and staging, so I will be interested to see how it turns out. It would certainly be nice if it proved to be as pleasant an experience as My Fairytale.
It is an especially busy summer for me because, in addition to these two shows going on and some upcoming things in the works for the fall that have been requiring my attention (including the planned Broadway revival of Godspell), both my children are getting married this summer. Actually, my daughter Jessica is already married, having had a beautiful wedding in June. Never having "thrown" a wedding before but having only been a guest, I didn't realize what a huge production it is, rather like doing a gigantic Broadway show where one is responsible not only for what's on stage but for every single member of the audience as well. Fortunately, my son Scott's wedding, which is a mere ten days from now, will be a smaller affair. But obviously, in the end, two joyful occasions.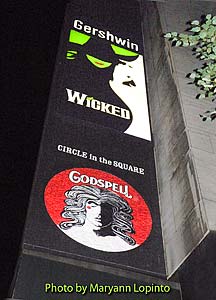 Speaking of the upcoming production of Godspell, the casting is now complete, and I think (as tends to be the case with that show) it is an amazingly talented group of young performers. Though some people know our Jesus, Hunter Parrish, there are no major stars in the show — we have instead gone with the very best people we could find. I don't know if that will make marketing the show more difficult in today's highly-star-driven climate for Broadway revivals, but ultimately the production team felt that Godspell has always been a show where stars-of-the-future are discovered (among the cast in the most recent New York production a decade ago were Chad Kimball, Leslie Kritzer, Shoshanna Bean, Barrett Foa, and Capathia Jenkins), and that it was better to stay true to the essence and spirit of the show. Wouldn't it be nice if the "artistically" right decision turns out to be commercially viable as well? In any event, I'm sure I will have much to report about it in my next Schwartz Scene update.
In the meantime, I wish you all a good end of summer and thank you as always for your interest,
Stephen
EDITORS NOTE: For details about these shows and events with Stephen Schwartz, see info below.
3. FATHERS AND SONS: Update for director Scott Schwartz (Stephen's Son)
From Scott Schwartz on September 4, 2011: I'm very proud of the production of "My Fairytale" that is currently running at PCPA. It was such a pleasure to create this show with a wonderful team of artists.
Next up for me is a new musical of "A Room With A View" by Jeffrey Stock and Marc Acito. I will be workshopping the show in New York this fall, and then will be directing the world premiere production at The Old Globe in San Diego early next year.
And finally, I am about to getting married to the brilliant and fabulous Julia Motyka! See Scott Schwartz page for photo, background, and previous updates.
4. ALL GOOD GIFTS - Articles and news
Godspell on Broadway
Godspell begins previews at Broadway's Circle on the Square Theatre on Oct. 13, with an opening night of Nov. 7. The theatre is ideal for this show, as it is smaller than most Broadway houses and the actors are closer to the audience. Go to http://www.musicalschwartz.com/godspell-broadway.htm for a list of cast members, ticket info, and more.

Godspell 40th anniversary CD
For the next issue of The Schwartz Scene I'll be interviewing Michael Holland, the show's orchestrator. Yes, Godspell on Broadway will have a new fresh sound. And let's cross our fingers for a cast album!
Meanwhile, a 40th Anniversary cast album has been announced. Godspell: 40th Anniversary Celebration
This 2011 two-CD set features two albums: the digitally remastered original cast album as well as the movie soundtrack.
My Fairytale in California continues in September.
You can still see it. A reviewer praised Schwartz's contribution to the score and commented, "The final song of Act One, 'On the Wings of a Swan,' and the opening number of Act Two, the Little Mermaid's 'Come Drown in My Love,' are particularly memorable, and seem destined to be sung wherever aspiring musical performers are found."
Another reviewer comments on the show: "…a breathtaking blend of spectacle, gorgeous melody, and operatic grace…This exhilarating entertainment combines cerebral appeal for adults with fantasy and frivolity to enchant the child in all of us." –Backstage
Visit My Fairytale for more about the show and a link to the review.
Kevin Oderik has recorded two songs from My Fairytale on his alum Unheard: "On the Wings of A Swan" and "Can You Imagine That?" Listen to these and I think you'll see why this show holds a lot of promise. Unheard – hear clips or buy songs.
September 2011 – Chicago area Snapshots
Stephen Schwartz is involved in the new production of Snapshots in Skokie, Illinois, which begins Northlight Theatre's 2011-2012 season.
Stephen Schwartz in New York City
There are two events in the works with Mr. Schwartz this fall. Please email me to be kept informed about these if you will be in the area, as final details are not yet available. Write to carol@musicalschwartz.com .  Please add the word "COMMENT" in the subject heading and let me know which of these interests you.
1) An ASCAP / NYMF event about new musicals on Monday, October 3rd, 2011. STEPHEN SCHWARTZ in conversation with:
MICHAEL KOOMAN & CHRISTOPHER DIMOND
BRENDAN MILBURN & VALERIE VIGODA
BENJ PASEK & JUSTIN PAUL  … and MUSIC too!
2). Godspell activities November 6th.
I invite you to join my group going to the matinee of Godspell on Broadway on November 6th, at a discounted rate. I'm also working on a proposal for a special activity with Stephen and others for that date. S0 let me know if you'll be in the area in early November and interested.
MTI helps you locate local shows
Find Stephen Schwartz musicals in your area using the new production finder tool on the website for Music Theatre International. This includes Godspell, Godspell Jr., Children of Eden, Pippin, Working, The Baker's Wife, My Son Pinocchio, and Captain Louie.
http://www.mtishowspace.com/productions/
(Note that Theatre Maximus also licenses Godspell)
5. THANK GOODNESS FOR WICKED – Wicked news from around the world

Wicked two witches tshirt is new, and there's lots of hooded sweatshirts and track jackets to keep you warm this fall. See Wicked souvenir shop.
New Books:
Read all about "Wicked: A Musical Biography," and Gregory Maguire's "Out of Oz" — final volume of the Wicked series.
http://www.theschwartzscene.com/2011/09/01/new-books-on-wicked/
New Broadway Witches; The Tour Travels On
September 27, 2011 the Broadway company welcomes Jackie Burns in the role of Elphaba and Chandra Lee Schwartz as Glinda. Both have been popular stars on the North American tour. Wicked is the 15th longest running show in Broadway history. Have you seen it? See Wicked on Broadway
Want to enjoy Wicked in a warm climate over the winter holidays? Try seeing it in Los Angeles this year, or maybe Las Vegas next year. These are among the many cities covered by the two touring companies.  Wicked Tours schedule
International
As announced in their Ozmopolitan news: "WICKED London is proud to confirm that Rachel Tucker will continue in her acclaimed starring role as Elphaba through the 2012 Olympic year!" The current Glinda Louise Dearman remains in the role through December 10th of this year. http://www.wickedwestend.co.uk/
Wicked winds up its tour of Australia in Perth. See their Australia newsletter.
The show has ended in Finland, but played in Denmark and is opening in October in Holland. Willemijn Verkaik will reprise her role of Elphaba, becoming the first to play the role in two different languages.
VIDEOS

Willemijn Verkaik
Editor's note: I had the good fortune to attend the American cabaret debut of Villemijn at Birdland in NYC a few weeks ago, where she performed with Stephen Schwartz and others. She is the amazing singer who we hear on the German cast album for Wicked, and the bonus tracks for the 5th anniversary cast album. (See http://www.musicalschwartz.com/wicked-music.htm for cast album info).
According to a fan in Holland, she recently appeared for "a live performance for thousands of people (and millions watching on TV) at the Uitmarkt in Amsterdam, which is the official opening weekend of the new theatre season." The YouTube video is here: http://www.youtube.com/watch?v=eOOuPFq5UH4
SCHWARTZ ON WICKED
Last spring, Stephen Schwartz accepted an award from the Raven foundation, and discussed the show with Suzanne Ross, author of The Wicked Truth. They videotaped an in-depth discussion between Suzanne and Stephen about the ethical concerns expressed in Wicked, and the character arcs within the show. In this video, there is a lot of introductory material, and then you'll see Suzanne and Stephen sharing ideas.  http://www.youtube.com/watch?v=6gDGsUZp4q0
6. The Godspell Experience and Defying Gravity
From Carol: I'm in the middle of writing a book called The Godspell Experience. One of my great finds of the summer was a copy of the first script for Godspell - what appears to be the original college version. It's fascinating to compare it with the official script. For example, the "Prologue" goes on for about five pages of philosophical exposition in the original. Schwartz turned it into a song, as he did with about one and a half pages of text that became "Alas For You." So much of the musical emerged in collaboration, as happens with shows.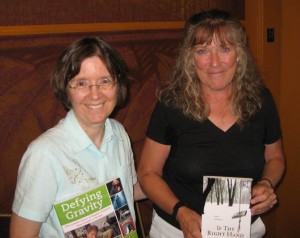 If you are in the Northeast and interested in having Robin and I speak to your group, let me know.
MORE NEWS IN THE FALL ISSUE. STAY TUNED.
Carol de Giere, Editor of The Schwartz Scene and author of Defying Gravity: The Creative Career of Stephen Schwartz, from Godspell to Wicked, the Stephen Schwartz biography
If your friends want to subscribe, ask them to visit http://www.theschwartzscene.com/quarterly-newsletter/to enter their subscription info.
Editor: Carol de Giere, P.O. Box 510, Georgetown, CT 06829
The Schwartz Scene is an independent publication from MusicalSchwartz.com and does not formally represent Stephen Schwartz.
To send comments or questions: mailto:carol@musicalschwartz.com.
Copyright 2011 by Carol de Giere. MusicalSchwartz.com has exclusive rights, unless otherwise specified, for all materials included in the newsletter. Permission must be secured in writing before any part of it may be reprinted, except for the printing of one copy for the subscriber's private use.