The Schwartz Scene Newsletter 42 – Spring 2011
1. Spring 2011 News and Intro from Carol de Giere
Carol de Giere, The Schwartz Scene editor
Welcome to the The Schwartz Scene quarterly newsletter's new home on The Schwartz Scene blog. I'm using blog software that makes it easy to add media files like audio or video clips, as well as more frequent updates. We're also on Facebook. "Like" us by searching for "The Schwartz Scene" next time you're logged into Facebook.
Stephen Schwartz wrote an update for this issue (see Column 2 below). He often writes them on plane flights–this time on his return trip from Chicago where a revised production of Working opened in March.

Stephen Schwartz
Have you been thinking about spring or summer travel? There are quite a few Schwartz-related events listed here that may interest you around the USA. I'm planning several Schwartz fan meet-ups coming up at concerts or shows where Stephen will be around. Find details here about NYC, Kansas City, or Santa Maria (near Pismo Beach), California.
Keep reading here for articles or news about the New York City premiere of Seance on a Wet Afternoon, Godspell, My Fairy Tale, and Snapshots.
TO RECEIVE FUTURE ISSUES:  Did you get an automated email about this issue? Then you are subscribed to the seasonal newsletter. If not, or to invite your friends to subscribe, use this link: http://www.theschwartzscene.com/quarterly-newsletter/
Happy reading,
Carol de Giere, Editor of The Schwartz Scene and author of Defying Gravity: The Creative Career of Stephen Schwartz, from Godspell to Wicked, the Stephen Schwartz biography
To contact me, send an email to carol@musicalschwartz.com with "Question" or "Comment" in the subject heading.
(The Schwartz Scene is protected by copyright. Share the link to this page but please do not paste the contents into your own blog, emails, social networking pages, websites, or print it out for others without permission. This site is an extension of the Stephen Schwartz fan site MusicalSchwartz.com)
2. THE SPARK OF CREATION: Stephen Schwartz News
SCHWARTZ SCENE UPDATE
March 3rd, 2011

Stephen Schwartz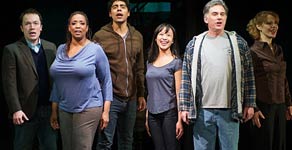 Working the musical Chicago cast. © Amy Boyle Photography 2011
I am on a plane returning home from Chicago, where last night the new production of Working opened at the recently-refurbished "Broadway Playhouse".  Imaginatively directed by my friend Gordon Greenberg, there have been a few "new wrinkles" added since the developmental productions of this revival in Sarasota and San Diego, most notably beginning the show with five reel-to-reel tape recorders on stage playing excerpts from Studs Terkel's interviews.  There's something wonderful about hearing Studs' voice and those of a few of the real people he interviewed for the book, and it seems to me it gives a new legitimacy and immediacy to the show.
The cast of six Chicago actors is very strong, and it is hugely gratifying to me that the show has finally "come home" to Chicago where it all began.  I am happy to report that the first two reviews, in the two major Chicago papers, were excellent, particularly confirming that we had succeeded in updating the show and making it feel relevant and resonant for contemporary audiences.  Now we'll see if, in these times, people actually want to see a show called Working.  But it was a great working experience (pun intended), and I leave Chicago exhilarated by what I saw on stage last night. [For information on Working and a link to the production info, see Working the musical.]
I return to New York ready to plunge into rehearsals for the New York City Opera production of my opera, Seance on a Wet Afternoon which commence in three weeks.  I have been working assiduously to try to ensure that all the music is ready for the singers, conductor, and orchestra – it's a lot of dots!  And I'm finding that while the computer is an exceedingly useful tool for transcribing and editing music, it also can occasionally make inexplicable and arbitrary changes that one discovers to one's horror when proof-reading for the third or fourth time.  I hope I've caught them all!  Anyway, it will be nice to be back working on the opera with real singers and musicians again, as opposed to computer files.  And of course I continue to vacillate between excitement and terror for the actual New York premiere.
Meanwhile, I have begun work on a new project that promises to be a lot of fun.  It is an animated feature for DreamWorks, tentatively titled The Monkeys of Mumbai, a contemporary spin on the classic Indian tale of The Ramayana. It's set in modern-day Mumbai and centers around two monkeys, brothers, who wind up becoming the heroes in a battle with a 4000-year-old ten-headed Demon King whom one of the monkeys inadvertently re-awakens.  May I add that this will also be a Bollywood-style musical?  You can probably see why I think it will be fun.  I am helping develop the story, and then I will be collaborating on songs with AR Rahman, the composer of Slumdog Millionaire among many others.  It is very early in the process, but I am already enjoying it considerably.
In addition, there are other plates I need to keep spinning, including a summer production in Solvang, California, of My Fairy Tale, the Hans Christian Andersen musical I originally wrote for Denmark in 2005, and a fall production at the Northlight Theatre outside of Chicago of Snapshots, the "musical scrapbook" compilation of songs from my various shows.
So life remains hectic, daunting, but certainly consistently interesting.  And I'm happy to be able to check off Working as a job well done.
Stephen Schwartz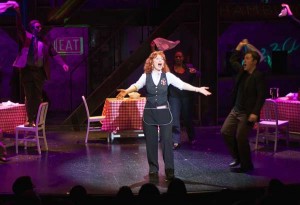 Barbara Robertson in Working singing "It's An Art." Photo © Amy Boyle Photography 2011
Stephen Schwartz events in New York City and Schwartz Opera
See our latest blog post for an abundance of events: A panel, concert, and discussion sessions, as well as a dinner gathering for fans. New York City Events with Stephen Schwartz – April 2011
Since the last newsletter, I've added details about the opera, including a video of an aria called "Brightness Falls."
Hear "Brightness Falls" rehearsal – Lauren Flanigan & Stephen Schwartz (opens in new Browser window)
For the list of arias, duets, and group numbers, and more, see Seance opera details
July 17 – 18, Kansas City, Stephen Schwartz and Children of Eden Symphonic Premiere
If you're anywhere near Kansas City, Missouri, be sure to check out this amazing two-part event where you can catch up with Stephen Schwartz in person and see a world premiere–the first performance of Children of Eden accompanied by a full orchestra. See the blog post about this for details: Kansas City show, concert, and fan gathering
My Fairy Tale in California in August
My Fairy Tale musical – photo from the original production
My Fairy Tale, a musical about Hans Christian Andersen with songs by Schwartz, will have its American premiere in 2011 in California. This production is being created by The Pacific Conservatory of the Performing Arts (PCPA) of Allan Hancock College in Santa Maria, CA. To help launch this American premiere, Stephen Schwartz will be in brief residence at PCPA, assisting with the development of PCPA's production.
We may be holding a fan gathering during previews in Santa Maria near Pismo Beach. Come for the weekend. It will be either August 13-14 or August 20th. Email me at carol@musicalschwartz.com to be added to the special mailing list for this event.
I've started a YouTube video channel for The Schwartz Scene, selecting videos that include Schwartz speaking. Watch Stephen Schwartz discussing the show, with some video clips from My Fairy Tale
Youtube.com channel – TheSchwartzScene – My Fairy Tale video
Or you can visit My Fairy Tale for more about the show
Kevin Oderik has recorded two songs from My Fairy Tale on his alum Unheard: "On the Wings of A Swan" and "Can You Imagine That?" Listen to these and I think you'll see why this show holds a lot of promise.  Unheard – hear clips or buy songs.
September 2011 – Chicago area Snapshots
Stephen Schwartz is involved in the new production of Snapshots in Skokie, Illinois, which begins Northlight Theatre's 2011-2012 season. Check their website and the next issue of The Schwartz Scene for special events.
3. FATHERS AND SONS: Update for director Scott Schwartz (Stephen's Son)
Scott Schwartz is now directing his dad's opera and this summer will direct My Fairy Tale. See Scott Schwartz page for photo, background, and previous updates.
4. ALL GOOD GIFTS - Articles and news
GODSPELL
In Godspell news, Ken Davenport, the producer of the forthcoming Broadway revival is now planning for the 2011-2012 season, and waiting for a small Broadway theatre to become available. As announced in the last issue, he's organizing micro-investing so virtually anyone interested could help produce the show. See The People of Godspell
A Beautiful Story of "Beautiful City"
While on duty in Iraq, "Clark A" was inspired by Schwartz's Godspell song "Beautiful City". He writes about his experience of a special night when he shared the song. "….War does funny things to people immersed in it.  Sometimes it makes you bitter, or cynical, or angry.  Sometimes things that would normally make you smile, don't.  Things that you'd never worry about fill you with blinding rage…. And sometimes, a sweet, silly song from a 30 year old musical makes you smile… Read his whole recollection towards the end of the "Beautiful City" page at MusicalSchwatz.com
5. THANK GOODNESS FOR WICKED – Wicked news from around the world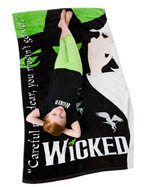 Wicked beach towels are back at the Wicked gift shop. And now they are greener, as they are made with 100% organic cotton.  Purchases through the links on the shop page help support this independent newsletter Wicked souvenir shop.
A short summary of Wicked News
Broadway's new Elphaba is Teal Wicks, who many people saw perform in the role Los Angeles and San Francisco. Glinda is played by Katie Rose Clark. Richard H. Blake is Fiyero. Wicked is the 17th longest running show on the Great White Way with over 3078 performances. It has run longer than many of the most well-known shows, like  Hello Dolly, My Fair Lady, South Pacific, and Annie.  See Wicked on Broadway
Did you know that the North American tour is coming back to Los Angeles, San Diego, Detroit, Tempe, Portland, and other cities? There are two tours. Jackie Burns and Chandra Lee Schwartz are Elphaba and Glinda respectively on tour one. Anne Brummel and Natalie Daradich play the two Ozian witches for tour two.  Wicked Tours schedule
Wicked International: One of my first thoughts when I heard about the earthquake and tsunami in Japan was about the welfare of the people involved with Wicked there. I emailed one of my contacts a few days later. He assured me that Wicked was not in performance at the time of the earthquake and that everyone was safe. The production was in transition between cities, and the next city where it will open is far from the area where the major devastation is. Speaking of  natural disasters, Brisbane, Australia was in the flooded area of Australia. Wicked had been scheduled there but floods delayed it. The show finally ran in Brisbane and is now moving on to Adelaide.  See their Australia newsletter.
The London Company is thriving, as always, along with the productions in Germany and Finland. (For background on these see Musicalschwartz.com's Wicked International page). If you haven't yet checked out the photos for the new Danish production, visit Wicked in Denmark photos
Super fans of Wicked might want to "Like" an active fan society on Facebook . Search for "Unlimited: the First Wicked Society"; for the official company, search for Wickedthemusical. The have recently posted a video entry, and other messages.
6. DEFYING GRAVITY AND OTHER BOOKS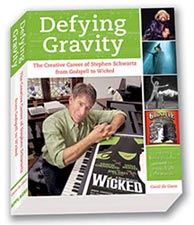 "Defying Gravity" Stephen Schwartz biography
…makes fascinating reading.
In February, my book Defying Gravity was reviewed for the DC Theatre Scene site. Brad Hathaway writes "…Yes, she covers the creative career of Stephen Schwartz, but in the process she does something much greater. Here is a book that explains just why it is so hard to make a musical – what "collaboration" actually means over the months and years that it takes to carry a concept from brainstorm to curtain call." Read full review at: DC Theatre Scene – Defying Gravity review . If you've read the book and have time to review it online on Amazon, Barnes and Noble, or other location, please do. To find out more about the book, go to www.DefyingGravityTheBook.com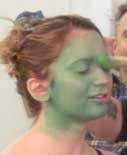 Felicia Ricci's Elphaba Greenification
Felicia Ricci,  former Elphaba Standby in the San Francisco Company of Wicked, is writing a memoir: UNNATURALLY GREEN: One Girl's Wild, Impossible, Pit-Stain-Filled Adventure Along a Yellow Brick Road Less Traveled. "From her audition to the show's closing, to every moment in between, Felicia takes you behind the scenes of her first professional theater job (ever!) as she understudies Elphaba, WICKED's lead character. Irreverent, relatable, and brimming with mishaps, this memoir lets you gaze at professional theater's proverbial man-behind-the-curtain, in all his naked glory. Who could look away?" Unnaturallygreen.com/
END
---
If your friends want to subscribe, ask them to visit http://www.theschwartzscene.com/quarterly-newsletter/to enter their subscription info.
Editor: Carol de Giere, P.O. Box 510, Georgetown, CT 06829
The Schwartz Scene is an independent publication from MusicalSchwartz.com and does not formally represent Stephen Schwartz.
To send comments or questions: mailto:carol@musicalschwartz.com.
Copyright 2011 by Carol de Giere. MusicalSchwartz.com has exclusive rights, unless otherwise specified, for all materials included in the newsletter. Permission must be secured in writing before any part of it may be reprinted, except for the printing of one copy for the subscriber's private use.