The Schwartz Scene Newsletter 41 – Winter 2011
1. Winter 2011 News and Intro from Carol de Giere
Carol de Giere, The Schwartz Scene editor
Warm greetings from chilly Connecticut.
In this Winter 2011 issue, you'll find a list of events with Stephen Schwartz in March and April. I also have news about his new movie project, updates from Gregory Maguire (Wicked novelist) and Ken Davenport (producer of Godspell/Broadway), a new list of Wicked tour cities, Ben Vereen's new "Defying Gravity," "Defying Gravity" on ice skating video, and a link to a new hour-long podcast interview with Stephen.
Stephen normally writes his Schwartz Scene update on one of his many plane trips, but lately he has been overwhelmed. "I worked constantly on the planes (no reading or movie watching)." But I will be sending the Spring issue in mid March with his update following the opening of the new production of Working in Chicago. So stay subscribed for that.
I recently created a public archive of past updates that you can enjoy and share with your friends. More details below but I'll put the link here as well. 2000 – 2009: www.musicalschwartz.com/schwartz-scene-archive.htm
Keep reading here below! – Carol de Giere
P.S. I'm looking for someone who is fairly expert at social media to advise me regarding the best ways to utilize my Schwartz-related material. If you have time to make suggestions, please contact me at carol@musicalschwartz.com.
Carol de Giere is Editor of The Schwartz Scene and author of Defying Gravity: The Creative Career of Stephen Schwartz, from Godspell to Wicked, the Stephen Schwartz biography
Reminder: to share this newsletter, please ask your friends to subscribe by visiting http://www.theschwartzscene.com/quarterly-newsletter/
(The Schwartz Scene is protected by copyright. Do not paste the contents into your blog, emails, social networking pages, websites, or print it out for others without permission. Contact me at carol@musicalschwartz.com with "Question" or "Comment" in the email subject heading. The Schwartz Scene, Copyright (c) 2011 by Carol de Giere, is from the Stephen Schwartz fan site MusicalSchwartz.com)
2. THE SPARK OF CREATION: Stephen Schwartz News

Stephen Schwartz
Stephen Schwartz Events:
Working in Chicago
Stephen Schwartz is involved in the revival of Working at the Broadway Playhouse. He will be attending the opening/press night, March 2nd. After previews that run February 15 to March 1st, the show continues through May 8th, 2011. For more about the musical and a link to the Chicago production, see Working the Musical (includes VIDEO, CD, Sheet music, background info)
March 1 – Schwartz talk and reception – Raven Award – 7 pm – 9 pm – Chicago
The Raven Foundation invites the public to an event honoring Stephen Schwartz, composer and lyricist for Wicked. Suzanne Ross, author of The Wicked Truth: When Good People Do Bad Things. will be interviewing Mr. Schwartz. A champagne reception is included. $50.00. Tuesday, March 1, 2011, 7:00pm to 9:00pm, Loyola University Museum of Art, 820 N. Michigan Avenue., Chicago. Raven Foundation – Event notice
Sunday, April 10, 2011 – Is It a Musical or Opera panel
A panel of distinguished composers and playwrights join Stephen Schwartz for an in-depth look at what defines the opera and musical theater genres. The roundtable will take place on the set of Schwartz's hit Broadway musical Wicked. It has been reported that Adam Guettel, John Kander and David Henry Hwang will be joining Stephen Schwartz.  George Steel will moderate.
Sunday, April 10 at 7:30 pm
Gershwin Theatre
222 West 51st Street
April 19 – May 1, 2011, Seance on a Wet Afternoon opera NYC premiere
Lauren Flanigan will star in the New York premiere of Stephen Schwartz's Séance on a Wet Afternoon as part of the New York City Opera's 2010 – 2011 season. The opera focuses on Myra Foster (Flanigan), a trance medium who involves her passive husband (to be played by Kim Josephson) in a plot to kidnap the daughter of a neighboring family. The composer's son, Scott Schwartz, will direct, while George Mahanan conducts, sets are by Heidi Ettinger, costumes by Alejo Vietti and lighting by David Lander. Stephen Schwartz opera Seance on a Wet Afternoon
April 21, 2011, New York City, Defying Gravity: The Music of Stephen Schwartz
The NYC opera is hosting a special concert and gala evening featuring Anne Hampton Callaway, Kristin Chenoweth, Raúl Esparza, and Victor Garber. NY Opera concert
Thursday, April 28th at 6pm, Artists Dialogue – NYC
The New York City opera will be holding an artist dialogue for Seance on a Wet Afternoon, with Schwartz and others. Look for the April 28: Stephen Schwartz as part of the NYCO lecture series
My Fairytale
My Fairytale, Danish musical about Hans Christian Andersen, with Songs by Schwartz, will have its American premiere in 2011 in California, created by The Pacific Conservatory of the Performing Arts (PCPA) of Allan Hancock College in Santa Maria, CA. To help launch this American premiere, Stephen Schwartz will be in brief residence at PCPA, assisting with the development of PCPA's production. See My Fairy Tale
September 2011 – Chicago area
Stephen Schwartz is involved in the new production of Snapshots in Skokie, Illinois, which begins Northlight Theatre's 2011-2012 season.
SEE news of Stephen's new movie below.
NEW PODCAST
Link to an hour-long interview that includes Schwartz at the piano. Stephen Schwartz interview by CUNY for the American Theatre Wing
3. FATHERS AND SONS: Update for director Scott Schwartz (Stephen's Son)
Scott's page on MusicalSchwartz.com features a new photo and his recent update from a few weeks ago, listed after his bio. His big project this spring is directing his dad's opera! See Scott Schwartz.
4. ALL GOOD GIFTS - Articles and news

Steppin' Out Live – a new album BUY or hear clips: Steppin' Out Live — mp3 or CD at Amazon.com
Fans of Stephen Schwartz musicals will appreciate this special new album by Broadway legend Ben Vereen as he offers his rendition of two of Schwartz's most popular songs: "Corner of the Sky," (Pippin) and "Defying Gravity" (Wicked). Vereen originated the role of Leading Player in Pippin and also played the Wizard in Wicked.
NEW MOVIE FOR SCHWARTZ
DreamWorks, the movie company that Stephen Schwartz worked with for The Prince of Egypt, has recruited him to write lyrics for a new aninated feature film Monkeys of Bollywood, with a yet-to-be-announced release date. Find out more at www.musicalschwartz.com/monkeys-of-bollywood.htm
GODSPELL
In Godspell news, Ken Davenport, the producer of the forthcoming Broadway revival is now planning for the 2011-2012 season, and waiting for a small Broadway theatre to become available. As announced in the last issue, he's organzing microinvesting so virtually anyone interested could help produce the show. See The People Of Godspell
AN ONLINE TREASURY – ARTICLES GALORE
As mentioned above, the Schwartz Scene has been around since 2000 and there's lots to explore. Reading Stephen's updates since 2000 in sequence lets you more closely into his way of life as one of the most successful and constantly busy artists of our times. In the first two sections, you'll read what it was like to work on Wicked, and then what he's been up to since. Also listed are a huge array of online articles that have been part of past issues. www.musicalschwartz.com/schwartz-scene-archive.htm
Musical Writerzine
If you are involved in new musicals OR from the DC area, you may enjoy the most recent issue from my musicalwriters.com site featuring a profile of Carolyn Griffin and Metro Stage Musical Writerzine 14 – Metro Stage
5. THANK GOODNESS FOR WICKED – Wicked news from around the world
For Fans of the Novel Wicked
News from author Gregory Maguire as of February 7, 2011: "We are closing in on a pub date for OUT OF OZ, and I am busy at draft six. It looks to be available to the public in November 2011. The novel WICKED, Harper tells me, has crossed the five million mark in terms of copies sold." Editor's note: OUT OF OZ is the 4th book in the Wicked series that also includes Wicked, Son of a Witch, and A Lion Among Men
TV Miniseries: Actress-producer Salma Hayek is teaming with ABC to develop an eight-hour miniseries adaptation of Maguire's novel, Wicked: The Life and Times of the Wicked Witch of the West. It will be based on the novel and not the musical.
Wicked on Broadway and Beyond
Broadway's new Elphaba is Teal Wicks, who many people saw perform in the role Los Angeles and San Francisco. Glinda is played by Katie Rose Clark. Kyle Dean Massey is Fiyero. Wicked on Broadway
Defying Gravity Skating
When you have 5 minutes, enjoy the dazzling skating while London's Elphaba Rachel sings "Defying Gravity" – look down the page to activate the video at Broadway.com – Defying Gravity skating
Wicked Party and Gifts
Have you considered a Wicked party? Here's what one Texan did. Wicked Party. (Feel free to send me your ideas). Just a reminder to visit our MusicalSchwartz.com Wicked shop – your purchases help support this newsletter.
New online videos
The folks from Behind the Emerald Curtain live event (Saturday mornings in NYC and elsewhere) narrate a new series of online videos called "Behind the Emerald Curtain." Their latest one is a fascinating look at the process of beading the elaborate costumes, and there's another about the sets and that smoke-breathing dragon. Check it out at… http://emeraldvideo.wickedthemusical.com/
Wicked on Tour 2011 and 2012
We regularly update the Wicked tours and cast pages on MusicalSchwartz.com with new cities. The show is now in two warm states: Florida and Texas! In addition to the Amercian and Canadian cities previously announced, new cities include:
* Pittsburgh, PA
* Atlanta, GA
* Cincinnati, OH
2012
* El Paso, TX
* Durham, NC
* Sacramento, CA
* Dayton, OH
* San Diego, CA
Please see Wicked Tours schedule and tickets
The show tours in 14 semi trailers. To see a short video of the show set up in Orlando see cfnews13
International Wicked
Australia: Wicked's opening in Brisbane was greatly delayed by the area's floods but is now going. See www.wickedthemusical.com.au/
London: Wicked London broke box office records for the West End in December, 2010. It's going strong. www.wickedwestend.co.uk/
Germany, Denmark, and Finland:
Wicked for Germany is playing in Oberhausen. Wicked in Germany. We'll hear news of Wicked in Denmark in a future issue. Meanwhile, here's the site that includes some amazing pictures.
Wicked Finland has inspired a fan group on Facebook. See our Wicked in Finland page for links, as well as a report from the diretor, review, and more.
6. DEFYING GRAVITY
Do you have Wicked fan friends who haven't yet read the Defying Gravity book but might like to read a sample chapter? Feel free to send this around – it's Chapter 16 from the beginning of the Wicked section. You can save the file on your computer and then pass it along. Defying Gravity "Landing In Oz" chapter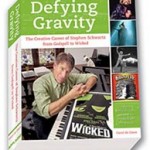 "Defying Gravity" Stephen Schwartz biography
I also have AUTOGRAPHED COPIES of the 544-page book, signed by Stephen Schwartz (and myself as author) for $40 including shipping in the USA. Please contact me at carol@musicalschwartz.com if you'd like to buy one. Include the words SIGNED COPY in the subject line.
SHOPPING
This newsletter is supported solely by book sales and the small commission I make from readers' purchases via links to the Wicked Shop MusicalSchwartz.com Wicked shop, Amazon: Broadway Music and More at Amazon.com
and others. Once you click through these links, anything you buy provides a commission. Thanks for helping keep this newsletter free and supporting MusicalSchwartz.com.
---
If your friends want to subscribe, ask them to visit  http://www.theschwartzscene.com/quarterly-newsletter/ to enter their subscription info.
Editor: Carol de Giere, P.O. Box 510, Georgetown, CT 06829
The Schwartz Scene is an independent publication from MusicalSchwartz.com and does not formally represent Stephen Schwartz.
To send comments or questions: mailto:carol@musicalschwartz.com.
Copyright 2011 by Carol de Giere. MusicalSchwartz.com has exclusive rights, unless otherwise specified, for all materials included in the newsletter. Permission must be secured in writing before any part of it may be reprinted, except for the printing of one copy for the subscriber's private use.