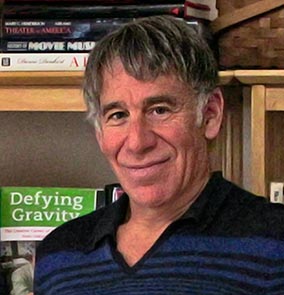 What Has Stephen Schwartz Been Doing Since Finishing Wicked?
Posted on composer-lyricist Stephen Schwartz's 70th birthday – March 6, 2018
At a restaurant in midtown Manhattan in October of 2003, Stephen Schwartz attended a party with close friends who had witnessed his labors on the musical Wicked Over the years. He was planning to skip the official opening night when the green carpet would spread in front of the Gershwin Theatre entrance. By the time the critics were ready to sneer at the new show after the October 30th opening, Stephen and his wife Carole had already packed their Jeep and driven to a remote hideaway in the mountains of Vermont for a long and finally restful weekend.
He was 55 years old and ready for something new. Where would he like to work next? Not on Broadway.
A week before Wicked opened, his friend Philip LaZebnik called him up out of the blue from his home in Denmark. LaZebnik, who wrote the screenplay for The Prince of Egypt, was now writing the book of a stage musical based around the imagination of Hans Christian Andersen, Mit Eventyr ("My Fairy Tale"). He asked if Schwartz would consider writing some songs for the show to be performed in Copenhagen. The songwriter listened to the ideas and said yes on the spot. As it turned out, Hans Christian Andersen would come up often in the subsequent years, including an American production of My Fairy Tale in 2011, a cruise musical (in development), and an option for a movie musical (2018).
But going back to his post-Wicked years of 2003-2005, we know that Schwartz aspired to work again in Hollywood. He had already contributed to three animated features (Pocahontas, The Hunchback of Notre Dame, and The Prince of Egypt), and he was hoping for something new. He often mentioned to his friend and Disney collaborator Alan Menken that he'd love to work on a live-action movie musical. Soon enough his wish came true.
Director Kevin Lima had been reworking a screenplay for the movie Enchanted and was finally ready to finalize songs. In late December 2005, Schwartz and Menken began their next collaboration, one with an opening song for an animated section and the rest for the live-action main section of the movie that would star Amy Adams, Patrick Dempsey, and others. It premiered in 2007.

Another project that threaded through Schwartz's life was The Hunchback of Notre Dame. After the animated feature's release in 1996, Menken and Schwartz worked on songs for a German stage version, Der Glöckner von Notre Dame, that played in Berlin in the late 90s. Then there were ideas for making a TV movie version. Finally, it was settled that there would be an English language stage version. After several years of work, it premiered in 2015 and quickly became popular for licensing by theatres around the country. A cast album shows off the new songs. (Read about the stage version of The Hunchback of Notre Dame.)
With book writer David Stern, Schwartz completed a stage musical with an Italian influence: Disney's My Son, Pinocchio full version (2006) and junior version (2013). The junior version has become especially popular with schools and community theatres. Stern and Schwartz also completed the musical revue Snapshots  that recently has been made available for licensing by Music Theatre International (an ideal show for small theaters).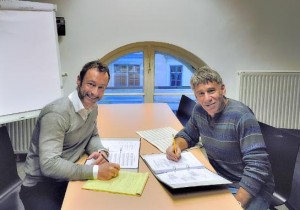 After taking time out to write an opera, Schwartz joined efforts on a stage musical related to the opera world. With his friend Christian Struppeck (whom he met while working on Der Glockner…), he developed a stage musical based on the marriage of Emanuel and Eleanore Schikaneder as a kind of prequel to Mozart's popular opera The Magic Flute. Schikaneder premiered in Vienna, Austria, in 2016. Expectations remain high for a commercial English language production in the UK or USA. PHOTO: Christian Struppeck and Stephen Schwartz hold a work session in Vienna.
To further vary his creative experiences, Schwartz agreed with Princess Cruise lines to guide the development of four cruise musicals. These would be based around his own ideas and the work of his colleagues. They have included Magic To Do, Born to Dance, and The Secret Silk. Another, potentially titled Hans, may be based on My Fairy Tale.
Work on recent revivals of Godspell, Pippin, and Rags have been heart-warming for the songwriter. And, as always, he continues to support new musicals through the ASCAP workshops as well as leadership with the Dramatists Guild and continues to give concerts and support causes through various fundraisers. He also worked with Philip LaZebnik on the stage adaptation of The Prince of Egypt.
Hollywood calls again
Work on the Wicked movie adaptation has been underway for a while. Now in the latest Stephen Schwartz news, a new as-yet-untitled movie musical has been optioned by Fox 2000.  The story again goes back to Hans Christian Andersen. As is explained in the Deadline article: "The musical isn't a biopic; it was pitched as a four quadrant epic musical fantasy in which Andersen as a young man gets trapped in a world of his own imagination. And as Hans searches for a way back to reality, he comes face-to-face with characters from his own fairy tales, nearly all of whom try to trap him in their world forever."
Schwartz once said when speaking about Enchanted, "The biggest problems with doing live-action musicals is justifying why the characters are suddenly bursting into song in the middle of very real sets and very real situations. So one of the great things I thought about Enchanted was that the concept itself allowed the characters to sing in a way that was completely integral to the plot of the story." A similar idea may hold for the new movie: if it is tied to imagination and fantasy anyway, the audiences won't be expecting realism.
To learn more, watch for the revised and updated edition of the biography Defying Gravity: the Creative Career of Stephen Schwartz, from Godspell to Wicked. (Fall 2018). The photo at the top of this article is from a work session in 2017 with Stephen Schwartz and me, author Carol de Giere.
Stay updated by "liking" the Schwartz Scene Facebook page and read The Schwartz Scene issues – check the right hand menu for links. Here's a link to Issue 61 for Winter – Spring 2018 with an updated written by composer Schwartz.
{ Comments on this entry are closed }