About The Schwartz Scene Blog and Newsletter
ABOUT The Schwartz Scene and PRIVACY POLICY
A list of current and back issues: FIND ISSUES OF THE SCHWARTZ SCENE
Message from Carol de Giere, editor
I created this independent blog as a place to post regular updates related to Broadway and film composer-lyricist, Stephen Schwartz. This site is an extension of my work  on  www.MusicalSchwartz.com and my research for the Stephen Schwartz biography  Defying Gravity.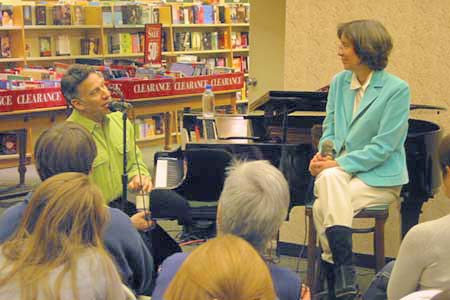 Composer Stephen Schwartz and biographer Carol de Giere at booksigning event
"The Schwartz Scene Newsletter" has been running every quarter since 2000 and usually includes an update written by Stephen. If you want to receive the The Schwartz Scene quarterly newsletter, see our subscribe page at The Schwartz Scene quarterly – SUBSCRIBE To view the archives, go to www.theschwartzscene.com/quarterly-newsletter/archive/
If you are new to the Schwartz world, be sure to visit the main bio page at MusicalSchwartz.com – Schwartz for his extensive credits and achievements.
Questions or Comments?
The best way to contact us is through The Schwartz Scene Facebook page
You can try sending a message at carol@musicalschwartz.com but the email address is full of spam and it's hard to find real messages.
Privacy Policy
At TheSchwartzScene.com we are committed to protecting your privacy. If you voluntarily contact us for information or a newsletter we collect only your name, email address (and optionally, your zip code). We will not disclose this information to third parties or give or sell your e-mail address to other companies.
If you subscribed to The Schwartz Scene list earlier, you know that there is an unsubscribe link at the bottom of each mailing, which you may use. The data is stored and processed by mailing list company Aweber for the sole purpose of email distribution. No data is shared elsewhere. (To view Aweber.com's privacy statement: aweber.com/privacy.htm)
If you "Like" our Facebook page, the privacy is governed by Facebook's rules. We do not store any data from you, although we can reply to messages sent there.
Policy on 'cookies' and Third-Party Advertisers
Cookies are small pieces of information that are stored by your browser on your computer's hard drive. We do not actively make use of cookies for material generated by us.
The only advertising involved in this website is Amazon.com's affiliate program. As an Amazon Associate we earn from qualifying purchases when you voluntarily click through a link provided. They may send cookies to your browser from their servers if you visit a page on this site where their content appears, and if you choose to follow a link, you may get more cookies. Your web browser may have controls that allow you to control whether you accept cookies or not; allow you to delete existing cookies; and control for which web sites you may allow or disallow cookies. Note that some web sites will not function correctly with cookies turned off. Some of our pages may contain small blank images on linked to an advertiser's web site. They use this image to tell if a page containing their advertisement has been accessed.
Computer Logs
We occasionally look at computers logs of this web site which give us a general idea of how many people visit this site, what pages are visited and so forth. This information does not contain any personal information about you, but it may contain the IP (Internet Protocol) address you used to access this site. For example, if you accessed this site from home, the log would record the address your Internet Service Provider has assigned to you. If you accessed this site from work, it would record the IP address of that business; from a public library, the library's IP address. We do not use this data except to analyze usage of our site.
Updated 5-25-18