About The Schwartz Scene Blog and Newsletter
A list of current and back issues: FIND ISSUES OF THE SCHWARTZ SCENE
Message from Carol de Giere, editor
I created this independent blog as a place to post regular updates and podcasts related to Broadway and film composer-lyricist, Stephen Schwartz. This site is an extension of my work  on  www.MusicalSchwartz.com and my research for the Stephen Schwartz biography  Defying Gravity.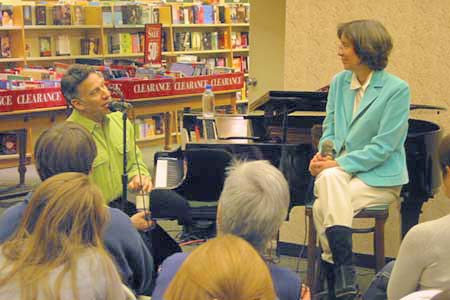 Composer Stephen Schwartz and biographer Carol de Giere at booksigning event
"The Schwartz Scene Newsletter" has been running every quarter since 2000 and usually includes an update written by Stephen. If you want to receive the The Schwartz Scene quarterly newsletter, see our subscribe page at The Schwartz Scene quarterly – SUBSCRIBE To view the archives, go to www.theschwartzscene.com/quarterly-newsletter/archive/
If you are new to the Schwartz world, be sure to visit the main bio page at MusicalSchwartz.com – Schwartz for his extensive credits and achievements.
Questions or Comments?
Send them to me at carol@musicalschwartz.com (If you don't hear back soon, try again).
Product Links
Most of the product links on my websites are in connection with affiliate programs (such as with Amazon.com). By purchasing an item through these links, you are helping support my efforts to provide information about Stephen Schwartz and his musicals. Thank you!