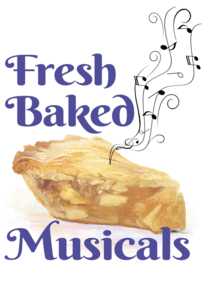 Stephen Schwartz's song "This is Love" is part of a concert in Brookfield Connecticut on August 4th, 2018. Mr. Schwartz will attend the concert and reception, so if you've been wanting to meet him, here's a chance. Here are some concert details:
Fresh Baked Musicals: A Concert Sampling
Brookfield Theatre for the Arts will present "Fresh Baked Musicals: A Concert Sampling," on Saturday, August 4 at 7 pm, at 184 Whisconier Rd, Brookfield CT behind the Brookfield Library. www.brookfieldtheatre.org.
This unique concert features songs chosen from a wide range of new musicals, highlighting talented emerging artists and new works from veteran Broadway writers. At a reception following the show, audience members will have an opportunity to meet the singers and some of the writers who will be attending.
Composer-lyricist Stephen Schwartz (known for Wicked, Godspell, and Pippin) will attend the reception and concert that features one of his songs from a new musical Schikaneder, a show related to the making of Mozart's The Magic Flute. Several other musical writers from the area will present comic songs. Bill Nabel, William Squier, and Jeffrey Lodin will perform pieces from Love on Ice: A cryogenic love story. Writer and singer Matthew Gurren will present from What Do Critics Know? for which he wrote book, music, and lyrics along with James Campodonico (music and lyrics).
Songs were selected from 185 submitted for the concert. In addition to Schwartz's piece, several others are from musicals that center around historical figures, including from Roswitha by Kevin Bleau and David Schrag, about the first female playwright, and Fanny's Forgotten Music by Kristina Bengtsson about composer Fanny Mendelssohn.
The concert also includes comic, romantic, or dramatic songs from Patricia Haddad's The Water Jug, Michael John LaChiusa's Beautiful Jolie Gabor, Her Fabulous Three Daughters, and Always the Happiness is Life, Brent Monahan's Fable, Karen and Steve Multer's Buried in Prosperity, Adam Overett's The Double-Threat Trio, and Clay Zambo's Vows. Other musicals sampled in the concert are Heartbeats by Amanda McBroom and collaborators, Gold Rush Girls by Jerry Sanders and Karmo Sanders (book, music, and lyrics), The Fourth Messenger by Tanya Shaffer (book and lyrics) and Vienna Teng (music and lyrics), and Ten Long Years by Kyle Wilson (book) and Nicholas Connors (music and lyrics).
Fresh Baked Musicals: A Concert Sampling features the vocal talents of two special guest artists who have performed on Broadway: Raissa Katona Bennett and Greg Roderick. Musical direction is by another Broadway performer, Jerold Goldstein. Other singers include: Tyler Carey, Pam DeHuff, Scarlett Mazur, Kelsey Morris, Kennedy Morris, Megan O'Callaghan, Dan Satter, Melanie Votaw, and Morgana Kate Watson.
Carol de Giere, author of the Stephen Schwartz biography Defying Gravity, is a co-organizer of the event.