See The Prince of Egypt Musical in 2018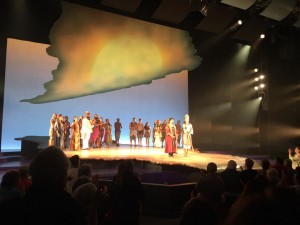 From "Deliver Us" to "When You Believe," the songs from The Prince of Egypt musical will be delighting audiences again soon. In 2018, several theatres will mount productions of this stage adaptation, a work in progress by the original composer-lyricist Stephen Schwartz and screenwriter (now bookwriter) Philip LaZebnik.
TheatreWorks Silicon Valley held the world premiere last summer, a co-production with Fredericia Theater of Denmark, both directed by Scott Schwartz. The show moves to Denmark April 6, 2018 where it will play in both English and Danish.
The Prince of Egypt at the Tuacahn Amphitheatre in Utah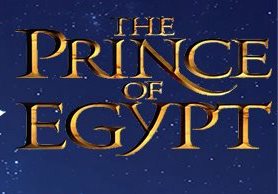 Back in America, Tuacahn Amphitheatre has snagged a production opportunity for their outdoor venue near Saint George, Utah, July 13 to October 20th 2018. The show will be performed in repertory with several others throughout the season. This updated version of The Prince of Egypt with a new director will be part of the show's continued development. See the Tuacahn website for more about their upcoming programs that includes shows, concerts, and backstage tours.
Southwest Utah provides a desert setting for the musical set in Egypt. It is also an ideal vacation spot near Zion and Bryce National Parks, and the Grand Canyon.
Tuacahn was also one of the first theaters to stage the new stage adaptation of The Hunchback of Notre Dame. See photos here: The Hunchback blog post.
The Prince of Egypt Gathering 2017
Inspired by an invitation in the last The Schwartz Scene newsletter, about 30 Stephen Schwartz fans gathered for the opening at TheatreWorks in Mountain View, October 14, 2017. We also enjoyed a Q and A session with Stephen Schwartz and Philip LaZebnik. (PHOTOS below: Stephen Schwartz at breakfast interview session with Carol de Giere and guests; Opening night photo with  Brandy Laplante, Carol de Giere, and show director Scott Schwartz.)
Songs
The stage production features many more songs than the 1998 DreamWorks animated feature, The Prince of Egypt. The song list for the TheaterWorks Fall 2017 production included:
ACT ONE: Deliver Us, Faster, Ma'at, One Weak Link, the Secret Room, Footprints on the Sand, Dance to the Day, All I Ever Wanted, I Will Make it Right/No Power on Earth, Through Heaven's Eyes, Never in a Million Years, Act I Finale
ACT TWO: One of Us, The Naming Ceremony, Always On My Side, One of Us (reprise), The Plagues, For the Rest of My Life, Heartless, When You Believe, Ma'at (reprise), Act II Finale.
DreamWorks Theatricals, a division of Universal Theatrical Group, has not yet announced any specifics about the future status of this show. Update February 2018: Be sure to also read Stephen Schwartz's comments for 2018: The Schwartz Scene 61.

Sheet Music
If you want to sing some of the songs from the movie that will remain in the show – "When You Believe" solo and choral versions, "Through Heaven's Eyes," and "Deliver Us" see The Prince of Egypt at Sheet Music Plus for individual sheet music or piano, vocal, guitar songbook from Cherry Lane Music
OR at Amazon
To stay updated on Stephen Schwartz's activities, follow The Schwartz Scene on Facebook