Lyric Writing and Puzzles: Finding a Perfect Fit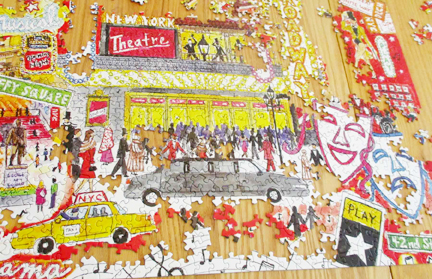 This article is being published in conjunction with The Schwartz Scene issue 60.
PHOTO: A Broadway-related jigsaw puzzle being assembled. Puzzle available at Barnes and Noble – Michael Storrings.
By Carol de Giere
Standing for the first time in the hallway of Stephen Schwartz's Manhattan office, I noticed a visual clue for the prevailing metaphor of his profession—puzzle-solving. Hanging on a wall was a framed magazine page showing "Key of C," a British-style crossword puzzle co-authored by Schwartz. It turns out that he's a life-long enthusiast for such things as cryptic crossword puzzles, Scrabble, and brainteasers–leisure exercises for someone whose profession involves solving storytelling riddles and addressing intricate rhyming schemes.
Although he didn't plan to become a lyricist while studying piano and composition in the preparatory division at Juilliard as a young teenager, he changed his mind while attending Carnegie Mellon University. "I had always wanted to be a composer, and then I began being my own lyricist in college because I couldn't find people to write lyrics for my songs whose work I felt strongly enough about," he reveals. (Defying Gravity biography, page 28.)
He had the mental capacity for it all along. William Gronfein, one of Schwartz's boyhood friends, explains that young Schwartz already demonstrated an interest in this process that is so valuable to the constrained craft of lyric writing. "He was very good at putting puzzles together," remembers Gronfein. "We had a puzzle called Hex, and it involved putting together variously-shaped pieces in such a way that the colors formed a particular pattern. It was very difficult, but Steve got it."
A musical theater fan once asked Schwartz why he thought more composers don't also write their own lyrics. He commented, "…music is very instinctive, pre-conscious and pre-verbal, whereas lyrics are much more conscious and by definition verbal, more like little puzzles to solve. Some composers have far more affinity for the former than the latter. I do agree with you that some composers are probably better lyricists than they know — for instance, I encouraged Andrew Lippa to write his own lyrics when he was beginning work on The Wild Party, and he turned out to be extremely skilled as a lyricist as well as a brilliant composer; similarly John Kander is now writing his own lyrics to complete projects he began in collaboration with the late Fred Ebb." (Schwartz forum – On Musicals)
In Schwartz's career, in addition to working as a composer-lyricist on Broadway, he has dazzled Disney audiences with his clever lyrics for Pocahontas, the Hunchback of Notre Dame, and Enchanted. And he will continue to write music and/or lyrics in the years to come. He is currently working on a fully revised version of the musical Rags, for which he is writing new lyrics and rewriting some of the ones he'd crafted for the 1986 Broadway version. He has also been paired with Alan Menken for a new movie for which he will write lyrics only.
Poem to Lyric for The Prince of Egypt
As a songwriter for the theater, Schwartz's lyric writing has another quality other than clever rhyme. It also reflects the character who is singing it and the moment it fits in the musical. For the movie musical The Prince of Egypt, now a stage musical as well, he needed to write a song for a scene in the desert after Moses has left Egypt. He made three different passes at the song, but nothing seemed quite right in context. Finally, studio head Jeffrey Katzenberg suggested that the song reflect the philosophy of Jethro, the spiritual leader of the tribe who accepted Moses. The movie's co-director Steve Hickner remembered an anonymous poem "Measure of a Man," that he thought might form the basis of a song. Schwartz read the poem and adapted it to the context and to the character Jethro. "Through Heaven's Eyes" is sung in the movie by Brian Stokes Mitchell.
The poem included the lines
Not—how did he die?
But—how did he live?
Not—what did he gain?
But—what did he give?
These are the merits
To measure the worth
Of a man as a man
Regardless of birth
Schwartz transformed that with images from his experiences and impressions of Egypt and the Sinai.
In The Prince of Egypt, Jethro sings "Through Heaven's Eyes" to Moses during a time of self-doubt:
…So how can you see what your life is worth
Or where your value lies?
You can never see through the eyes of man
You must look at your life,
Look at your life through heaven's eyes…
(More details can be found in the Schwartz biography, Defying Gravity.)
Musical theater fans will soon enjoy the benefits of well-puzzled efforts for The Prince of Egypt stage adaptation. The first production opens in the fall of 2017 at TheatreWorks in Silicon Valley. The new Rags premieres at Goodspeed Musicals in Connecticut, Oct – December, 2017.

1000-piece Broadway puzzle includes Wicked images. Broadway Puzzle
This article is being published in connection with The Schwartz Scene spring/summer issue 2017.
Copyright 2017 by Carol de Giere