Albums with Stephen Schwartz music/lyrics or lyrics
2016 Releases
This year brought an abundance of new recordings for fans of composer-lyricist Stephen Schwartz. Here are some details.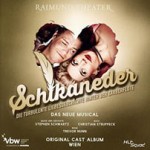 Even musical enthusiasts who don't know a word of German may enjoy the tunes of the new album from Schikaneder. In the USA find it here: Schikaneder cast album or itunes.
As you may know, Stephen collaborated on a musical that is largely based on historical personalities and incidents leading up to the premier of Mozart's opera The Magic Flute. The show is playing in Vienna, Austria through June 2017.
Read more about the show and see a video clip at Schikaneder - on MusicalSchwartz.com.
To get the album from Europe, one source is Amazon Germany. Schikaneder – Europe
Season of Light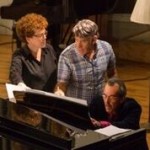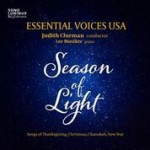 A new holiday choral music album includes one of Stephen Schwartz's songs, "We Are Lights." It also features "Grateful" by Stephen's close friend John Bucchino. Find the album here: Season of Light album or on itunes.
Judith Clurman's Essential Voices USA (EVUSA) is one of New York's preeminent choral ensembles.
PHOTO Judith Clurman, Stephen Schwartz, and pianist Lee Musiker from the recording session. ©Richard Termine photographer (used with permission).
Magic To Do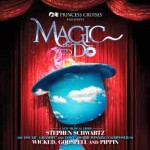 Several years ago Princess Cruise lines enlisted Stephen Schwartz to oversee the creative development for a total of four new musicals that would debut onboard. The first was Magic To Do.
Now we can all enjoy the album. It features two previously unrecorded songs, "Beyond Belief" and "It'll Be Me," from Houdini (a show that Stephen is no longer working on). It also includes some of the more popular songs from Pippin, Wicked, and other shows with new arrangements, and one original piece, "A Little Magic."Get the CD with lyrics Magic to Do album on Amazon.com (also available on iTunes and other services) and visit the full Magic To Do page on MusicalSchwartz.com for more details and videos with some of the colorful stagings from the show.
The Hunchback of Notre Dame

With a score by Alan Menken and Stephen Schwartz, the new recording for the stage adaptation of The Hunchback of Notre Dame features new songs not included on the movie soundtrack, as well as revised songs. My favorite new piece, "Tavern Song (Thai Mol Piyas)" includes some lyrics in Romani – the language that a real-life Esmeralda would have used. Order the CD here: The Hunchback of Notre Dame studio album or use iTunes. The new musical is now listed for prospective local productions on the Music Theatre International site. Read more at The Hunchback of Notre Dame – Stage Adaptation.
SUBSCRIBE
If you haven't yet subscribed to The Schwartz Scene newsletter, you can do it here The Schwartz Scene in order to stay updated on Schwartz's many activities.