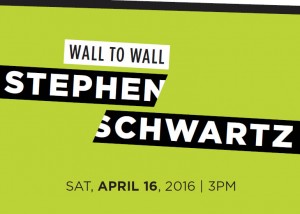 Each year, New York City's Symphony Space hosts an eight-hour musical extravaganza that celebrates the work of a particular composer. On April 16, 2016, Stephen Schwartz's work received the honor. The "Wall to Wall Stephen Schwartz" concert began at 3:00 pm and featured over 100 performers exploring Schwartz's wide-ranging body of work.
Sonia Manzano of the original Godspell cast and a long-time supporter of Symphony Space helped introduce the event. Stephen spoke and explained that he'd be there in the audience the whole time, except when he was performing a piece on stage. During breaks in the music, many people went over to his seat to greet him.
This well-planned concert featured fresh takes on older standards as well as several debuts. It included songs from Schwartz's stage and film work, and some of his choral and opera pieces as well. Audiences enjoyed hour after hour of great performances from Broadway favorites like Raúl Esparza, Patti LuPone, Tovah Feldshuh, Cass Morgan, Lindsay Mendez, and others. Wicked's Rachel Tucker and Tuck Everlasting's Carolee Carmello were among the Broadway stars who sped up to Symphony Space on the Upper West Side to sing during their time off between their matinee and evening performances. Several of Stephen's songwriter friends paid him musical or spoken tribute, including John Bucchino, Chris Curtis, Andrew Lippa, Matthew Skylar, Alan Zachary and Michael Weiner.
From Godspell to his newest work, Schikaneder, every show that Stephen has had a hand in was represented. The Magic Show closed on Broadway in 1978 but the Symphony Space audience was treated to Liz Callaway singing Schwartz favorites "Lion Tamer" and "West End Avenue." Stephen himself and Debbie Gravitte sang the high-speed duet "Two's Company." Hunter Parrish from the Broadway revival of Godspell helped bring that show into focus. If there was to be an award for cutest performance, it would have to go to the 13-year-old professional actor Joshua Colley, who charmed with "Neat to be a Newsboy" from Working.
In advance of the event, the planners obtained some unpublished sheet music from Schwartz for some nearly forgotten pieces. At the concert, Rachel Bay Jones and Erik Altemus from the recent Pippin revival sang "Just Between the Two of Us"–an early draft of a love song for Pippin that was dropped from the show back in 1972. Following that, Jones and Kyle Dean Massey (who played the title role in the Pippin revival) sang "Love Song" that Schwartz wrote to replace the earlier piece. A similar replacement pair came up for Wicked, with Lindsay Mendez singing the original "Making Good," and Rachel Tucker performing the replacement song "The Wizard and I."
Another treat during the concert was "True Love's Kiss" from the animated section of Disney's Enchanted performed live on stage by Alli Mauzey, Drew Gehling, with the Yale Vocal Ensemble and the Pit Stop Players. A rhythmically fascinating debut was "Bollywood Superstar," a song from an unproduced DreamWorks movie with lyrics by Schwartz and music by Slum Dog Millionaire composer A. R. Rahman.
Judith Clurman's chorus Essential Voices USA performed the choral work "Testimony." Several pieces from Schwartz's opera were also represented. Pippin's "Morning Glow" served as a very grand finale, sung by Kyle Dean Massey, Patina Miller, and Essential Voices USA.
In advance of the event, Symphony Space posted a list of songs to be featured in the show's three sections. I posted information about these pieces: Wall to Wall article – song details
This article is being published as part of The Schwartz Scene newsletter issue 58. See the newsletter for the latest Stephen Schwartz news.