Updates on Children of Eden
There is no journey gone so far
So far we cannot stop and change direction....
(Stephen Schwartz, "In the Beginning" from Children of Eden)
Children of Eden has transformed many times since the show was conceived in the mid 1980s. After a short run in London in 1991, a revised version of Children of Eden was staged in America where it became one of the most popular licensed musicals for Music Theatre International.
The musical features a varied and stirring score by Stephen Schwartz and poignant book by John Caird. One of the main themes is the role of second chances. The shape and format of the show has had many chances to transform.
Symphonic Version News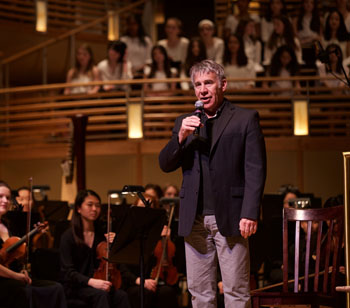 PHOTO RIGHT: Stephen Schwartz announces the production described below. 
Photos in this section are by: Carmelita Watkinson / Courtesy of Young Artists of America
On Sunday, March 13, 2016, Young Artists of America at Strathmore (YAA) presented the youth premiere of the new symphonic version of Children of Eden. Stephen Schwartz participated in the event that involved a show cast, full symphonic orchestra, and chorus of over 350 youths from all over the DC Metro area (including 250 younger artists from North Bethesda Middle School). Ken Page, who originated the role of "Father" in London, reprised his role for this performance. Noah Himmelstein, the Manhattan-based theatre and opera director, served as music director.
PHOTO BELOW: 
Youth Symphonic presentation of Children of Eden with Amanda Yuan (partially obscured), Bobby Gallagher, Julia Fanzares, Ethan Miller (in rear), Ari Goldbloom-Helzner, and Kevin Key at the Music Center at Strathmore.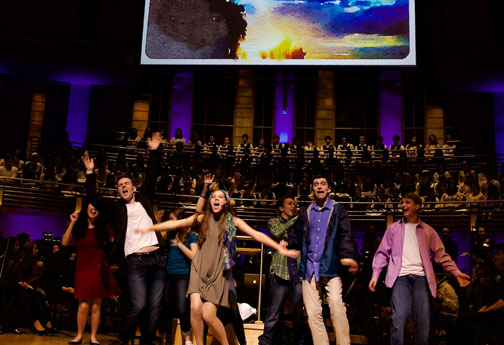 PHOTO BELOW: Stephen Schwartz with Young Artists of America's ensemble for Children of Eden
Children of Eden Jr. Update
On May 1, 2016, Stephen Schwartz attended a reading for a newly revised version of Children of Eden Jr. in order to test the current running time. Broadway Jr. shows are expected to be 70 minutes long. The presentation clocked in under 70 minutes. Schwartz, John Caird, and Lindsay Maron have been working on this adaptation over the past year and it is still receiving minor adjustments.
PHOTO ABOVE: Sean Puzzo, Lindsay Maron, Stephen Schwartz, and Alex Ratner, all working on the reading of Children of Eden Jr. 
This article is being published as part of The Schwartz Scene newsletter issue 58. See the newsletter for the latest Stephen Schwartz news.
The Full Children of Eden Story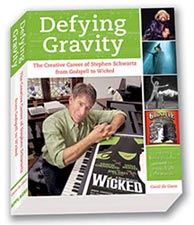 For those who are interested in the show, the Stephen Schwartz biography Defying Gravity includes twenty-one pages on the making of Children of Eden.