Celebrating the Songs and the Songwriter
When the organizers of Symphony Space's "Wall to Wall Stephen Schwartz" concert planned their 8-hour event for April 16, 2016, they didn't need to worry about running out of material. With the composer – lyricist's 45-year career to draw from, and access to a few "coming attractions," they have been able to fill the program with a variety of stirring show tunes, choral numbers and even classical numbers.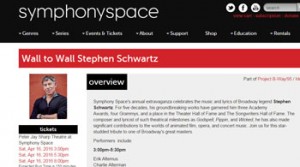 Here are a few highlights from the Wall to Wall concert program, with links to further information about Schwartz's songs, shows, and movies.
Debut pieces
"Dream Big" is from Schikaneder, the forthcoming musical opening in Vienna, Austria in September 2016 that focuses on the turbulent and fascinating relationship of The Magic Flute librettist and his wife. Schikaneder.
"Footprints in the Sand." This new piece is from the stage adaptation of The Prince of Egypt movie. DreamWorks Theatrical is developing this show. The music and lyrics are by Stephen Schwartz and the book is by Philip LaZebnik who wrote the screenplay. Read more about it in the Winter issue of The Schwartz Scene
"Can You Imagine That?" and "On the Wings of a Swan" were written for My Fairy Tale and the pieces have debuted before. However, the show is undergoing revisions for future performances, so hopefully they will find new life. Singer Kevin Odekirk has made a lovely recording of the songs: see Amazon.com – Kevin's album.
Murdered Darlings and Shows that Have Slipped Away
Stephen likes to use the phrase "murdered darlings" to describe his songs that didn't make it into a musical. He's referring to a common advice to writers that they not hang onto their most precious pieces for their own sake (because everything must serve the story).
The concert includes these darlings:
"Which Way's the Party?" is a song cut from Wicked that was replaced by "Dancing Through Life." Read the full story of Wicked's song development in the Defying Gravity biography.
"Written in Stone" was to be used in Disney's Mulan. Schwartz was axed from the project when he signed on to write for DreamWorks, SKG. It's a long story – also see the Schwartz biography, Defying Gravity. for more.
Schwartz co-wrote "Bollywood Superstar" for a movie that may or may not ever come to light. See Mumbai Musical.
"It'll Be Me" is from Houdini, a show Schwartz worked on for several years.
A Penchant for Angry Songs
Schwartz is inclined to write powerful "angry" songs when that's what is appropriate for a character. The Wall to Wall concert includes "Lost in the Wilderness" from Children of Eden, "No Good Deed" from Wicked, and "Alas for You" from Godspell. (Read all about "Alas for You" and all the Godspell Songs in The Godspell Experience).
Choral, Classical, and Opera
While all of Schwartz's musicals have strong choral numbers, he has also written some individual choral work. The moving song "Testimony" was written for a 2012 concert as part of the It's Get Better project.
Schwartz's only opera debuted in 2009 in Santa Barbara: Séance on Wet Afternoon. The concert includes several pieces from that work. (There is no recording at this time.)
And so much more
The concert revives pieces from the Broadway musical The Magic Show that ran in the late 70s, and the not-so-frequently performed Bernstein's Mass, for which Schwartz wrote lyrics. It includes a segment of songs from the fruitful Alan Menken-Stephen Schwartz collaboration for Disney: songs from Pocahontas, The Hunchback of Notre Dame, and Enchanted.
It includes works from Working, popular pieces from The Baker's Wife, and more.
The Wall to Wall concert touches upon every corner of Schwartz's world, from Hollywood to Broadway to personal songwriting. He is being honored with performances by over 100 singers and the popular choral group Essential Voices USA.
For more information on Schwartz's work see both MusicalSchwartz.com and StephenSchwartz.com.