Composer Stephen Schwartz Has a Heart for Kids
Submitted by StarStruck Academy & Theatre (StarStruckfl.com)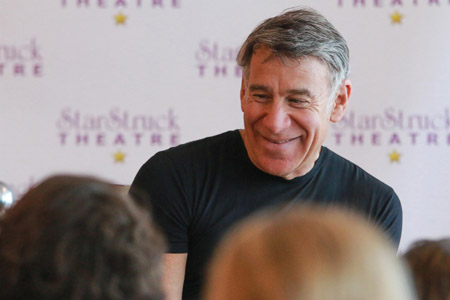 PHOTO: Stephen Schwartz at StarStruck Academy & Theatre. Photo by Mitch Kloorfain.
How does the busiest Broadway composer have time to work with children? He makes the time. Stephen Schwartz is committed to the future of musical theatre. He is passionate about his work and loves seeing children become transformed through the performing arts.
Stephen Schwartz, award-winning composer of Wicked, Pippin, Godspell, and many more, returned to StarStruck Academy & Theatre in November 2015 to collaborate on the original production of Children of Eden, Jr. Widely known as his "favorite work," Mr. Schwartz is in the process of completing a one-act children's version of Eden, which originally premiered in full-length in 1991 at The Prince Edward Theatre in London's West End. StarStruck Academy & Theatre was asked to mount a "pilot" version of this production for Music Theatre International (MTI), the nation's largest theatrical licensing firm.
Freddie Gershon, CEO of MTI enthusiastically identified Schwartz as, "…driven, gifted, resilient, tenacious, and caring about the macro vision of the future of musical theatre. Let us not forget that [an early version of] Pippin was written when (Schwartz) was still in school. A daunting subject matter, not the fluff that's currently on Broadway but a far more serious piece."
Mr. Schwartz and playwright John Caird flew down to sunny South Florida, immersing themselves in the world of StarStruck, the Treasure Coast's premiere facility for musical theatre education. From Schwartz and Caird's initial viewing of the show to note taking, meetings with StarStruck's founders, Jennifer and Peter Jones, about what to cut and what to keep, to intimate gatherings backstage with the cast, the weekend was exciting for all as Schwartz made the time to foster art in the lives of children, despite his demanding schedule.
Before the closing matinee, the cast was elated to have the opportunity to speak with these legendary musical theatre gods during a question and answer session that Schwartz, himself, had requested. Questions like, "Do you write the lyrics first or the music?" or "When can we do Wicked, Jr.?" were asked. Schwartz maintained his usual ease and patience answering their questions while Caird added his clever British wit to each response. They signed the cast t-shirts, took photographs with the students, laughed, joked, and shared from their hearts. Schwartz and Caird had such a great time that the Jones' had to push them into their car so they wouldn't miss their flight.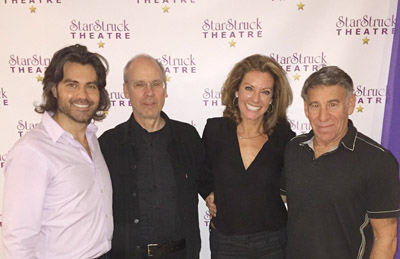 PHOTO: StarStruck leaders Peter and Jennifer Jones with writers. From left: Peter Jones, John Caird, Jennifer Jones, and Stephen Schwartz. Photo by Mitch Kloorfain.
Artistic Director, Jennifer Jones, stated, "StarStruck students had a once-in-a-lifetime opportunity to get up-close and personal with a living Broadway composer…a legend in their time; truly an unforgettable experience. To meet and speak with Stephen Schwartz is an inspiring moment that changes lives. Stephen allowed them to see the real person behind the talent. The student and the composer connected making that child feel part of a family, a tradition, a tiny "universe" of musical theatre people that is unique, creative, small, and wonderful."
Stephen Schwartz has a history of staying intricately involved in the "juniorization" process of so many of his shows. "We first met Mr. Schwartz a few years ago when he was in the process of creating a junior version of Captain Louie, a touching, uplifting musical about a young boy's imagination enabling him to adjust to being the new kid in the neighborhood" recalled StarStruck's Owner, Peter Jones. A show-stopping 15-minute version of Captain Louie, Jr. was presented by StarStruck Academy students at MTI's Junior Theatre Festival in Atlanta, an annual event that attracts thousands of musical theatre students from around the world.
StarStruck was then asked to begin the process of creating a Broadway Jr. version of Geppetto & Son, a full-length stage adaptation of Geppetto, the made-for-TV musical by Stephen Schwartz and David Stern. "We were sent the Geppetto & Son script and the original score and our work began, slicing and dicing the material to fit the criteria for a one-act Junior version. We flew up to New York where we spent the day at MTI headquarters with a grand piano as our 'desk' as Stephen read through the script reviewing our changes and cuts. One of the many wonderful things about Stephen is that he is a true collaborator, completely wide open to new ideas," recalled Peter Jones.
The shortened version of Geppetto and Son (now known as My Son, Pinocchio Jr.), made its world premiere in Stuart, Florida by students at StarStruck Academy & Theatre. This was the first time Schwartz came to StarStruck to be a part of the process.
Gershon stated, "Stephen understands that theatre is an organic process and needs a safe environment in which to be nurtured and StarStruck is a safe environment. The talent pool is exceptional. The management is exceptional. The venue is exceptional and it is invisible for most of the United States. It is a dream scenario for the creator who understands what the process is all about and Stephen understands the process."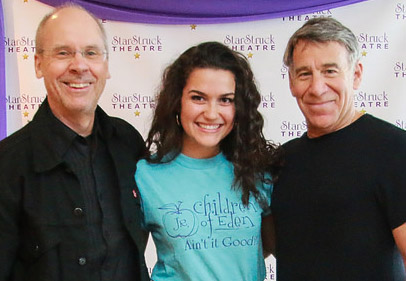 PHOTO: John Caird, actress Victoria Bartolotta, and Stephen Schwartz. Photo by Mitch Kloorfain.
"Musical theatre is a team sport," says Jennifer Jones. "The cast, crew, and production team must all work together to create the final product, and it is quickly apparent that the dancer in the back line is just as important as the protagonist. A musical theatre education enhances a wealth of vital human attributes such as dedication, collaboration, flexibility, problem solving, public speaking skills, sensitivity, empathy, and confidence. Stephen Schwartz's visits to our town, his willingness to embrace the hearts and minds of young people in the arts, his caring approach to sharing his technique, and his choice to carve time out of his exciting and busy life to share himself with StarStruck are the best examples of the attributes that we eagerly try to impart within our students. Thank you Stephen Schwartz for 'walking the walk.' You are a shining example of everything we teach. Bravo!"
This article is being published as part of The Schwartz Scene newsletter issue 57. See the newsletter for the latest Stephen Schwartz news.
Read more about Children of Eden and get the cast recording Musicalschwartz.com – children-of-eden