This article is published as part of The Schwartz Scene newsletter issue 56 Fall 2015
2015 – 2016 Concerts
Stephen Schwartz not only writes songs for Broadway and Hollywood, but he performs in concert as well. He often speaks to audience members after the concerts, so this could be your chance to meet him. Here's a schedule for Fall 2015 and early 2016.
Sept 27, 2015 – Bayside, NY – Stephen Schwartz and Friends
Stephen Schwartz and Friends perform at the Queensborough Performing Arts Center in Bayside, NY.  The Grammy and Oscar winning composer who gave us the beloved musicals Wicked, Godspell, Pippin, The Baker's Wife, Children of Eden and others, performs with his friends Scott Coulter, Debbie Gravitte, and Kelli Rabke in an unforgettable afternoon of solos, duos and trios spanning the course of his career.  Stephen Schwartz and Friends in Bayside NY concert
(Note the photo here by Maryann Lopinto from several years ago includes Liz Callaway. Recently Kelli Rabke has joined the  concert group.)
October 25, 2015 – Newark, NJ – Stephen Schwartz and the American Songbook
Stephen Schwartz will perform with others in a live event to be recorded for PBS. The evening is part of an American Songbook series with Ted Chapin. 7 pm. See details at NJPAC.org – Schwartz
April 2, 2016 – Stephen Schwartz in CT
On April 2nd, he will be speaking in Ridgefield, CT, and performing songs from his catalog. Other singers will join him on stage. See Stephen Schwartz at the Ridgefield Playhouse
April 16, 2016 – Wall to Wall Stephen Schwartz
Talk about a Schwartz extravaganza, Symphony Space's theme for this year's Wall to Wall session is Stephen Schwartz. That means many hours of music by many performers – free! See Symphony Space – Wall to Wall Schwartz
ALSO….
Schwartz Music  - Special Concert – October 18, 2015 – Staten Island
NOTE: Stephen Schwartz will not be at this concert but it explores his music. St. George Theatre presents: Defying Gravity: The Music of Stephen Schwartz. This concert takes the audience into the creative and musical world of Broadway and film composer Stephen Schwartz, from Godspell's score at age 23 through the megahit Wicked.  Stgeorgestheatre.com

Fall 2015 Cruises
Stephen Schwartz has created a show "Magic To Do" for the Princess Cruise lines. It will include magic and music for about 70 minutes of enchanting entertainment. See Cruises – Fall 2015 Stephen Schwartz
AND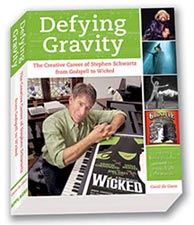 In case you haven't yet discovered the Stephen Schwartz biography, check out Defying Gravity and learn all about his creative career.
For more updates on Stephen Schwartz see  The Schwartz Scene newsletter issue 56 Fall 2015