Stephen Schwartz's CMU Education Helped Launch Career
PHOTO: Stephen Schwartz at Carnegie Mellon University receiving an honorary doctorate. Also pictured: Paula Wagner, a film producer and film executive. She and Stephen were friends during their school days at CMU. Photo courtesy of Stephen Schwartz.
On May 17, 2015, composer-lyricist Stephen Schwartz donned a graduation gown and received an honorary Doctor of Fine Arts degree from his alma mater, Carnegie Mellon University (CMU). As one of the most successful musical theater writers today, with Broadway hits such as Pippin and Wicked among his claims to fame, Schwartz has certainly been a credit to the school. The drama department benefits from Schwartz's attention when he travels to the Pittsburgh, PA campus to offer workshops and talks about his craft to drama and musical theater students.
Schwartz acknowledges the support of his college classroom work in preparing him for writing songs for a musical's characters, even though there was no musical theater department at CMU at the time he studied there. He also emphasizes the essential role of the extracurricular Scotch 'n' Soda student club. This club staged original musicals, allowing him to practice and polish his creative skills.
Highlights from Schwartz's Student Days

Stephen Schwartz's journey to the honorary doctorate from Carnegie Mellon began five decades earlier with a bit of luck, or perhaps a gift of destiny. The biography, Defying Gravity, reveals how Stephen Schwartz's youthful experiences contributed to his later career. Here are a few highlights:
As Schwartz was finishing high school and applying to colleges, he was rejected by Harvard and Yale (even though he had high test scores and good grades) and wasn't sure where to turn. One day, his father was helping with technology for the 1964 World's Fair in New York and found himself working alongside the renowned Broadway and film scenic designer, Jo Mielziner, who had graduated from Carnegie Institute of Technology. When Stan Schwartz explained that his drama-loving son was looking for the right college, Mielziner said, "Well, if he's really interested in the theater, he should check out Carnegie." The drama department was part of "Carnegie Institute of Technology," or "Tech" as the students called it. CIT shortly thereafter merged with Mellon Institute to become Carnegie Mellon University. Stephen was accepted as a playwriting major for the fall semester of 1964, after submitting a play he'd written, and later switched to the directing major.
Even though CMU has a highly reputed musical theater department today, in the 1960s it did not. In fact, the only musical staged as part of the traditional curriculum while Schwartz attended was the first act of The Apple Tree, which was his own senior directing project. According to faculty member Leon Katz, musicals were not popular with the instructors. "Musicals represented mainstream, and this was a very rebellious time," explains Katz. "When you mentioned My Fair Lady you had to frown and turn up your nose—'Oh, one of those mainstream musicals.'"
Student actors gained experience with Shakespeare and with 18th and 19th century plays that were often performed in professional theaters around the country. Fellow student and future Godspell star Robin Lamont explains, "If you graduated from Carnegie you were expected to go into a repertory theater in a place like Seattle or Chicago and do all the classic plays, like do a lot of Shakespeare." The faculty geared the curriculum and opportunities in that direction, whether or not it was what the students wanted.
Schwartz studied all aspects of putting on a show. He found acting lessons to be especially helpful for thinking about characters. He once commented, "I think everybody writing for theater should take acting, because the processes are so similar. A lot of writers don't understand how to get that internal process going, so they write songs that are nice but not really actable."
Schwartz Wrote Musicals for Scotch 'n' Soda Club Productions
It was his Scotch 'n' Soda club experience that gave him direct experience with the musical stage. The club, funded by student activities fees and ticket sales, mounted original musicals each spring in a theater in the Skibo Student Center. It served as a testing ground for budding talents in a similar way that the University of Miami's Dramatics Club had for Jerry Herman. For Schwartz, the next four years of work for Scotch 'n' Soda proved "instrumental in training me for my career that followed."
By the time Schwartz became involved in the 1964-65 school year, the spring 1965 show had already been chosen by the selection committee. It was a piece by Iris Rainer Dart (the future author of Beaches and other novels) called Whatserface, about a cleaning lady who becomes a spokesperson for a cosmetics firm. However, the show's songs needed further shaping. Schwartz and Dart worked together to transform Whatserface into a full musical. The show staged that spring was a huge hit and helped fill the club's treasury.
With the 1966 production of Nouveau, Schwartz could add another campus box office hit to his résumé. The musical included an intricate four-part fugue called "A New Society," which the composer revised eight years later for The Magic Show (with new lyrics and renamed "The Goldfarb Variations").
For the 1966-67 school year, music student Ron Strauss' show, Pippin, Pippin was scheduled. Schwartz asked if he could help. On his nineteenth birthday in 1967, as director, choreographer, and co-writer of Pippin, Pippin, he whirled fellow students into the fast-paced rehearsal period for the musical. This production was also a box office hit (and was the precursor for the Broadway hit Pippin).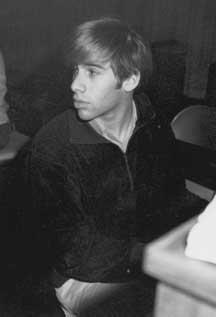 PHOTO: Stephen Schwartz accompanies singers in an early work session for "Pippin, Pippin" in December 1966. Photo from "Defying Gravity," Stephen Schwartz biography, courtesy of the author and Stephen Schwartz.
For his graduation year, 1968, Schwartz and his friend David Spangler each put together a one-act opera. They called the combined show Twice Upon a Time.
All of this meant that by the time Schwartz was offered his first professional composing gig for Godspell, he had already composed dozens of songs for the stage. He completed new music for Godspell in five weeks and then helped guide the rehearsals for the May 17, 1971 opening. As Nina Faso, his CMU buddy and organizer for Godspell explains, "Stephen had been writing musicals and studying musical theater for so long. He knew things that we didn't know, like how to get applause on a number." Read the full story in the new book The Godspell Experience with Foreword by Stephen Schwartz.
Schwartz's Career Continues
With a home base in Connecticut and an office in New York City, Schwartz continues to work on musicals that are performed around the world. Over the decades, Schwartz has collected an array of honors, such as Grammy Awards, Oscars, the  Isabelle Stevenson Award, and many others. He still enjoys his trips to the CMU campus in a corner of Pittsburgh, where he can reminisce and encourage students along their path.
SUBSCRIBE - To keep up with Schwartz's career, subscribe to The Schwartz Scene newsletter for fans.  READ CURRENT ISSUE:  See the links on the right hand menu.