Enjoy this guest blog post by Masha Leon
Stephen Schwartz, of Wicked Fame, A Hit at 54 Below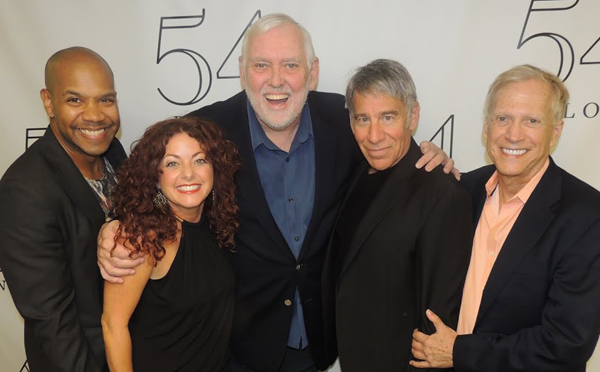 PHOTO by Steve Schalchlin at 54 Below in NYC (from left to right): Darius de Haas, Kelli Rabke, Jim Brochu, Stephen Schwartz, and David Lewis. 
Stephen Schwartz, the only songwriter in Broadway history with three shows — Wicked, Pippin, and The Magic Show— to have run more than 1900 performances on Broadway, was center stage (and at the piano) at the August 3, 2014 "Conversation with Music" at 54 Below – Broadway's Supper Club.
During the evocative interview by longtime friend, actor Jim Brochu — who himself won a Drama Desk award for his solo portrayal of Zero Mostel in Zero Hour (2009) — Schwartz confessed that he once wanted to quit the piano but was told by his parents — who that night were happily ensconced in Great Neck, "that if I wanted to quit, I had to call the piano teacher myself…so I never had the guts to do that." The rest is musical history.
Recapping the evolution of several of his shows, Schwartz harked back to a work called Shinbone Alley. "It was about a cockroach archy's undying love for a cat named mehitabel…. there was a lot of criticism about who would want to go see a show with a lot of dancing cats!" The audience roared. "Which goes to the importance of timing."
Brochu recalled being on a 104 Manhattan bus when Pippin was first presented. "Two ladies were talking: 'There is this wonderful show at the Imperial about the son of Charlie Main (Charlemagne) — he was the king of France, you know.' When her friend asked for the name of the show, she replied: "It's Pipkin. So for me, the show is always Pipkin." Responding to Brochu's query if "the lyrics come first," Schwartz replied: "Titles come first — at least these days — sometimes a riff, the script…I need to know the characters."
Imminent "on the drawing board" — a stage version of The Hunchback of Notre Dame. DreamWorks is working on The Prince of Egypt; Monkeys of Mumbai — a DreamWorks animated feature with Danny Boyle, who made Slumdog Millionaire; and "a new untitled show in Vienna in the fall of 2016 — in German. "Zey vill translate," joshed Schwartz.

The evening was enhanced by performances of Schwartz's works by a cast of stellar vocalists, including earthy Dale Soules who reprised her solo "Lion Tamer" which she sang in the original 1973 production of The Magic Show and now stars in the Netflix TV series Orange is the New Black.
Among the guests and fans: Carol de Giere, author of Defying Gravity —The Creative Career of Stephen Schwartz from Godspell to Wicked (208 Applause Theater Books). Carol had contacted me after she found my August 23, 1986 Forward review of Rags (book by Joseph Stein, music by Charles Strouse) at the Lincoln Center Library Archive, which she quotes in the book. A thrilling $5.5 musical about the Jewish immigrant experience, it closed four nights after opening! The night I saw it — the last performance — the audience was shouting " Keep Rags open! Keep Rags Open!" and had 1000 protesters — including the musical's klezmer band— chanting on the streets.

Editor's Notes: This article was originally published in The Foward's Shmooze page's Masha Leon On-the-Go column.
Find Masha Leon's story about Rags and hundreds of others related to Stephen Schwartz musicals in the only Stephen Schwartz biography, Defying Gravity.
About the photo above: Darius de Haas and Kelli Rabke performed "In Whatever Time We Have" that night, reprising their performance from Children of Eden at Paper Mill Playhouse and the Children of Eden recording. Jim Brouchu knew Stephen Schwartz from their student days at Carnegie Mellon University. David Lewis was a music director for the original off-Broadway Godspell production, and also played piano that evening at 54 Below.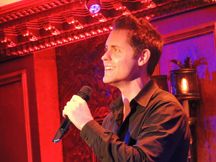 Michael McCorry Rose (Wicked) also wowed the audience as he performed several Stephen Schwartz pieces that night. The photos of Dale and Michael Rose are by Steve Schalchlin.
Catch stellar performers and enjoy the company of theater fans at 54 Below.