Stephen Schwartz and the Broadway Jr. Program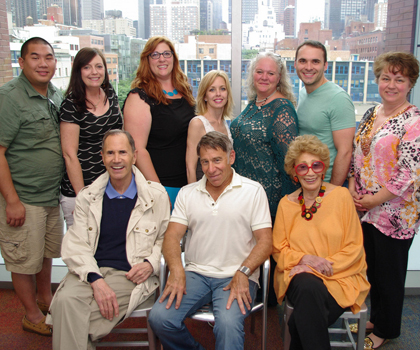 PHOTO: "The Freddie G Broadway Experience" – A Master Class Workshop with Stephen Schwartz, Summer 2013. Top Row: Winning teachers: Spencer Lau, Claudia Appel, Joanne O'Kain, Lori Flanders, Merill Cheyne, Eric Bragg, Shirlee Idzakovich. Bottom Row: Freddie Gershon, Stephen Schwartz, Myrna Gershon. Courtesy of Music Theatre International.
BROADWAY JR
As you may know if you have kids in school theatre programs, the Music Theatre International Broadway Jr. program has taken popular musicals and packaged them into shorter theatrical programs suited to children. Freddie Gershon, Chairman and CEO of leading theatrical licensor Music Theatre International (MTI), was inspired to start the program that would inspire young people with a taste of theatre at an early age. Gershon thought of it as a theatrical equivalent of Little League. The program has been so successful that over 70,000 productions have been mounted since the program began. Godspell Jr was one of the early shows available, and later Captain Louie Jr was created based on the children's musical Captain Louie.
Starting four years ago, Gershon and his wife Myrna established a special summer workshop to honor selected adults who were teachers or involved in performing arts centers with youth programs. In the summer of 2013, eight people were chosen to meet with Stephen Schwartz and watch a developmental production of Children of Eden Jr, among their other workshop experiences. Although Children of Eden Jr is not yet ready for licensing, it will be in the not-too-distant future.
My Son Pinocchio Jr
Two musicals with Stephen Schwartz scores have been making quite a stir for school drama programs and theatre groups, even though they have never been to Broadway. Those are the full-length versions of Children of Eden and Disney's My Son Pinocchio (formerly Geppetto and Son; and Disney TV movie Geppetto).
Now a shorted version of Disney's My Son Pinocchio known as Disney's My Son Pinocchio Jr holds the promise of being quite popular. Says Jason Cocovinis of licensing agency Music Theatre International,"Since releasing My Son Pinocchio Jr this past spring for licensing, the show has become one of the most consistently requested titles in the catalog. It is the perfect show for a dynamic cast of middle school performers and audience members love seeing the familiar tale told from Geppetto's perspective. Stephen's brand new score wonderfully complements the classic Disney hits, 'When You Wish Upon a Star' and 'I've Got No Strings.'"
For more information:
See Broadwayjr.com/
Read about the origins of Children of Eden, Godspell, and other Stephen Schwartz shows in the Stephen Schwartz biography Defying Gravity.