Working Original Broadway Cast Album is now available for download through both iTunes and Amazon.com. To download Working: Working Original Broadway Cast mp3 at Amazon.com
 or iTunes WORKING 
ABOUT THE SONGS AND ALBUM: The original Broadway cast album for the musical Working (1978) is now available on iTunes. This is good news as the CD version hasn't been in circulation for a while. The show is still popular for school and local theater productions and the licensed libretto (wwwMtishows.com) was updated in 2012.
Working is unusual for a Stephen Schwartz musical in that he decided to invite other musicians to join him on the project. James Taylor agreed to write several songs including one that was cut during the pre-Broadway tryout in Chicago. But his songs "Brother Trucker," "Millwork," and the music for "Un Mejor Dia Cendra" (with lyrics by Matt Landers and Graciella Danielle) are all on the album.
Craig Carnelia's touching songs "Just a Housewife," "The Mason," "Joe," and "Something to Point To" are all included, as well as the original pieces by Micki Grant "If I Could've Been," "Lovin' Al," and "Cleaning Women." Susan Birkinhead and Mary Rodgers wrote a poignant song for the show based on a teacher's interview "Nobody Tells Me How." Unfortunately, the catchy new pieces recently added to the musical, "A Very Good Day" and "Delivery," by Lin-Manuel Miranda, are not included on the recording.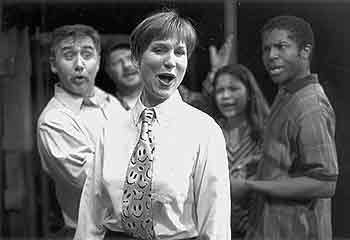 If you listen to the original Broadway cast recording for Working the musical, you'll find Schwartz's original pieces are there. For the Broadway production, he wanted to write the opening number "All the Livelong Day."
To write songs for Working, he also drew from a Studs Terkel interview with a waitress to write "It's an Art" [Photo of singer: Jennifer Haering sings "It's An Art" in her role as waitress in a Chicago, IL production of Working.]
He drew from his own experiences to write "Fathers and Sons." His song "Neat to be a Newsboy" is on the album but has been cut from the show. (He also sings "Fathers and Sons" on Stephen Schwartz Album
)
As Schwartz has explained, the course of the lyrics is a little unusual for a show. "Since the show Working is essentially a documentary and all the monologues are edited directly from the words of the interviewees in Studs Terkel's book, the songwriters tried to use as much of the words and locution of the characters they were writing about as possible."
The biography Defying Gravity: The Creative Career of Stephen Schwartz, from Godspell to Wicked includes a 30-page chapter on the making of Working, including stories about the many challenges Schwartz, Nina Faso, and their colleagues faced while first creating a stage adaptation for the classic Studs Terkel interview book Working.
Read more about the show here: Working the musical. 
ALSO AVAILABLE: