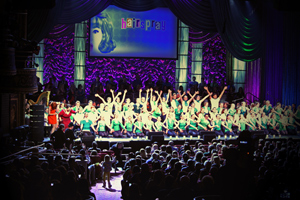 "From Broadway With Love" was the title and theme of a concert held on behalf of citizens of Newtown, Connecticut following the unfortunate shootings at the Sandy Hook school. Raising spirits and raisings funds, the organizers invited Broadway luminaries to share the stage with students on January 28, 2013, at the Palace Theater in Waterbury, Connecticut.
The concert was recorded and an hour-long version will be aired in New York, New Jersey, and Connecticut in July. In the fall, a CD will be released as well as a DVD/BluRay.
This "concert of healing for the Newtown community" involved composers, musicians and more than 100 stars of Broadway. They all came together with over 300 students from several Newtown dance groups, the Sandy Hook Elementary School 3rd and 4th grades and the Newtown High School Chamber Choir.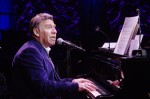 PHOTOS: (Above) Nikki Blonsky (Golden Globe nominee: Hairspray movie), along with Brooke Tansley and 72 Newtown Dancers performed "You Can't Stop the Beat' from Hairspray; Stephen Schwartz performed "Beautiful City" from Godspell,
Other stars included Brian Stokes Mitchell, Linda Eder, Michael Cerveris, and many others.
Upcoming air dates include
Thursday, July 18 at 10 p.m on WLIW21 (Long Island)

Friday, July 26 at 10 p.m. on THIRTEEN (NY) and CPTV (CT)

Tuesday, July 30 at 10 p.m. on NJTV (NJ)
To pre-order the recordings or find out more, visit www.frombroadwaywithlove.org/. To learn more about Stephen Schwartz's latest activities, don't miss the current issue of The Schwartz Scene newsletter. Read about his extensive career at Musicalschwartz.com/schwartz.htm