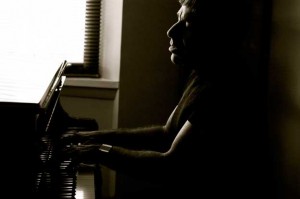 [PHOTO: Composer-lyricist Stephen Schwartz, 2012. Photo by Olivier Ciappa.]
The Grammy and Oscar-winning songwriter Stephen Schwartz marks his sixty-fifth birthday today, March 6, 2013. With dozens of musical scores completed and several more in midstream, it seems unlikely that he'll ever retire (again).
It's easy to forget that long before Wicked, he once did retire at age thirty. For about three years he stopped writing and basically stayed home in Connecticut with his wife, Carole, and their two young children; not because he needed to be the stay-at-home dad, but because he was exhausted and discouraged over his failures.
It certainly wasn't what he had expected for his life's journey. When Schwartz was a teenager and writing musicals for a college drama club, he felt confident that he could write scores for the commercial Broadway theatre in his native New York City. He didn't realize it would take more than talent and persistence to sustain a career—it would also require a thick skin.
Although his scores for the off-Broadway hit Godspell (1971) and Broadway hit Pippin (1972) brought him some renown and financial rewards, he was shrugged off by critics like Clive Barnes who described his Pippin score as "bland," and John Simon, who described his songs as having "awkward and amateurish charm." In those days before ubiquitous Internet access, he had fewer ways of being bolstered by an audience who cared for his work. A trickle of letters came in from fans who wrote him in care of the theatre, which he appreciated. Still, harsh words from critics and some colleagues tended to overshadow positive ones. "It just felt clear to me that the New York theatre establishment saw me as an untalented upstart who had no business being part of their club," he recalls.
In 1976, he endured the embarrassment of his first flop, The Baker's Wife, that never even reached Broadway. Then on a rainy opening night in May, 1978, his next pet project, a musical adaptation of Studs Terkel's musical Working, was to appear before the critics and public featuring several of his songs and his directorial debut. He and Carole dressed up and drove into the city through the drizzle. He told her, "This is going to change our lives in one way or the other. If this works, that will be one path, and if it doesn't work, I'm through."
Critics didn't go for it and Working shuttered on Broadway on June 4, 1978, after twelve previews and twenty four performances. So he quit. Fortunately, it was good timing. He later commented, "I sometimes think that the happiest time of my life was the three years when I was depressed. My kids were little; I ended up spending much more time with them. It worked out in this strange way the way a lot of things in my life somehow work out in unforeseen, serendipitous ways."
Schwartz would eventually defy the gravity of his flops and, with the help of friends, lift himself up. He has been on quite a roll for the past few decades since coming out of that early retirement. He is currently far too busy to consider stepping away from the piano or the pencils he uses for writing lyrics. His latest set of lyrics for a DreamWorks animated feature is slated to open in December 2015. He's also midway through a score for a Broadway show about Houdini. And he's no doubt pleased that his supposedly "bland" score is now a source of nostalgia for fans who are likely to flock to the Broadway revival of Pippin when it opens in previews on March 23rd, 2013.
He's accomplishing so much that I'm already planning a revised edition of Defying Gravity– my story of this artist's truly creative career.
Subscribe to The Schwartz Scene for updates on Schwartz's activities.