It's a golden year for award-winning songwriter Stephen Schwartz who turns 65 this spring. Around the country, his music will be featured in several major concerts, as well as on Broadway in the musicals Pippin and Wicked.
March 18, 2013 at Wright State University, Ohio
On Monday evening March 18, Stephen Schwartz and Friends will perform a concert of music ranging from Godspell to Wicked, from Pocahontas to Enchanted, just a few of the 20-plus Broadway and animated musicals Schwartz has written. Mr. Schwartz, Debbie Gravitte, and Scott Coulter will be performing and will stay afterward to autograph their CDs. The concert is part of a two-day visit that includes master classes at Wright State University in Dayton, Ohio.For ticket information go to www.wright.edu/celia/visiting-artists
Apr 12, 2013 at Carnegie Hall
Fans will gather in 2013 in New York City to celebrate Stephen Schwartz's 65th birthday and the 10th anniversary of his hit musical Wicked, with a program that highlights his compositions for movies, opera, television, and the Great White Way. The New York Pops with Steven Reineke, Music Director and Conductor.
Singers include Julia Murney and Jennifer Laura Thompson who starred in Wicked on tour and on Broadway, as well as Broadway stars Jeremy Jordon and Norm Lewis. Also performing are "Essential Voices USA" with Judith Clurman as Music Director and Conductor. Mr. Schwartz will be attending the concert.
Carnegie Hall Stern Auditorium / Perelman Stage at 8:00 pm. Tickets – Carnegie Hall The Wizard and I: The Musical Journey of Stephen Schwartz
April 19-20, 2013 in Atlanta
"No Rest for the Wicked: The Music of Stephen Schwartz"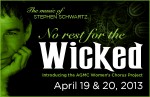 The spring concert, No Rest for the Wicked, will feature a much-anticipated evening of the music of award-winning composer Stephen Schwartz, the mastermind behind the hit Broadway shows Wicked, Godspell, and many more. You can expect an evening of great music, including "For Good," "Defying Gravity," and many more. The chorus will also perform Schwartz's "Testimony" – a new choral work with lyrics drawn from the "It Gets Better" project. 14th Street Playhouse. Atlanta gay men's chorus concert
May 11-12, 2013 in Omaha
Wizard and I – The Musical Journey of Stephen Schwartz
The Omaha Symphony will be performing the Wizard and I – The Musical Journey of Stephen Schwartz, to be led by New York Pops conductor Steven Reineke. A cast of Broadway performers is due in for 2 wonderful nights of the best of Stephen Schwartz, including Julia Murney and Jennifer Laura Thompson who played Elphaba and Glinda respectively in Wicked. Also performer are Darius De Haas and Christopher Johnstone.
Both performances take place at the Holland Performing Arts Center in downtown Omaha, Nebraska. Tickets are available online at www.omahasymphony.org
May 16-18, 2013 in Washington DC
The Wizard and I: The Musical Journey of Stephen Schwartz
The National Symphony Orchestra Pops will pay tribute to the 10th anniversary of Wicked and the 65th birthday of composer Stephen Schwartz with concerts entitled TheWizard and I: The Musical Journey of Stephen Schwartz. It will feature the talents of former Wicked stars Jennifer Laura Thompson and Julia Murney. According to one source, on May 18th there will be pre-concert "Conversation with Stephen Schwartz" event from 5pm – 6:30 pm. ASCAP's Michael Kerker will interviewing Mr. Schwartz on stage. Go www.kennedy-center.org for tickets.
Pippin opens on Broadway
The stunning production of Pippin from the American Repertory Theatre of Boston is coming to Broadway, opening in previews March 23rd with an official opening on April 25th, 2013. Read all about it and see photos at www.musicalschwartz.com/pippin-revival.htm. Note from The Schwartz Scene edito: I've organized a group trip for March 30th matinee at the group ticket rate. I have a few tickets left. Contact me at carol@musicalschwartz.com if you're interested in joining us.
Wicked tour continues strong
Wicked is in its 10th year on Broadway and is adding cities to its tour all the time. Check out some of the recent additions at www.musicalschwartz.com/wicked-tour.htm
About Stephen Schwartz

Did you know that Stephen Schwartz began studying piano at age seven and wrote scores for musicals in college? He launched his professional career at age 23 when he wrote the score for the hit musical Godspell, followed by Pippin (which he completed at age 24). Read all about Mr. Schwartz and his creative life in the career biography Defying Gravity. www.defyinggravitythebook.com
Subscribe to The Schwartz Scene
If you are not already subscribed to The Schwartz Scene for the quarterly newsletter, stop by www.theschwartzscene.com/ to sign up. It's a great way to keep up with Stephen Schwartz who writes updates for this fan publication.