Audio clip from a public talk
On this page, in addition to an audio clip, you'll also find the transcript of Stephen Schwartz's public talk about Wicked's origins, and my introduction. For visuals, I've inserted a photo of Stephen Schwartz and novelist Gregory Maguire from their first meeting over the rights.
You can also take a look at the PDF sample chapter from my book "Defying Gravity," Chapter 16 "Landing In Oz."  It includes photos related to the material of this podcast. Defying Gravity sample chapter Landing In Oz – see photos at the end of the chapter
The sound quality on this audio clip is not the best because I taped Stephen Schwartz's talk from across the room on a small cassette recorder. Later, I received permission to post this excerpt, and tried to clean up the audio file as best I could.

Audio clip: Adobe Flash Player (version 9 or above) is required to play this audio clip. Download the latest version here. You also need to have JavaScript enabled in your browser.
Transcript of the Podcast
INTRODUCTION
Carol de Giere: Welcome to the 2nd podcast from The Schwartz Scene website and blog at www.theschwartzscene.com. I'm Carol de Giere. Today you'll hear from Wicked's composer-lyricist Stephen Schwartz as he discusses his discovery of the novel Wicked and the arrangements he needed to make to adapt it.
In the past Schwartz has been involved with such adaptations as Working, a musical based on Studs Terkel's collection of interviews and Children of Eden, an adaptation of the first chapters of the Book of Genesis. Back in 1996 when he first heard about the novel Wicked, he had just finished writing songs for The Prince of Egypt, a film adaptation of the biblical story of Moses, and had recently completed lyrics for Disney's adaptation of Victor Hugo's The Hunchback of Notre Dame. So he was somewhat in the habit of watching out for stories that might be retold in musical form. Then he found a story that was truly wicked.
So now you'll hear about the early moments of the adaptation process for Wicked the musical. About a year ago I attended a talk that Stephen Schwartz gave at a gathering in Connecticut. I taped the talk and my husband worked on the audio track so you can hear it a little better. Stephen approved this segment for me to share with you in the podcast. He describes a weekend vacation in December 1996. Picture him on a boating trip off the island of Maui in Hawaii.
Stephen Schwartz Talks about Wicked the Novel and Musical
Stephen Schwartz: I heard about the book Wicked in a very random and serendipitous way, about 7 years ago, maybe eight years ago now. It was one of those completely unlooked for events. I actually was on a very last-minute and sort of capricious weekend vacation with some friends. It was unplanned and came up very quickly. The last day we went on a snorkeling trip because we were in Hawaii, and on the boat on the way back to the mainland after our little snorkel adventure, one of the people that I was with just making idle conversation said, I'm reading this really interesting book called Wicked and it's by this guy named Gregory Maguire. It's the Oz story from the Wicked Witch's point of view.
As soon as I heard this I had one of those light bulb moments where something just said this is a really great idea. For many reasons it seemed particularly the kind of thing that I like to do. I'm very attracted to stories that take a familiar story or myth or character and then spin it and look at it from another way. I've done several pieces like that; I refer to it as the Rosencrantz and Guildenstern Are Dead school of writing. It is something that always intrigues me; from an academic perspective I guess it would be called post modern because it takes an existing work and deconstructs it. For whatever reason, I'm very attracted to that, so immediately that aspect of it appealed to me.
I also was very taken with the idea that this character of the Wicked Witch of the West, who is so much a villainess that she doesn't even have a name, she is only referred to in The Wizard of Oz as the Wicked Witch of the West, that someone had the idea to look at what had transpired through her point of view. It was pretty obvious that something called Wicked was going to deal with themes that appeal to me: the difference between the reality that is presented to us, where things are oversimplified and told in black and white terms, and something is evil or good and there are good guys and bad guys, and the reality of life, which is, of course, a good deal more complicated than that. For all those reasons I was very intrigued by the idea.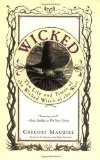 The next day, when I got back to the mainland, I called my representative and said look, there is this book called Wicked and somebody has the rights to it, because it has been out for about a year. And therefore someone has bought the rights. Please find out where those rights are, because I think this is something I would like to do, and then I went out to get the book.
At that point, things turned out to be lucky, frankly. It turned out the rights to the book belonged to Universal Pictures. They had bought it and were in the process of developing a movie, not a musical movie. They were a good way along, as you might imagine because the book had been out a while. They had a first draft of a screenplay and had given the writer notes, and were expecting a second draft shortly. As you can imagine, they had spent some time and money on it. So the first task was to persuade Universal to abandon the idea of doing it as a movie and to consider the idea of doing it as a stage musical, something they had never done before because they are a movie company and not a theater producing company. So I began to get meetings with various people and work my way up the food chain and it took a while. After about 6 months of this, I finally got a meeting with the gentleman who was running Universal Pictures at the time, Marc Platt, and this is where luck took over a bit. It turned out that Marc, very much unlike most motion picture executives, had a knowledge of the theater, had a love for the theater, liked musicals, and in fact in college had been in his college production of Pippin. So he was not completely deaf to my entreaties.
Basically what I did was go to him and say, 'Look, I know you're developing this as a film. I don't think it's going to work as a film and this is why,' and I had some reasons that may or may not be legitimate but sounded cogent anyway. I said, 'I really believe this is a theater piece. I think it needs to be a musical,' and I gave him some reasons why, mostly having to do with the leading character of the Wicked Witch. She was going to need to give voice to what was going on inside her, and this was going to need to involve soliloquies, which are very difficult to do on film unless you do a tedious voice-over. What's more, the usual thing film relies on to convey this kind of emotion, which is the close-up, was not going to be particularly effective in this case because she's green and covered with makeup. So it was going to be difficult to turn her into a complicated and nuanced character. And I had some other reasons as well.
In any event, Mark was cordial and he gave me no indication that he actually was going to do this, and in fact he sent me out with a huge packet of other movies, treatments of other movies that Universal owned in case I was interested in any of them, which of course I was not. There was a bit of a depressing time when it looked as if they were not going to go along with this. I started thinking what other villains could I do? Should I do a musical about Iago? Should I do something about the wicked queen in Snow White? But nothing was as satisfying.
I had by this time read Gregory's book and seen how much of that book lent itself to musicalization. The end of the story is obvious. Ultimately Mark did call me and say, 'Okay let's give it a go.' And then I went and met with Gregory.
Again I got lucky, because I had to go this guy who had sold his book to the movies and was waiting to have a great big major motion picture and say, 'Guess what? Instead of that, how would you feel about the risky and unlikely prospect of a show?' I was lucky in that Gregory is sort of an amateur musician, and he told me that he had learned to play piano by playing the scores to Godspell and Pippin. Again my past rescued me. And so he agreed, and then from that point on we began.
Carol de Giere: That's Stephen Schwartz's report and how it all began. And of course then he and his colleagues found ways to compress and rearrange the story from Maguire's 406 page novel to create a 2 ½ hour musical. Thanks for listening to this podcast from www.theschwartzscene.com
Buy Defying Gravity: The Creative Career of Stephen Schwartz, from Godspell to Wicked – the Stephen Schwartz biography with 150 pages on the making of Wicked.
Visit the Wicked home page at MusicalSchwartz.com – an index to over 50 pages related to Wicked the musical.
Copyright for this blog, podcast, and website is by Carol de Giere. You may link to this blog, but do not copy any of this material without prior permission in writing. carol@musicalschwartz.com