The Art of Deception: Mrya in Stephen Schwartz's Seance on A Wet Afternoon, Frollo in the Hunchback of Notre Dame, the Wizard of Oz in Wicked and Bernie Madoff in real life.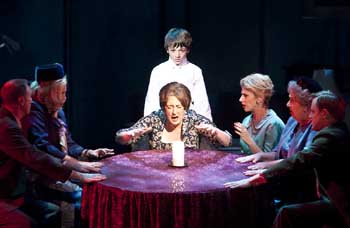 I originally wrote these reflections about the deception theme in Schwartz's opera "Seance on a Wet Afternoon" in the summer of 2009 before the world premiere. I'm posting them now in 2011 as the New York City Opera prepares their production.
Illusions and cover-ups were on my mind recently as I shopped for a dress for an upcoming opera premiere while wearing shorts, t-shirt, and a baseball cap. Actually, my husband and I don't mind switching from our casual selves to dressed up versions for one night, and we're looking forward to attending Stephen Schwartz's first opera, Séance on A Wet Afternoon. Still, it's interesting to consider the range of topics suggested by facades.

Séance on A Wet Afternoon weaves itself around the subject area of illusion, deception, self-delusion, being "in denial"—the misty and twisted possibilities outside of straightforward thinking. The warped mindsets of the couple, Myra and Bill, in the movie version of Séance on A Wet Afternoon, captivated Stephen Schwartz when he first saw it. Years later, when he was commissioned by Opera Santa Barbara for a new opera, he thought Séance would be ideal as source material for something tragic. [Read more about the opera]
As I ponder the kidnapping deception plot of the movie and opera, I can't help but think of news reports of recent months and years.  I think of master deceiver Bernie Madoff, and of politicians who create facades as model citizens and prove otherwise in their actions. And so it's not surprising that an artist like Stephen Schwartz should want to depict deception. He has already touched on the topic in his musical Wicked in terms of the Wizard of Oz. His original angle on Wicked was to create a musical that showed how "things are not what they seem."
There's another twist on the theme in Séance. Unlike Bernie Madoff, who apparently fully cognizant of the rules he was breaking, Myra doesn't get what she's doing wrong. She is in denial about the criminal nature of the kidnapping plan and only focuses on how to bring acclaim to her skills as a medium by revealing the location of the kidnapped child. She believes what she's doing is legitimate. AND she thinks she's better at her mediumship than she actually is—she is also self-deceived.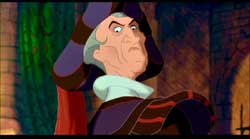 Claude Frollo in Disney's "The Hunchback of Notre Dame"
She is much like Claude Frollo in Disney's The Hunchback of Notre Dame, for whom Schwartz wrote the lyrics for the song "Hellfire." Frollo is the dark antagonist character who is personally haunted by his repressed desire for the gypsy Esmeralda. Writing the lyric, Schwartz has Frollo sing a prayer while saying "you know I'm so much purer than the common, vulgar, weak, licentious crowd." Not so! He blames Esmeralda's "witchcraft" for his own passion's fire. He tries to destroy her.
Schwartz claims that Frollo was a delight to write for. As quoted in Defying Gravity: The Creative Career of Stephen Schwartz, from Godspell to Wicked, Schwartz says, "My favorite character I have ever written is Frollo, who is probably the most despicable human being in anything I've done; I love him as a character. He was so totally self-justifying and in such denial of his own true motives. It was really fun to go to dark places in myself I would never let myself do in real life. It made me understand why actors love to play villains."
I'm sure Stephen Schwartz has also relished writing for Myra. He has commented that the movie's characters struck him as operatic. Myra's "intense neediness," for example, "seemed very worthy of being sung, but at the same time, she is covering a lot of what's really going on inside her with the veneer of calm and pleasantness." [Comments quoted on a New York City Opera VOX Showcase video documenting his process for Séance.]
The opera depicts a difficult subject. We might consider it a kind of cautionary tale both for the times we live in and for the webs we spin for ourselves.
Says Daniel J. Boorstin about human psychology: "We suffer primarily not from our vices or our weaknesses, but from our illusions. We are haunted, not by reality, but by those images we have put in place of reality."
For further reflection: Read Scott Schwartz's comments about Seance themes at Schwartz Opera: Seance Details following the Synopsis.