Welcome to The Schwartz Scene site. 
Providing informal news of composer and lyricist Stephen Schwartz, and occasional updates he writes for his fan community.
OCTOBER 2018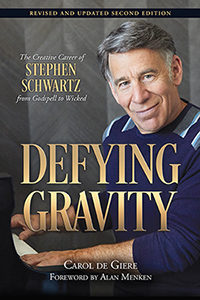 It's here! The fully revised and updated second edition of Carol de Giere's book Defying Gravity: The Creative Career of Stephen Schwartz from Godspell to Wicked.
Read about the new edition, Alan Menken's Forward, and how to order the book: Alan Menken pens Foreword to Schwartz biography
Order collector's item: signed copy.